American Pumpernickel with Coffee and Fennel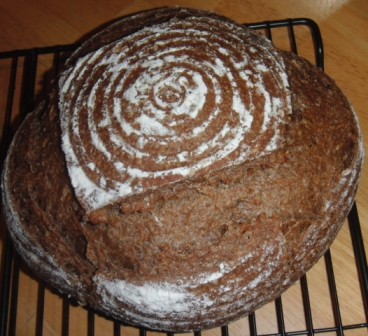 This is so far my favorite of all the pumpernickels I have made. While I am now aware that there is another kind of pumpernickel bread that I have yet to bake, this my version of the kind of bread that I liked to have for my sandwiches growing up. I called it American pumpernickel in hopes of mollifying any pumpernickel purists. It's not quite as dark as I imagine I could get it with caramel color, but I can't quite bring myself to do that, even though I've added food coloring to plenty of deserts before. So I used two of the other often suggested options, cocoa powder and coffee. The coffee really seems to go well with the rye and fennel seeds which I also added. I used brewed coffee because I figured the rule about only cooking with wine you'd drink ought to apply to coffee. Or... there was enough coffee left over in the pot the next morning.
Ingredients350 g all-purpose flour150 g pumpernickel rye350 g coffee (brewed)1 T cocoa powder1 T fennel seeds100 g stiff levain (~50% hydration)10 g
salt
As for method, I doubt I would do it the same way the next time, but this time it started out in my bread machine on the dough cycle, because lately I've been using it to knead the dough for my daughter's weekly sandwich loaf. So, I put everything into my bread machine but the salt(because I forgot about it). Once I remembered I paused the machine for about 20 min., added the salt and restarted it. I also paused it and did some S&F every 30-45 minutes through the machine's cycle, because I was afraid I was going to end up with glop instead of dough. When the dough cycle was done I let the dough proof in my oven with the light on at around 85 F for about 90 min to bring the total time from the start of mixing up to about 3 hours.
Then I took it out of the pan, preshaped as a boule and let it rest for 15 min. and then did a final shape and let it rise in a floured brotform for about 3 hours before slashing and baking on a stone with a bowl on top. I preheated the oven to 450 F or so and dropped the temperature to 400 F once the bread was in the oven. I left the bowl on for 20 min and then baked for an additional 20 after removing the bowl. This is about when I realized it was a lot harder to judge crust browning when it's already so brown at the start of the bake, so I decided to take it out after 40-45 min total.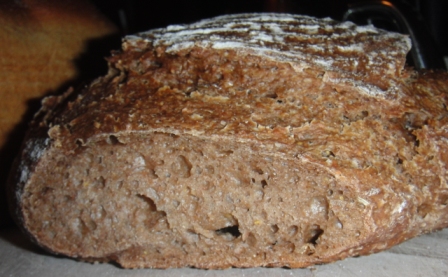 Submitted to YeastSpotting