February 24, 2013 - 2:08pm
Honey Whole Wheat with Poppy Seeds and Lemon Zest
Sometimes there is a loaf that I just love baking.  This is such a loaf and I think it is due to the fact that it is a simple dough that has a luxurious feel to it - especially after it has fermented all night in the refrigerator.  It also has a wonderful aroma created by the lemon zest and the poppy seeds add a delightful texture and, I think, simply look spunky.
The original recipe if from Daniel Leader's book Bread Alone.  I found it after reading about one of the challenges posted here where the '3grandmas' were baking his lemon cake. All raved about its results. I prefer baking breads to cakes so this is what I ended up with.
I adapted his recipe to my sourdough starter, my use of whole grains and use of an overnight bulk ferment.
TOTAL FLOUR                                   860g
TOTAL WATER                                  677g                    79%
TOTAL PREFERMENTED FLOUR   129g                   15%
LEAVEN                                              219g                   26%
DOUGH
Hard White WW Flour                      731g                     85%
Water                                                  587g                    68%
Salt                                                        21g                    2.4%
Honey                                                   28g                    3.2%
Lemon Zest                                            8g                        1%
Poppy Seeds                                         21g                     2.4%
METHOD
• Build leaven during the day.  I do 2 builds total each about 3 hours apart.
• Mix leaven, water and 3/4ths of the flour into a shaggy mass and let it sit for about an hour to allow the flour to hydrate and the gluten to develop a bit.
• Add remainder of the flour, honey, salt and the zest and knead on low until medium gluten devel. is reached. 
• Add poppy seeds.
• Knead until seeds are distributed evenly.
• Place dough in an oiled bowl, cover and allow it to sit at room temp. until it has expanded by about 25%
• Place in refrig. for the night.
• Allow dough to warm up for about 2 hours  the next morning.
• Shape and proof.
• Bake  (I have convection with steam so I pre-heat to 425°.  When bread is loaded I turn off the oven, steam and let it expand without heat for 10 minutes.  The remainder of the bake is then at 325° until internal temp. reaches approx 200°.)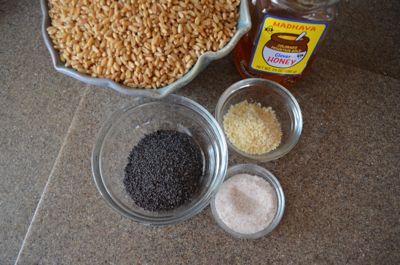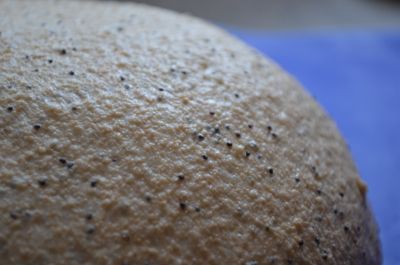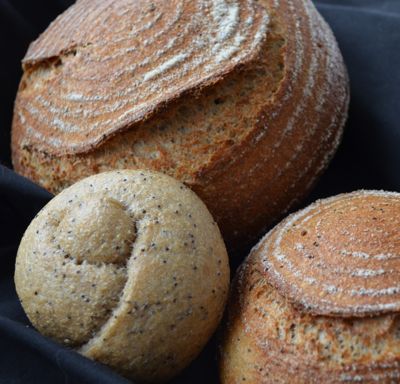 The roll is lighter in color simply because the rolls were baked with the boules but, obviously,  they baked much more quickly.  They have a softer texture which my husband prefers while the boules have a crustier crust.
Our house now smells heavenly.
Sorry, no crumb shots.  Boules are for friends that I bake for.  Husband gets a couple of rolls.  They don't present much of a crumb shot......I can tell you the crumb is soft though.  Lemon conditions the grains and makes for a very soft crumb.
I will give you all a snow shot instead since we got 12" of much needed snow today.