February 4, 2013 - 1:19pm
Life with Fred: maintaining a starter in pictures
There's lots of discussion and great information about starters on TFL. Everyone does things a little differently, and what works for you is best. Here's what works for me.

I typically make two sourdough loaves a week. Sometimes more, and sometimes I miss a week, sometimes two. Sometimes I make more than two loaves.

When I started baking sourdough I had a lot of questions and two constraints. First, I traveled a fair bit for work, often on short notice, so I needed a process that was not too fussy  - no twice-daily feedings, no big mason jar of goo on the kitchen counter.  Second, I hate waste; the idea of discarding half of anything bothers me. I addressed the first constraint by having Fred live in the fridge nearly all the time; and addressed the second by keeping him fairly small. Here's Fred: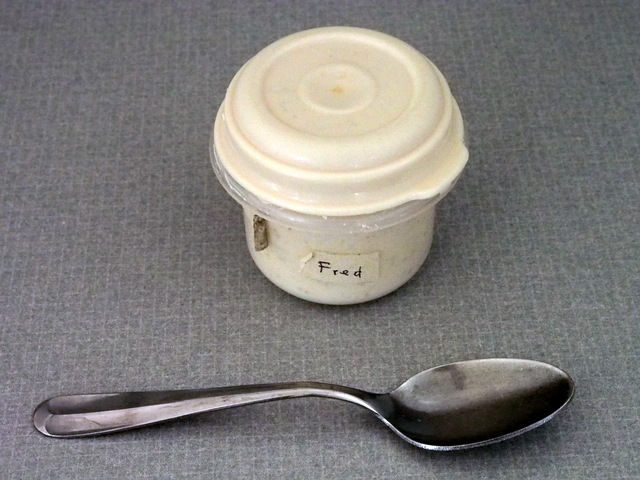 That's a half-cup container, and it contains 2.5 ounces of Fred. He's a little guy. Fred is a 100% hydration starter, so he's 50/50 flour/water by weight.  Fred's hydration is not so important, but one reason 100% is nice because it makes the math simpler. Fred is too small to make bread by himself, I use him to innoculate a levain that typically ferments 12-14 hours.

I made the original Fred about 3-4 years ago using the great instructions on this site from Debra Wink. Pineapple juice rocks.

The evening before (or two evenings before if I am retarding the final proofing) I take Fred out of the fridge and build a levain. Sometimes, when I have presence of mind, I take him out an hour or two before I start to let him warm up a bit, but often I just take him right out of the fridge. This is what he looks like after being in the fridge for about 10 days: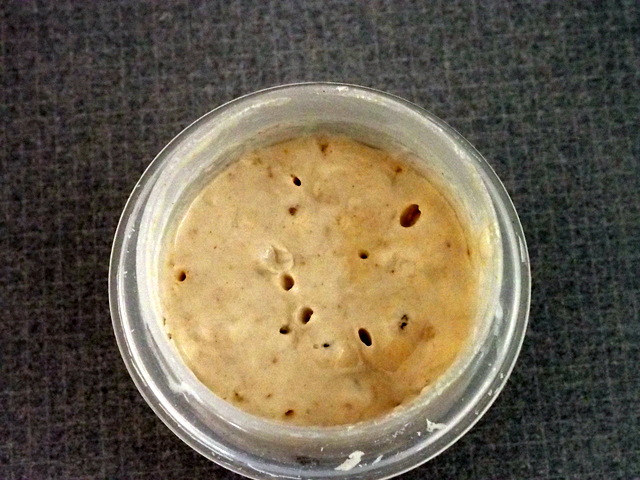 Sometimes, after a week or so, Fred will blow his top in the fridge. Not a big deal, and if no one notices for a day or two Fred will create a dry crust on top to keep his innards moisty. Fred's a bit of a teetotaler: I very seldom see hooch, perhaps only after a couple of weeks in the fridge. If Fred looks all watery and hoochy, I might feed him once or twice, but usually I will let him warm up and he comes back to life.

I feed Fred in a 1:2:2 ratio: 1 part starter, 2 parts flour, 2 parts water. My experience  (YMMV) is that this ratio provides adequate food so that he will be in good shape to innoculate a levain in a week, and can tolerate cooling his heels for longer if necessary . I always (well, almost always) remove 2 oz (of the 2.5 total) to start the levain build: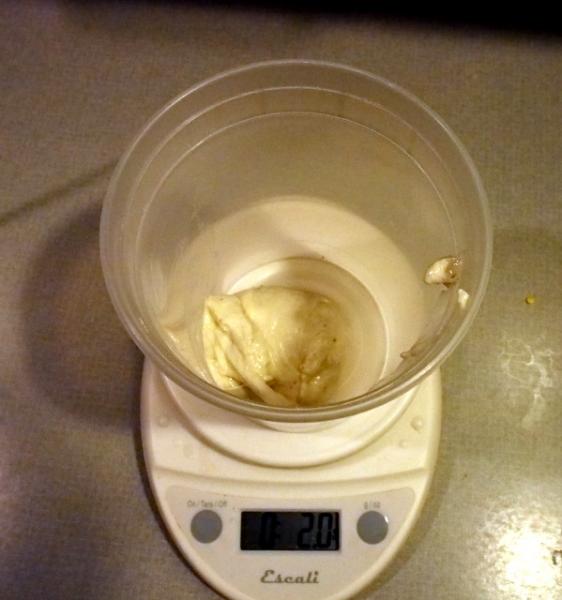 There's just a little bit of Fred left (0.5 oz):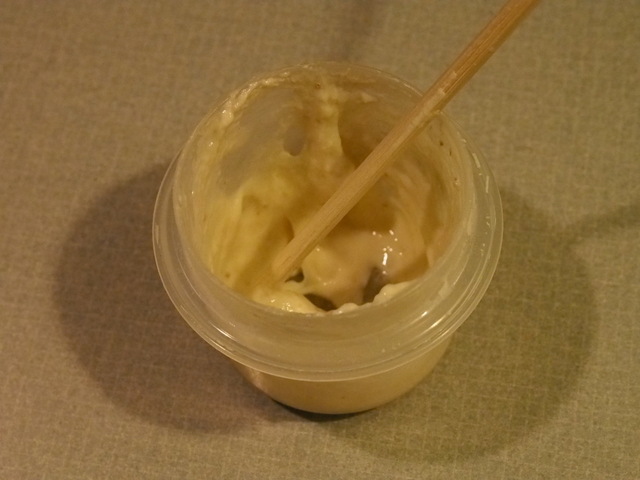 The 1:2:2 ratio means we need to add 1 oz of water and 1 oz of flour in order to make Fred the man he was.  So we add 1 oz  water (that's a chopstick, which works really well for mixing the remaining starter and water) and then 1 oz flour. I feed Fred with AP or Bread flour, but I always give him a little treat of rye: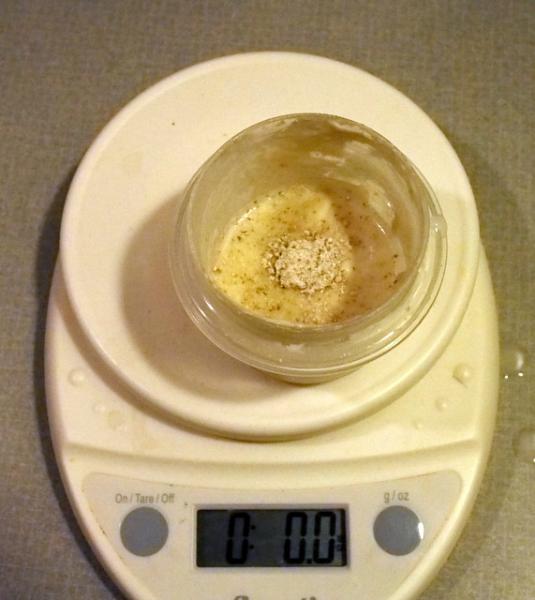 The 2 oz of starter is built into the levain - in this case a stiffer levain for Pain au Levain. There's no waste; I haven't discarded any starter.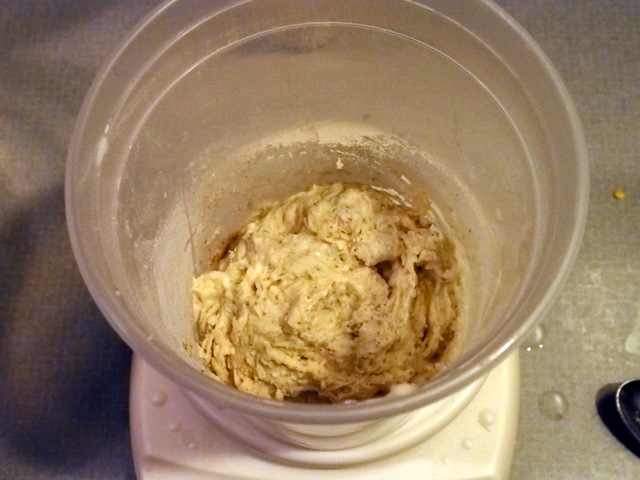 If the formula for the levain called for less than 2 oz of starter,  I decrease the amount of flour and water in the levain by the excess amount of starter. For example, if the formula called for 1 oz of starter, I would use 2 oz of Fred, but then reduce the amount of flour and water I add by 0.5 oz each (that's what I meant about the 100% making the math easier). (It could be that innoculating the levain with more than the amount of starter called for in the formula changes the flavor profile of the bread. That's okay; I'vehad no complaints yet, and I have other details of technique to work out before addressing that one. If I found that it did make a difference, I would simply scale Fred down.)

The levain I'm building often has a different hydration than Fred. Sometimes it uses a different type of flour, e.g. rye. No matter.

The chopstick doesn't work for a lot of stiff starter, so I switch to the handle of a wooden spoon.

The levain goes in the proofing box overnight. Fred goes in for an hour or so just to help get his juices flowing. (I'm writing this in New Hampshire in February - the proofing box is required equipment). Then Fred goes in the fridge and does not reappear for a week or so. It seems to take about 4-5 days for Fred to develop sufficient strength in the fridge. If I want to use him sooner I will take him out and place him on the counter or in the proofing box until he's bubbly.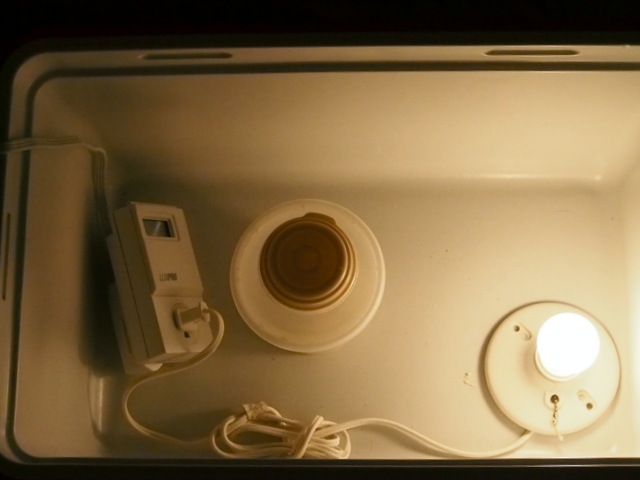 The next morning the kitchen is at 63F, but the levain looks good: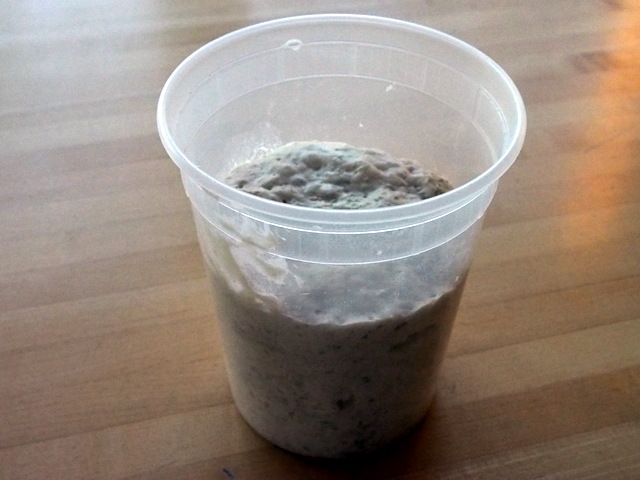 Fred, flour, water, salt: