January 10, 2013 - 10:27am
Forkish Overnight Brown and Bacon SD
In addition to Breadsong's post and Toad.de.b's post, I have a couple more loaves to add from Ken Forkish's Flour, Water, Salt, Yeast.  
I have to say I've really been enjoying baking from this book, it has opened up my repetoire to include a style of SD bread featuring low levain amounts (only 10-12% of the main dough flour is used to build the levain) and extended bulk ferments.  This style is different from Hammelman, and bears some resemblance to Chad Roberston's loaves, though Mr. Forkish seems to be a better teacher and to include more of the details needed for a novice to succeed.  The only drawbacks- and they are small compared to the deliciousness of his breads- are the narrow scope of recipes (no soakers, high percentage rye, brioche, baguette or long loaves, olive bread, fruit & nut bread, croissants, etc.) and the "supersize" scale of both levains and recipes (every recipe is made with 1,000 grams of flour).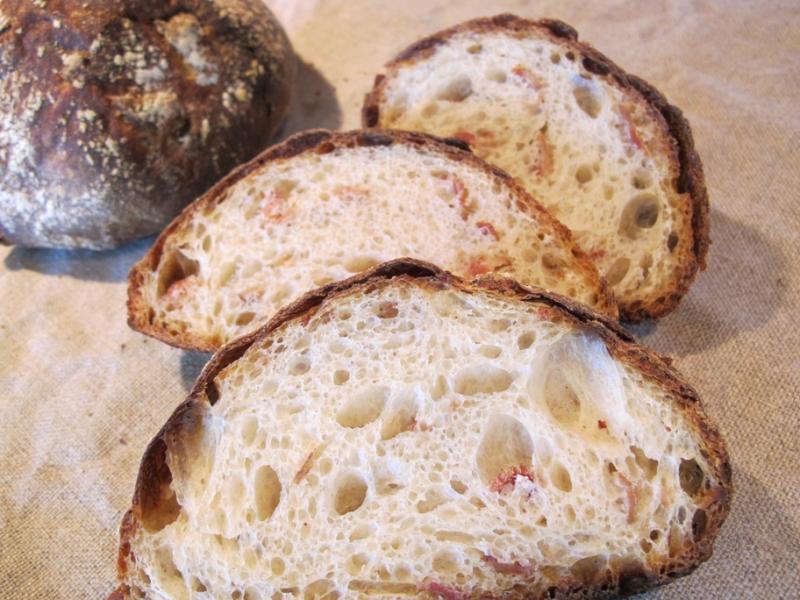 First up is the Bacon Sourdough, which I have to say is one of the best tasting loaves that has ever graced my kitchen.  I followed this recipe to the T, even mixing up the large levain.  Since I like bread best on the day it's baked, I generally prefer to bake smaller amounts more frequently and am not set up for this quantity of dough, so it was a bit of a hassle to find or jerry-rig enough containers, baskets, dutch ovens, proofers, etc.  But the incredibly moist crumb and crisp, red-brown crust on this loaf were superb, and the bacon hit just the right note- plenty to appreciate, but in balance with the crust and crumb flavors.  The photos on this are only of a small demi-loaf made of dough that I siphoned off of the two larger loaves; I wanted a small loaf to try the bread, as the two large loaves were given away as gifts.
The glossy, translucent walls on the larger holes: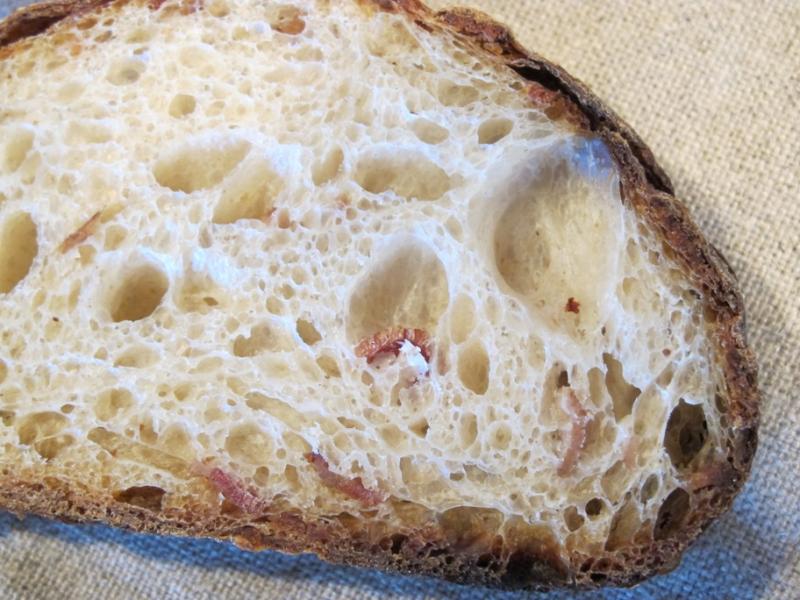 The bubbles on the crust: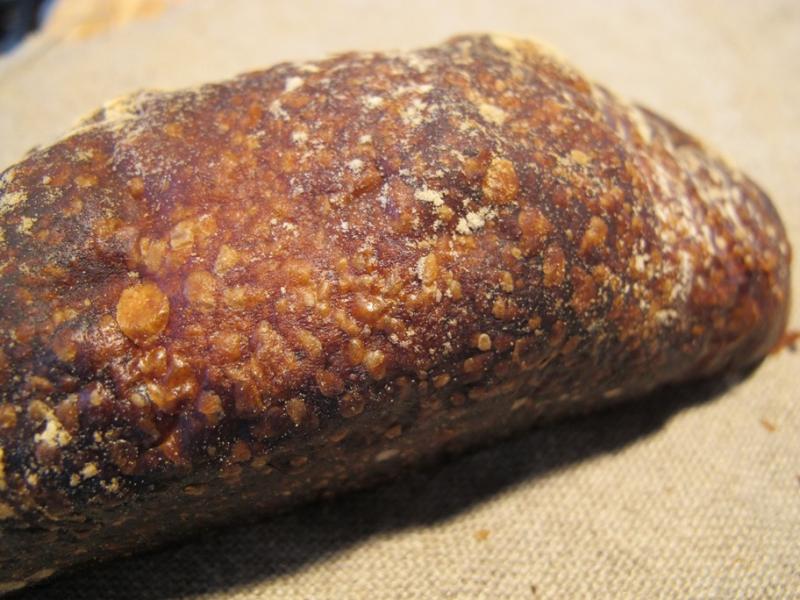 Next up is the Overnight Brown, a pure levain dough with 30% whole wheat.  For this bake, I decided to scale things back and also tried some whole grain spelt instead of traditional red wheat for the 30% whole grain portion of the dough.  For the scaling, I only made one loaf (50% of the main dough) and scaled back the levain to just a little more than what I needed for the main dough (150g of levain or 15% of what was called for).  Not sure that spelt was the right choice for this bread, it was good but not great.  I'd like to try it again with red wheat.
Here's the loaf, which Forkish doesn't score but rather bakes seam side up for a gnarly, rustic look.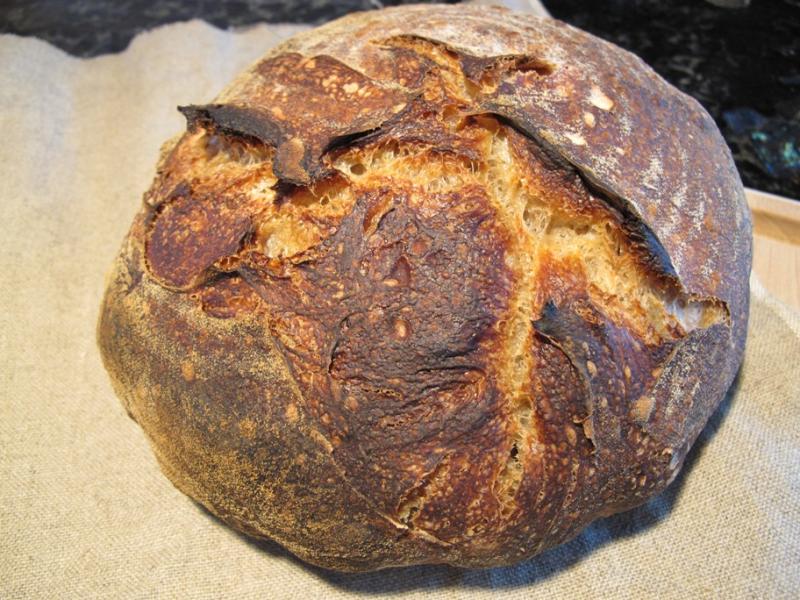 The crumb: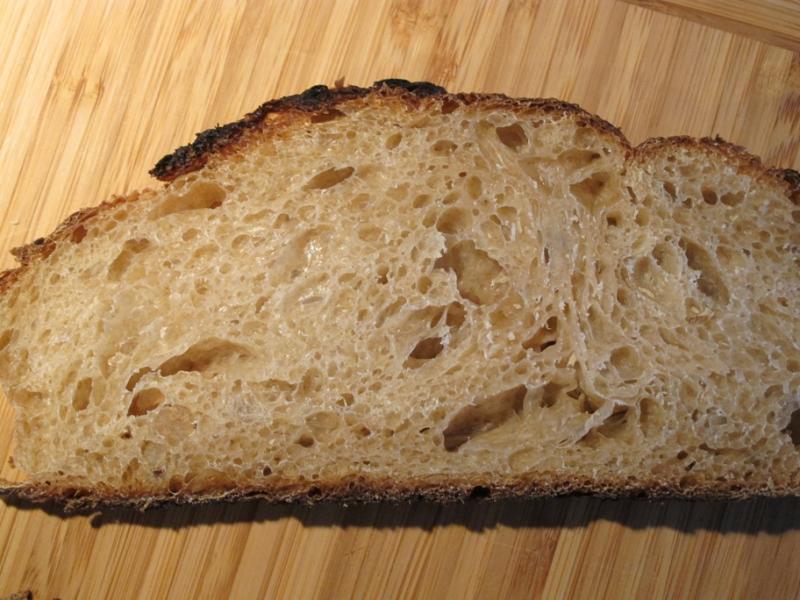 And the bubbly crust that comes from his long room temp ferments: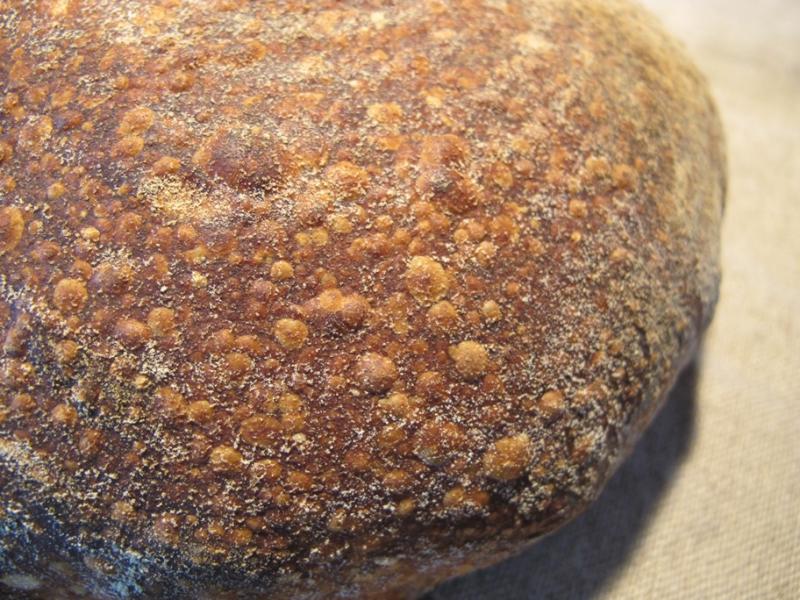 Pizzas
I also made the levain pizza dough and the high-hydration poolish pizza dough, but my renditions did not turn out as well as the loaves.  They both seemed a bit over-fermented, in that they ended up a little too dense, without enough oven spring, and the flavors were a tad off.  These may be my fault, I suspect both my SD starter and my (commerical yeast) poolish were a little more ripe than was ideal, so I plan to try them again, being more careful to follow the times and temps exactly.  They were both a little harder to shape (elastic) than most of the pizza doughs I mix, which I attribute to the extra acidity from the long ferments.  In the case of the poolish, my pre-ferment only doubled in 12 hours, rather than the triple that is specified, so I let it go to 14 hours (recipe states 12-14 hours) in hopes of getting a bit more rise, which never happened.  This experience has taught me that with Forkish's recipes, it is better to err on the side of underfermenting than the other way around.
All in all, a great book that I've thoroughly enjoyed.