New Year's Light Rye, Rye Bagels and Raviolis
I bake bread about twice a week for my family, and these days, it's usually either a sourdough from 50% whole wheat, 10% rye and 40% AP or a loaf of Buttermilk and Honey Whole Wheat. But for whatever reason, I was craving rye yesterday, so I set up this loaf. No caraway, as I'd run out, though i do like it.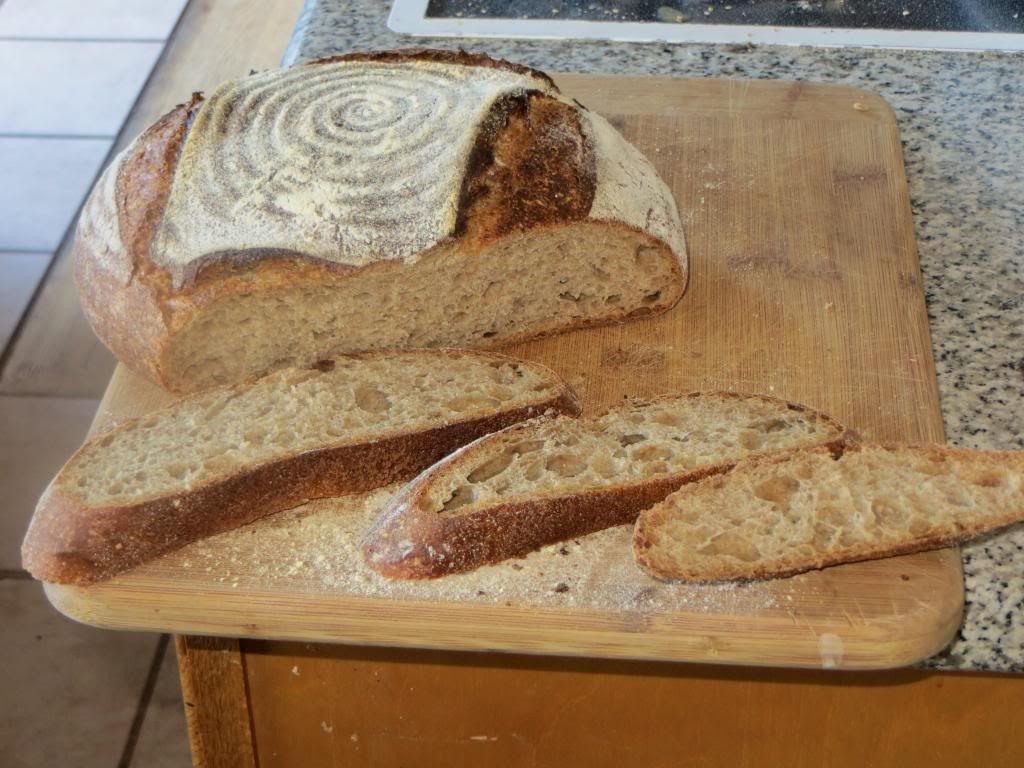 Here's how I made it:
Formula
Whole Rye: 40%
High-Gluten Flour: 60%
Water: 75%
Salt: 1.8%
All the rye is in the starter with a hydration of 100%

Ingredients
Whole rye starter, 100% hydration: 400g
High gluten flour: 300g
Water: 175g
Salt: 9g
Optional -- 9g of caraway seed
To make the bread, mix up all the ingredients and knead. It's sticky, so I like to let it sit for 10-15 minutes first, then I knead with wet hands for 3-5 minutes, let it sit again for 5 minutes, and do a final couple minutes of kneading. Let it rise for 2.5 to 3 hours, shape, and give it another 2.5 to 3 hours to finish. I baked mine in a cloche at 450, covered for 35 minutes, uncovered for 10.
For this morning's breakfast, Iris (my 9-year-old) desperately wanted bagels, so I said I'd make them, but I only had rye starter ready to go. Could be interesting, I thought. So I plowed ahead. They turned out well!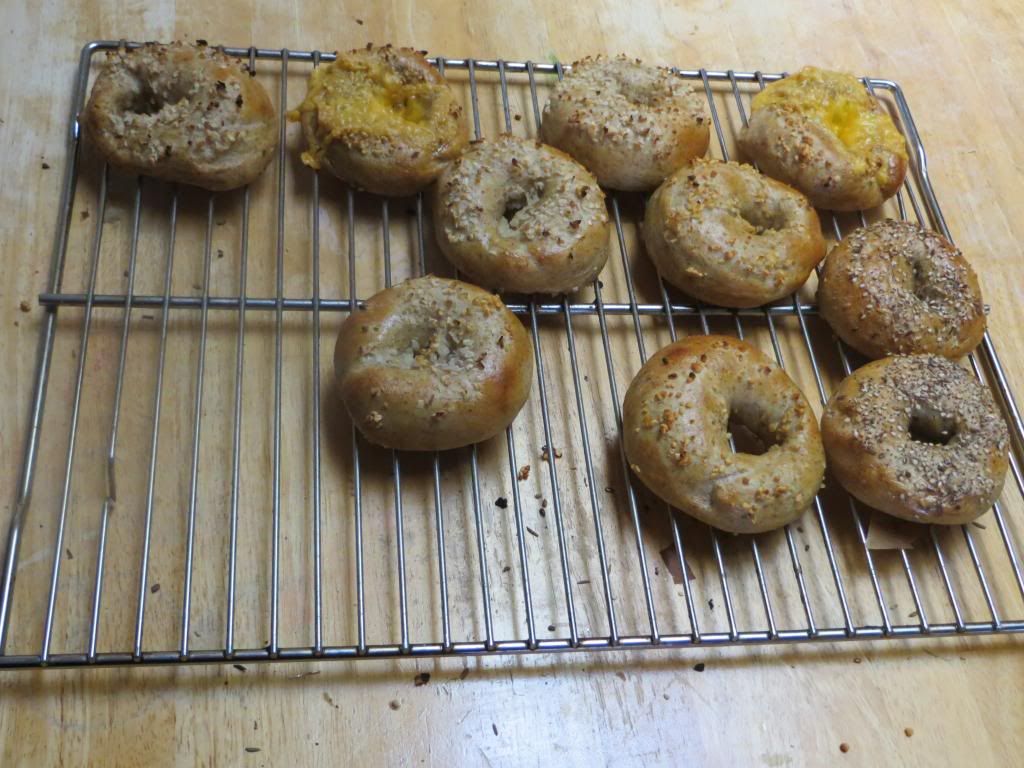 Forumla
Whole Rye: 16%
High gluten flour: 84%
Water: 59%
Salt: 2%
Diastatic malt powder: 1%
All the rye was in the starter at 100% hydration
Ingredients
Rye Starter at 100% hydration: 285g
High gluten flour: 735g
Water: 375g
Salt: 18g
Diastatic malt powder
Here's how I made them. The night before, I mixed up all the ingredients until they were mostly hydrated, and then let them sit for 15-20 minutes. I then kneaded for about 5 minutes, let it sit for another 5 minutes, and gave it a final kneading of 2-3 minutes. I then cut the dough into 12 pieces of 110 - 120g each.
I pre-shaped each piece into a ball and then rolled them out into a snake, which I wrapped around my hand, sealing the ends together with the heel of my palm. They proofed overnight, covered, in my garage, which is unheated, but rarely gets below 45 degrees F.
The next morning, I brought a big pot of water to boil, to which I'd added a good handful of baking soda. Does it make a difference? Who knows? But I know I'm not messing around with food-grade lye, and baking soda is cheap. Why not? Anyway, it was apparently very cold last night. Usually, I boil them for a minute on each side, and they typically float after 30 seconds or so. These didn't float until 1:45 had passed! Anyway, I put them on a piece of parchment paper that I'd placed on my peel, and let them cool down a bit before brushing them with an egg wash (1 egg + a tsp or two of water, lightly beaten). I like the color it gives them, and it makes the toppings stick better. For toppings, I like garlic, onion, a salt & seed mix, and cheese. For the garlic and onion, I've found that what works best is to rehydrate dehydrated onion and garlic with hot water. Fresh just burns to a crisp in the oven. I add cheese halfway through the bake. Cheese on top of some garlic is particularly nice. I baked at 500 degrees F on a pre-heated baking stone for 10-12 minutes, turning once halfway through the bake.
Finally, my daughter and I have had a lot of fun with the pasta machine we got for Christmas from my parents. Last night, we made spinach and cheese raviolis, which were a ton of fun to make, and even more fun to eat.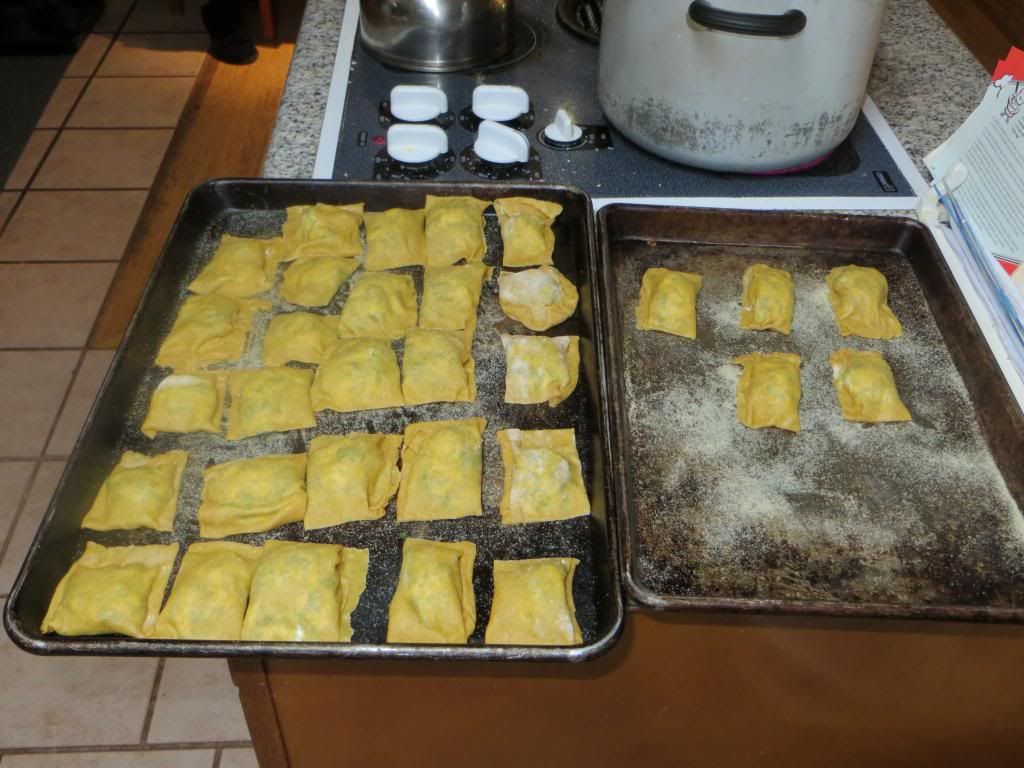 I sauteed them in some brown butter after they boiled and then topped with grated parmesan. Just delicious. Here's Iris and me turning the scraps into noodles. They went into the freezer and will likely be added to a soup sometime soon.
Happy New Year, fellow bakers!