December 17, 2012 - 11:34am
The first week of December featured a lot of baking, in marked contrast to the prior week.  Having my hands in that much dough was a genuine pleasure.  Even better was the knowledge that most of it was for the benefit of others, rather than for myself.
On Saturday, December 1, I finished my shopping and dropped off the ingredients in preparation for a class at the Culinary Center of Kansas City.  I also prepared biga that evening for a batch of Stollen.  On Sunday afternoon, I prepared and baked the Stollen, three loaves worth, and two loaves of a Bohemian Christmas Braid.  Students who get to see what the finished product looks like, and enjoy eating it, in class go home happier than those who do not.  (And they did like the taste of these breads!)  On Monday evening, I prepped enough biga for 20 batches of Stollen. 
The Bohemian Christmas Braid, before and after glazing (it's easy to see why my wife handled braiding duties for our daughters' hair):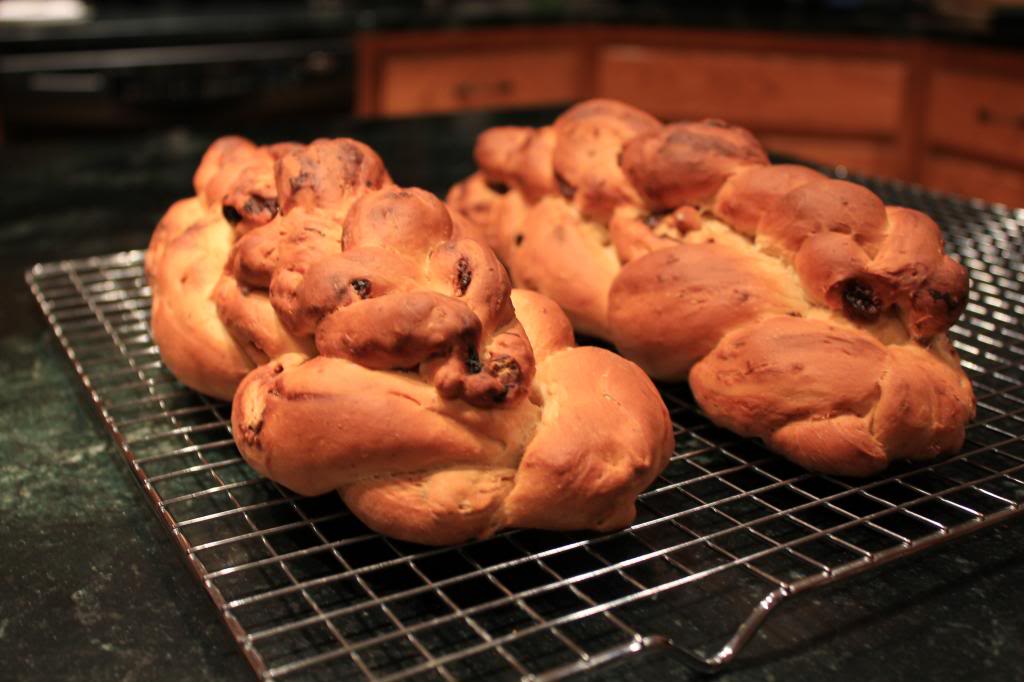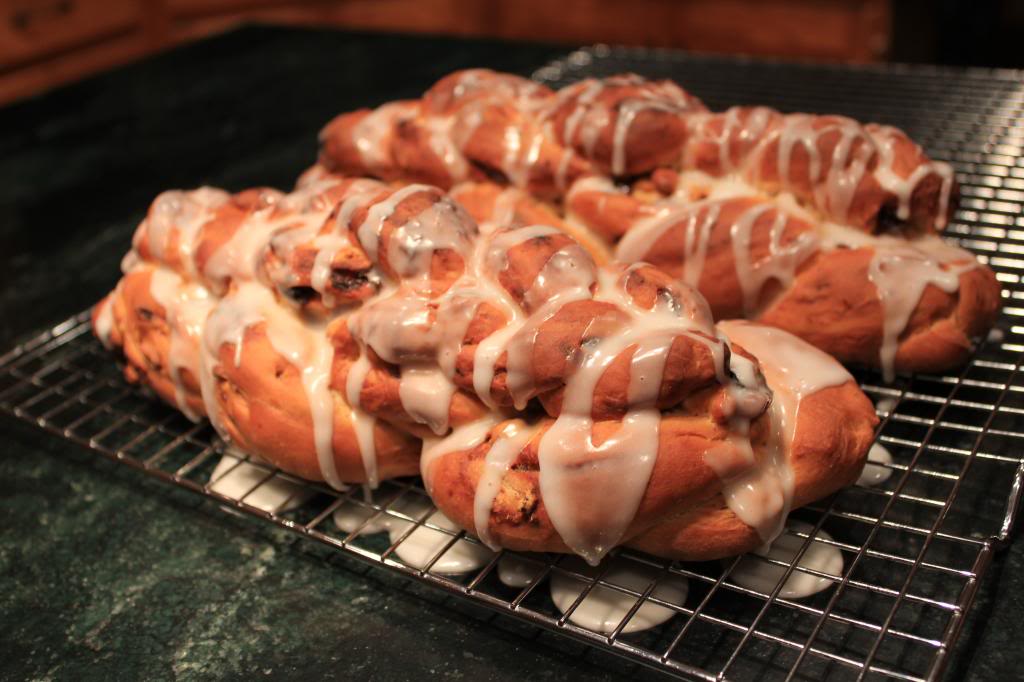 And the stollen, prior to basting with melted butter and blanketing in sugar: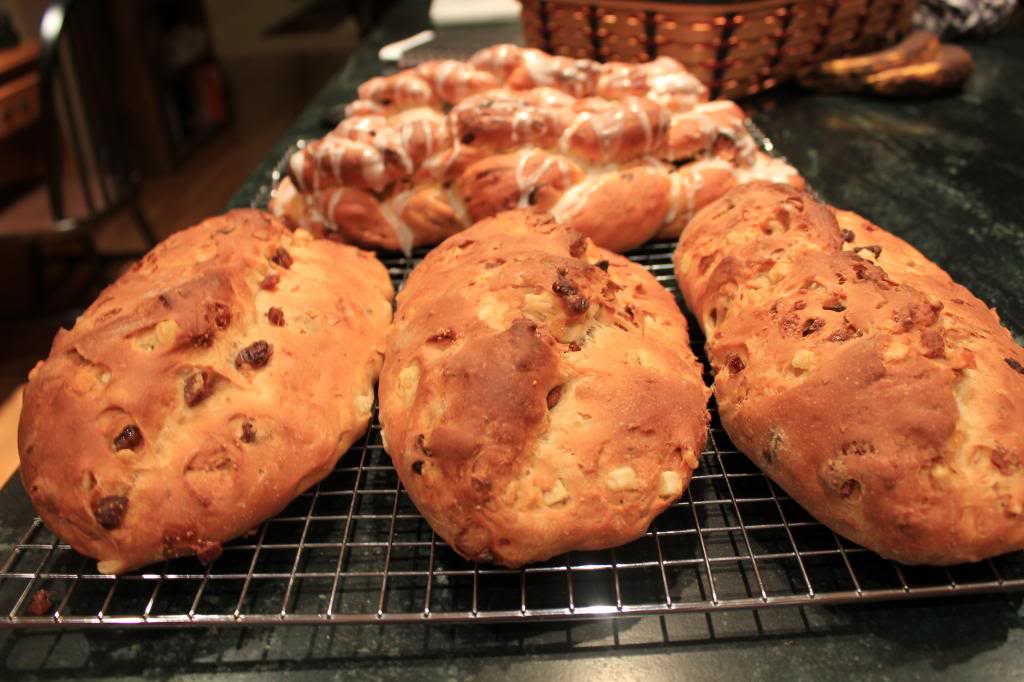 The class on Tuesday evening ran from 6:30 to 9:00.  I arrived at the Center just after 4:30 and spent the next couple of hours prepping ingredients, portioning the biga, and prepping one batch each of Stollen and Braid dough so that they would be available for demonstrating shaping techniques.  Meanwhile, my assistant was setting out the required implements at the student workstations and taking care of other room preparations.  The students started rolling in as we were wrapping up our set-up steps, so we were able to start right on time. 
The students ranged from bread baking newbies to experienced bakers wanting to pick up some additional information about the specific breads being taught that evening.  For instance, one lady was curious about what adjustments she would need to make since she mills her own flour at home.  Regardless of their experience levels, they were a wonderful group to work with and I thoroughly enjoyed our time together.
It's interesting how little things crop up.  We ran short of fruit peel for the Stollen because I made a mistake in my estimating.  However, we had more raisins and currants than required, which I had anticipated, and that allowed us to make up for the shortfall in the fruit peels.  It also gave a good opportunity to illustrate how to be flexible while baking, adapting to unforeseen circumstances.  I'm still scratching my head about the flour though.  Since I didn't have the final count when I shopped, I assumed that all 20 places would be filled.  From what I calculated, we needed about 42 pounds of flour; therefore, I picked up a 50-pound sack at Costco.  We used up every bit of that flour and pulled some from the Center's pantry!  Since I haven't found an error in my calculations, it's still a mystery to me how that much flour was used. 
On Friday, December 7, I baked 6 loaves of a Honey-Oatmeal Cinnamon Swirl Raisin Bread, adapted from the Honey-Oatmeal Sandwich Bread in the KAF Whole Grain Baking book.  Six, because that's as many 9x5 bread pans as I have and because that's as many as can easily fit in my oven.  Then on Saturday I made 4 more loaves.  We hosted the Christmas party for my wife's colleagues on Sunday and the bread was for gifts for them and for some other friends.  And one for us, too!  In addition to making fabulous toast, this bread goes really well with ham and cheese.  Other baking that Saturday for the party included about 3 dozen Eggshell Rolls from Clayton's Complete Book of Breads and Rye Rolls, source not recalled at the moment.  The Rye Rolls got a bit of a tweak when I substituted 1 teaspoon of caraway and ½ teaspoon each of coriander and fennel seeds, crushed, for the called-for 2 teaspoons of caraway. 
Honey-Oatmeal Cinnamon Swirl Raisin Bread dough: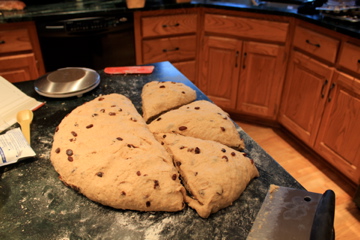 Baked and bagged: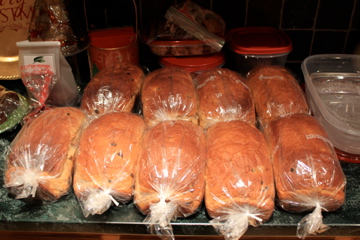 Eggshell Rolls: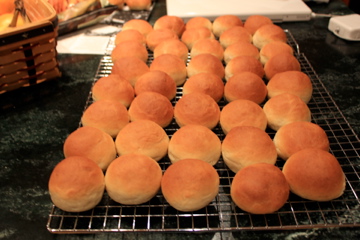 Rye Rolls: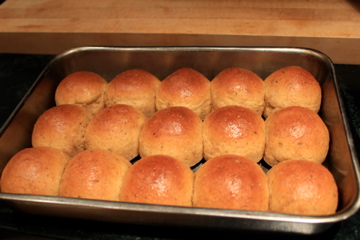 The  Honey-Oatmeal Cinnamon Swirl Raisin Bread also marked the first time I have used the Great River brand of whole wheat flour.  I had picked up a 10-pound bag at our local Costco, having seen it there for the first time.  I believe PostalGrunt mentioned it in a recent post of his, too.  Based on my experience, I like this flour.  The grind is quite fine.  I should buy some Wheat Montana flour again to see whether one has a finer grind than the other, or if their textures are approximately equal.  The bran flecks are the same size as the rest of the particles.  My first guess would have been that the flour is produced with roller mills but the Great River Milling site says it is stone-ground.  Although I couldn't locate a precise analysis, GRM says that their bread flours are milled from hard red spring wheat and "we strive to purchase wheat that contains 14 percent protein and strong gluten content."  From a purely empirical point of view, I'd say that they hit their target for the bag I purchased.  Not surprisingly, I had to increase the liquid content to achieve the desired dough consistency.  The resulting dough handled well and rose well, too.
The Great River flour bag: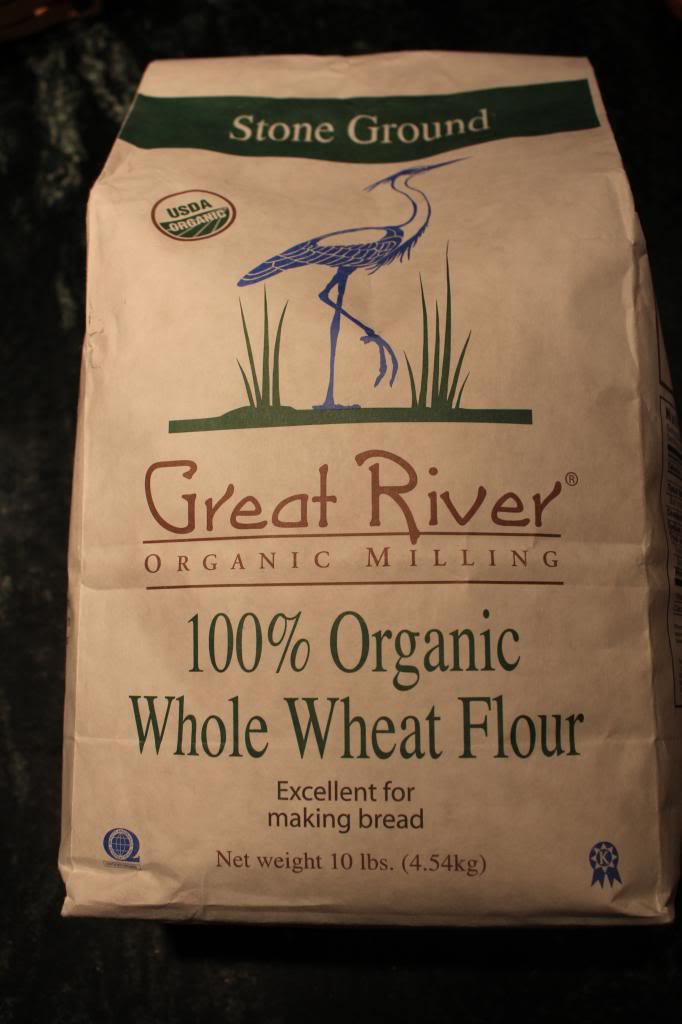 This past weekend I made a batch of Cromarty Cob from Andrew Whitley's Bread Matters. Having blogged about this bread previously, here, I won't go through a blow-by-blow account this time.  I made two deviations from Mr. Whitley's formula and process.  First, I increased amounts by 50% to produce two medium-size loaves, rather than one large loaf.  Second, I let fermentation proceed at ambient temperatures in my kitchen, which ranged from 65-68F, instead of the recommended 82F temperature.  As a result, fermentation times for the levain and for the final dough were in the 12-hour range, each.  With the whole-wheat content being approximately 50%, this yielded a bread with a noticeable sourdough tang.  The wheaty flavors that were masked by the cinnamon and raisins in the Honey-Oatmeal Cinnamon Swirl Raisin Bread get to shine in this loaf, too.  I expect that using a higher fermentation temperature would lead to a bread with a more subtle sourness and, therefore, a more wheat-forward flavor and fragrance.  As it is, I'm every bit as happy with this bread as I was the first time I made it.  And I'm happy to have found another high-quality whole wheat flour to work with that doesn't inflict exorbitant shipping costs.
Since odds are pretty good that I won't post any new blog entries between now and Christmas, please let me wish each of you a blessed and merry Christmas.