December 11, 2012 - 2:04pm
100% Spelt Loaves made with Local Grain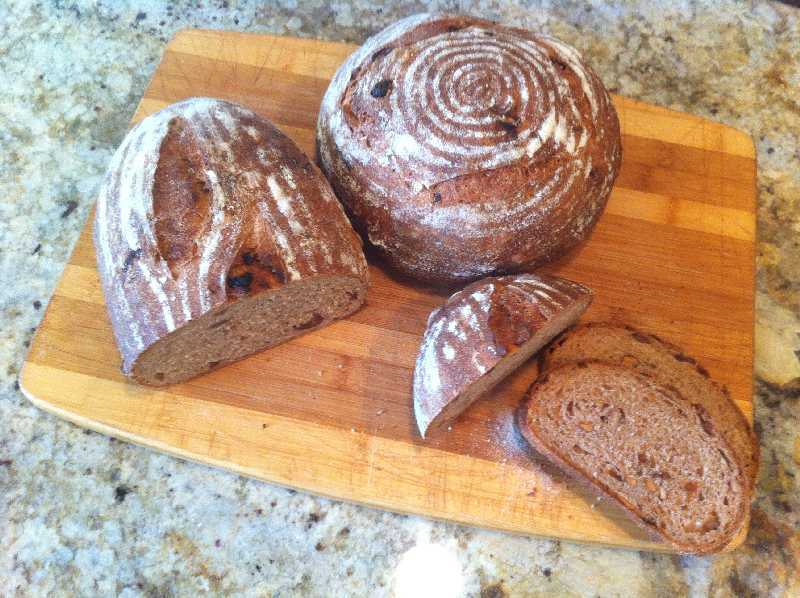 Tom/toad.de.b recently posted  *here* about a new organic sprouted whole wheat flour he'd run across in his local market that is produced by One Degree Organic Foods. I was delighted to learn that One Degree OF is located here in British Columbia Canada, not far from Vancouver in the city of Abbotsford. One of our local supermarkets carries two of their products, the Organic Sprouted Whole Wheat flour that Tom featured in his post, and an Organic Sprouted Spelt Flour milled from grain grown in Lumby, located in the Southern Interior of B.C.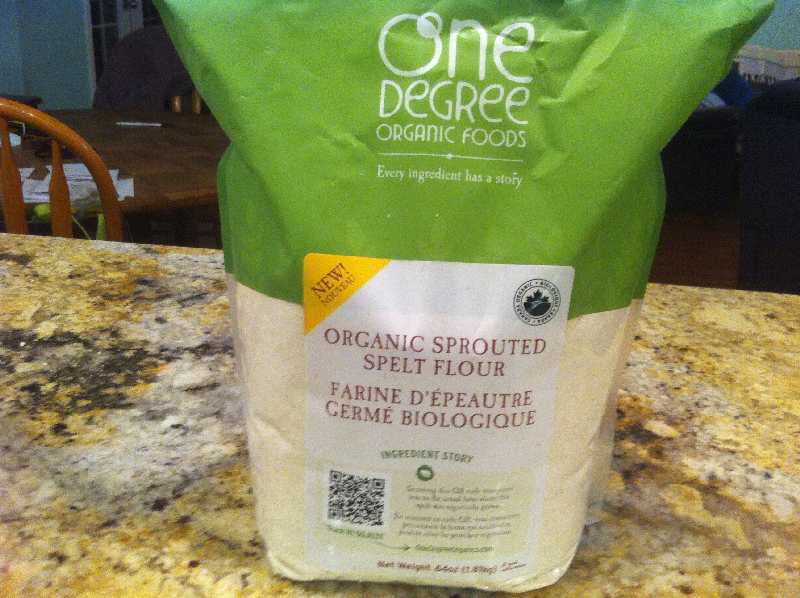 A rare treat indeed to have a locally grown grain to use and since I haven't baked with spelt in over a year the decision was an easy one to make. When I think of spelt breads, particularly100% ones as these loaves are, the nutty flavour of the grain is what first comes to mind, and not far behind that is the fragile nature of the dough due to it's lower protein content. What spelt flour lacks in gluten strength, aptly described by http://www.thefreshloaf.com/user/nicodvb as wheat's "poorer cousin" is more than made up for by its earthy, well rounded flavour that compliments a wide variety of toppings and accompaniments. Toasted almonds and dates were included in this mix along with honey and a touch of apple-cider vinegar. Increasing the dough's acidity just a little goes a long way toward strengthening a dough made from spelt or durum flour, both of which typically have low or poor quality gluten content. Although the One Degree flour shows a protein content of 13.3%, how much of that is gluten based isn't clear. If this mix had included a sour leaven of some kind I wouldn't have bothered with the vinegar but since I was using a spelt pate fermentee as the preferment I decided to hedge my bets by including it. Between the preferment, vinegar, or the flour itself I'm not certain which contributed more to the overall strength of the dough but it resulted in a mix that showed very little of the tearing so common with high ratio spelt doughs.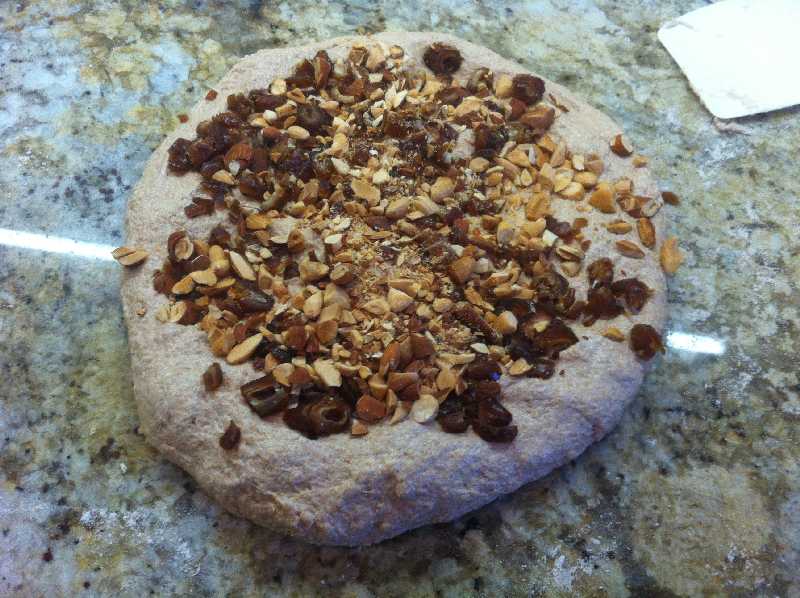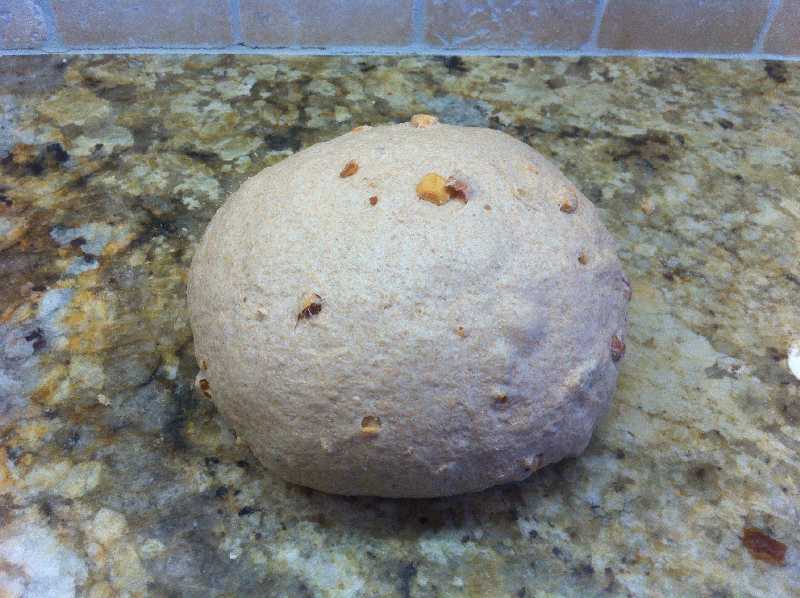 The loaves took on a rich brown colour during baking and I detected a whiff of the cider vinegar as it baked off but no evidence of it upon tasting. The primary flavours are those of the grain and the toasted almonds accented by a touch of sweet from the dates and honey. The crumb is fairly soft and moist with a very nice texture compared to other 100% Spelt breads I've made. Overall I'm quite happy with the final results of this bake and the performance of One Degree Organics Sprouted Spelt Flour.
Best Wishes,
Franko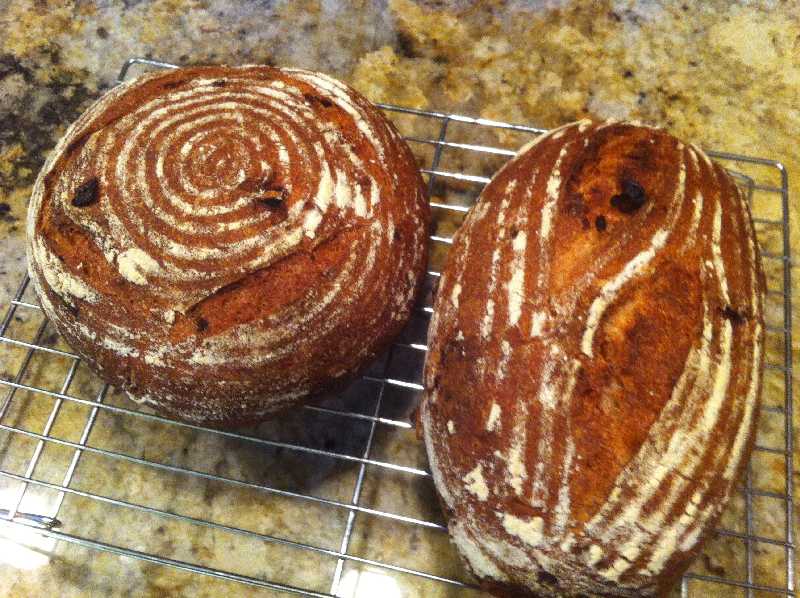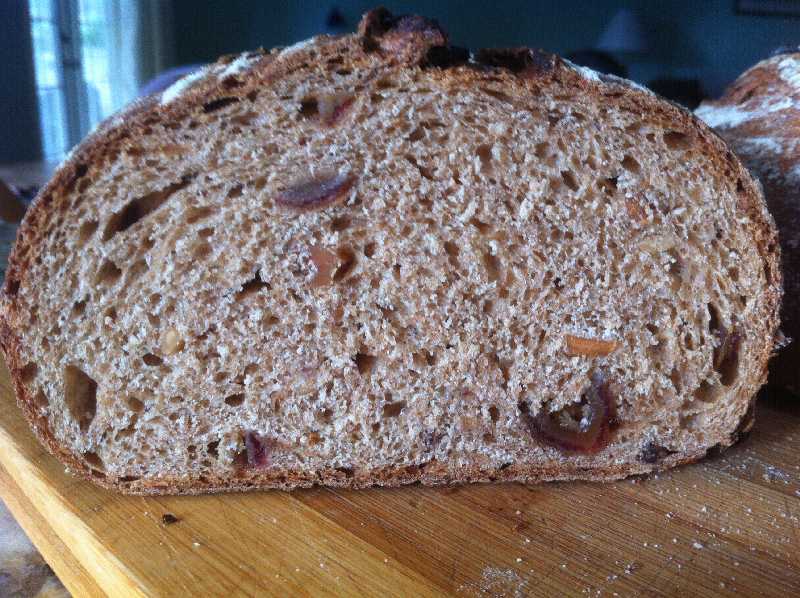 Procedure: 
Other than the six hours it took for the pate fermentee to dome, indicating it was ready for final mixing, this is a relatively quick bread to make.
DDT 76-78F/24-25C 
No autolyse needed, just dump all the ingredients except the fruit and nuts in the bowl and mix by hand until the dough comes together. Knead for a few minutes (less than 5) until the dough begins to build strength and becomes smooth. If the dough begins to tear stop kneading and let it rest for 5 minutes before resuming.

Cover the dough and rest it for 15 minutes, then press it out to a disk and cover with the fruit and nuts. Fold the dough over and slowly work the fruit/nut mixture into the dough until evenly dispersed. The dough has 2-3 stretch and folds during bulk fermentation so any clumps of fruit or nuts tend to even out by the time it's completed BF.

This dough had 70 minutes BF time at 76F/24C with a stretch & fold at 20 and 40 minutes. After bulk was complete the dough was rounded lightly and rested for 15 minutes before scaling at 740 grams per loaf, then shaped and put for a final rise of 60-70 minutes. 
Preheat the oven and stone to 465F/240C. Watch the final proof very carefully during the last 20 minutes as an all spelt dough can over-proof quite quickly. When the dough has a little less than doubled remove it from the proofing environment and let it air dry for a few minutes before slashing.

With preferred steam system in place and oven vent blocked, slash the loaves as desired and place in the oven. Lower the temperature to 440F/226C and bake for 10 minutes, remove steam system, vent the oven and bake with convection on for a further10 minutes. Lower the temperature to 430F/221C and bake for a final 15 minutes, rotating the loaves if necessary for even colouring.

Check the loaves to ensure full baking either by tapping the bottom for a hollow sound or use a thermometer looking for an internal temperature of 206-210F/96-98C. Cover and cool on a rack for 6 hours before slicing.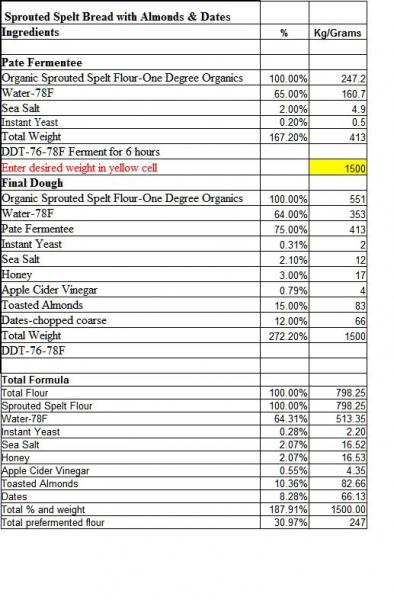 Link to working spreadsheet *here*