November 20, 2012 - 5:00pm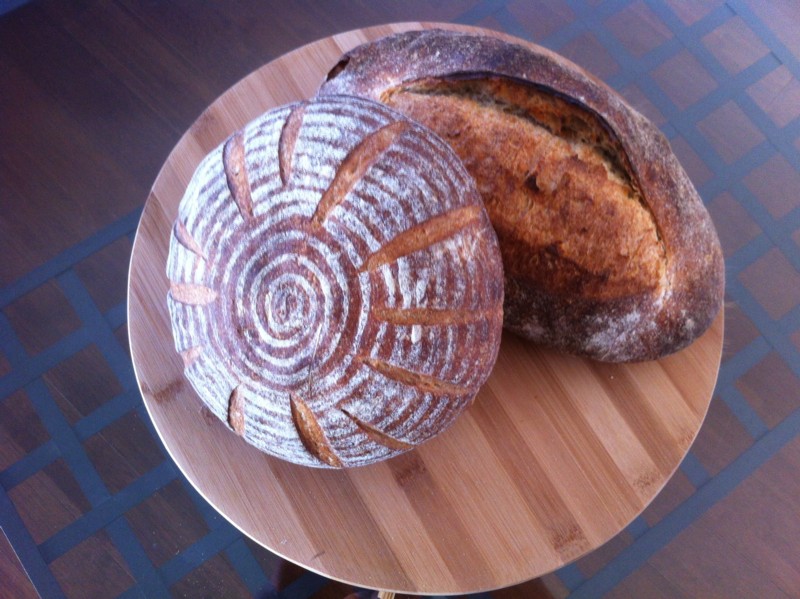 In the first week of October we began a complete renovation of our kitchen with the idea that should the local real estate scene ever return to a seller's market, an up to date kitchen would be necessary if we wanted to list the house and draw acceptable offers for it. The other side of the coin was that if we opted to stay put, at least we'd have a kitchen that would serve us well for the next 10 to 15 years. The reno took just a shade over 4 weeks to finish, the end result we feel was well worth the inconvenience of doing without a kitchen for what seemed a very long month.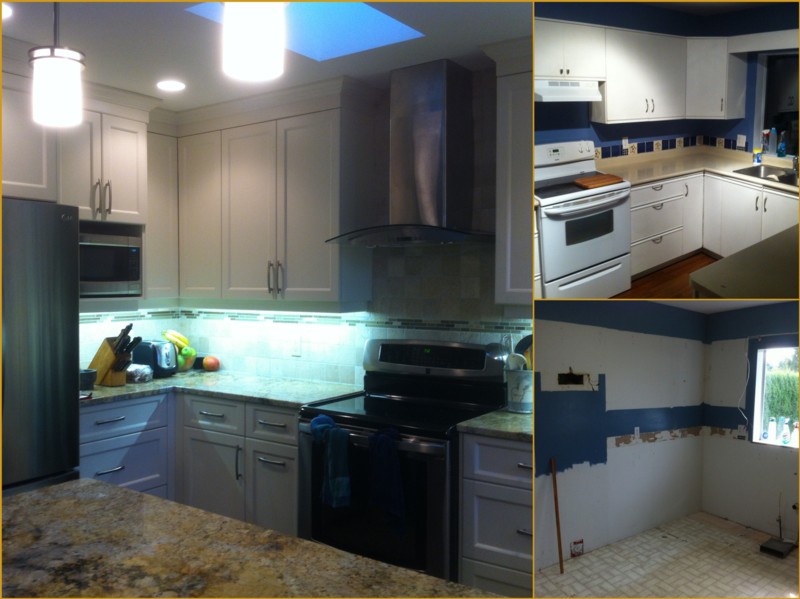 Before we sold the old oven I managed to get one last bake in to tide me over for at least some of the time while the renos were in progress. Jeffrey Hamelman's Vermont Sourdough from "Bread", my go to loaf of late, produced two good loaves for me and I was happy to see the old oven go out on a high note of sorts. I love the classic flavour of this bread with it's subtle rye and sour notes giving it just the right flavour to enjoy as Hamelman suggests, everyday.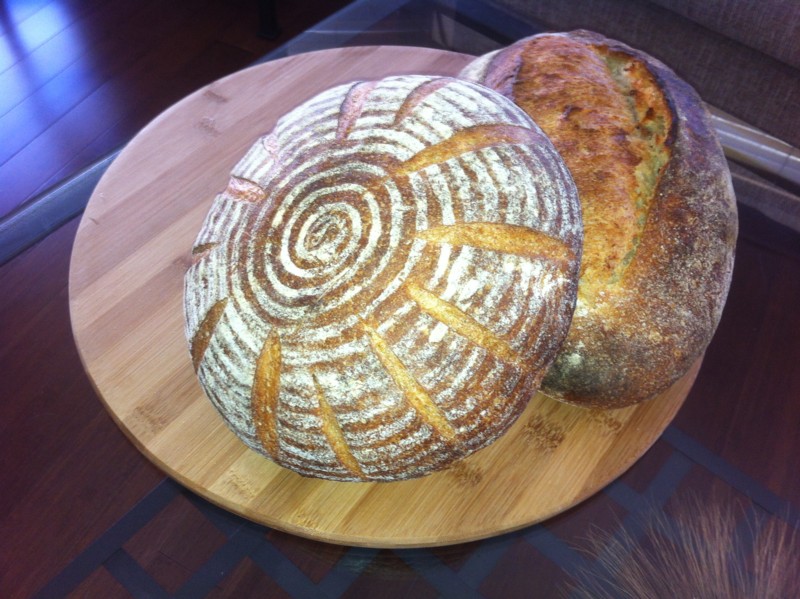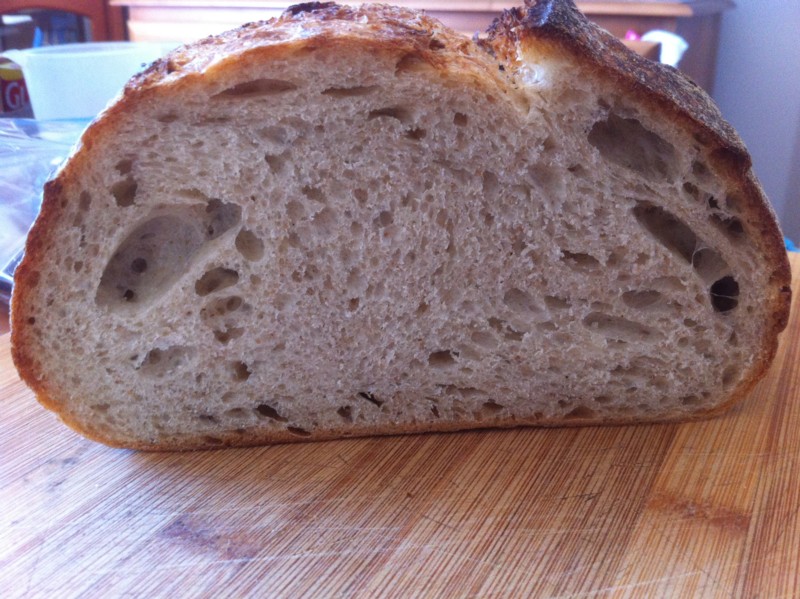 That oven turned out a lot of bread, pastries and cakes over the years and had always preformed reliably for my wife and I so I was a little sorry to see it go...but only just a little. The new oven we selected is from the same Sears Kenmore line as the previous one but with a convection function and a few other whistles and bells included that the old one didn't have. Besides having convection, one of the features this oven has is a top range of 550F/287C whereas the old one topped out at 500F/260C. For pizza and some breads I like having the option of using the 500F+ temps for a short period to maximize the jump and/or for crust colouration.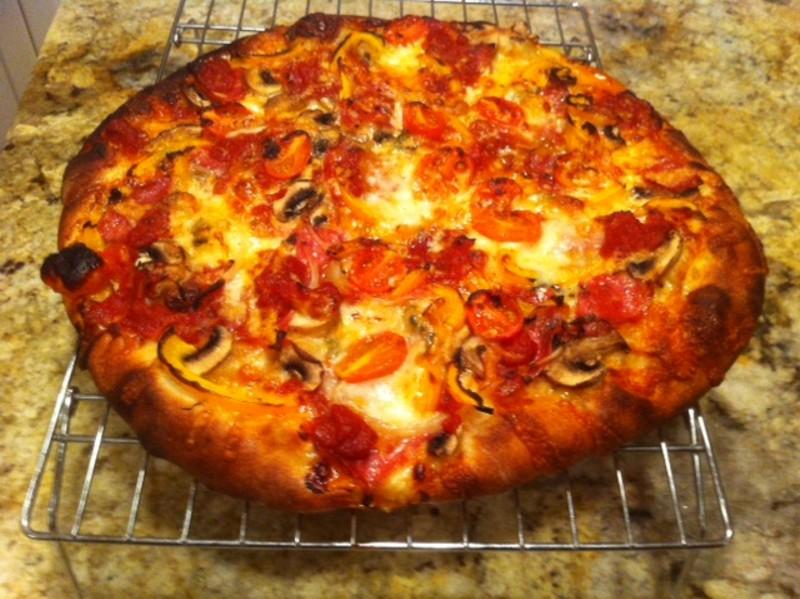 The very first item baked in the new oven was a pizza made from approx. 220-250 grams of dough that went in at 525F, lowered to 460F and baked in convection mode. The pie baked off in just under 9.5 minutes coming out with a little char around the edges but leaving the bottom crust an even coloured light brown, something I rarely managed in the old oven and never in less than 10 minutes.
This looks promising I thought, but knew I'd have to keep a close eye on things until I became familiar with this much stronger oven.
A few days and feedings later my rye starter had come back to life after it's month long hibernation and  put to work making a levain for another loaf of Vermont Sour. As with the pizza I started the bake at 525F but kept it going for the first 10 minutes (with steam) before lowering the heat to 440F with convection on and removing the steam tray. I stayed in the kitchen for the entire time monitoring the bake as it progressed and it's a good thing I did. The loaf coloured up rapidly, probably 5-10 minutes faster than what I'm used to. I found I had to lower the heat down to 400F and change it's position several times to get an even colour during the final 10 minutes while the internal temp of the loaf came up to 210F. In total the entire bake time came to 40 minutes for the 1,050 gram loaf, roughly the same time it took the old oven to do at a steady average temperature of 460-470F.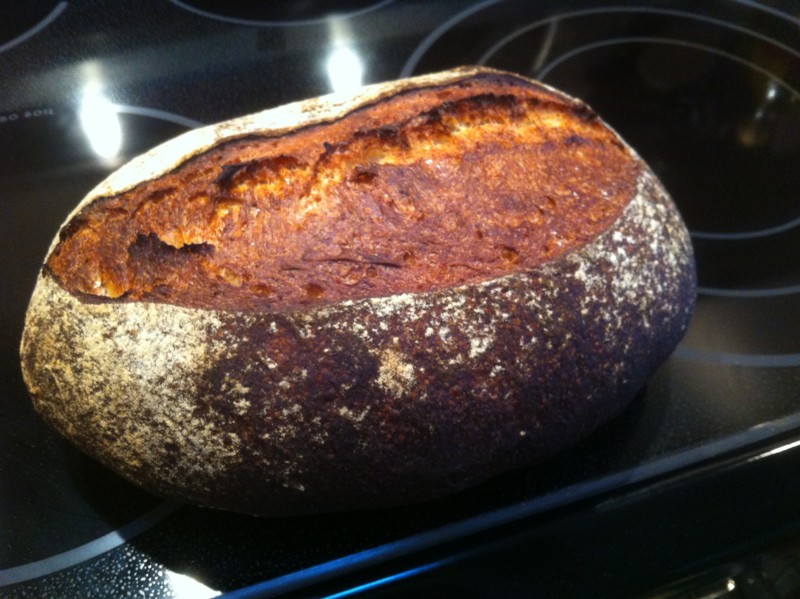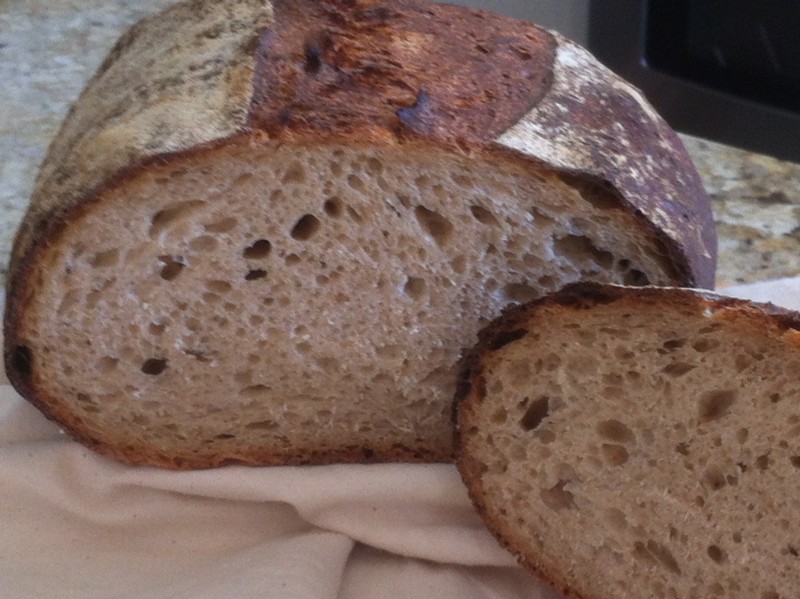 For the next bake I wanted to try something different and settled on Hamelman's Potato & Roasted Onion Bread from "Bread", one I've been meaning to make but hadn't gotten around to yet. It seems I've been missing out on a real treat for all this time. The bread is a joy to eat, very moist for a lean bread and with great flavour from the roasted potatoes, and with roasted leeks that I substituted for the onions. I've made two of these loaves in the boule shape so far, attempting to get the Fendu style loaves shown in photo # 12 of "Bread" with no success. I've come to the conclusion that the doughs I've made are too large for the brotform I have. Next time I'll try it in my large banneton and hopefully the extra room will allow the crease to open up the way it should.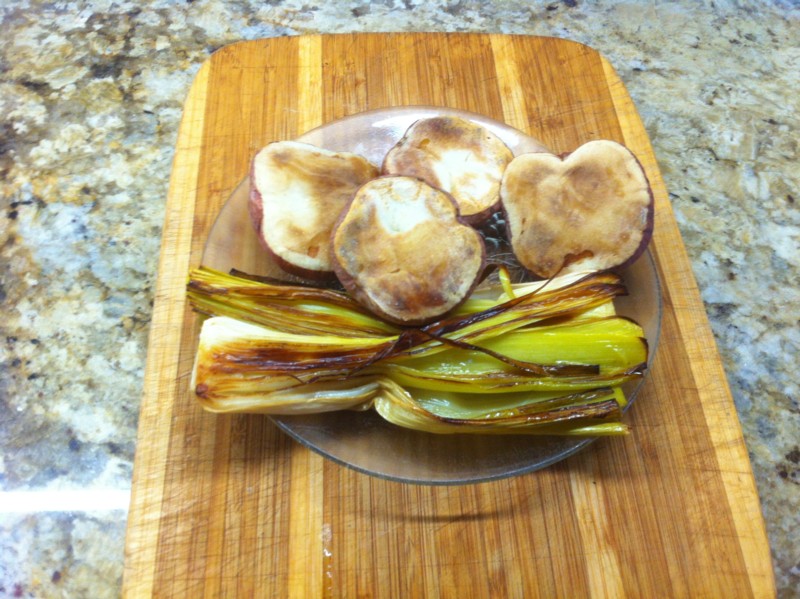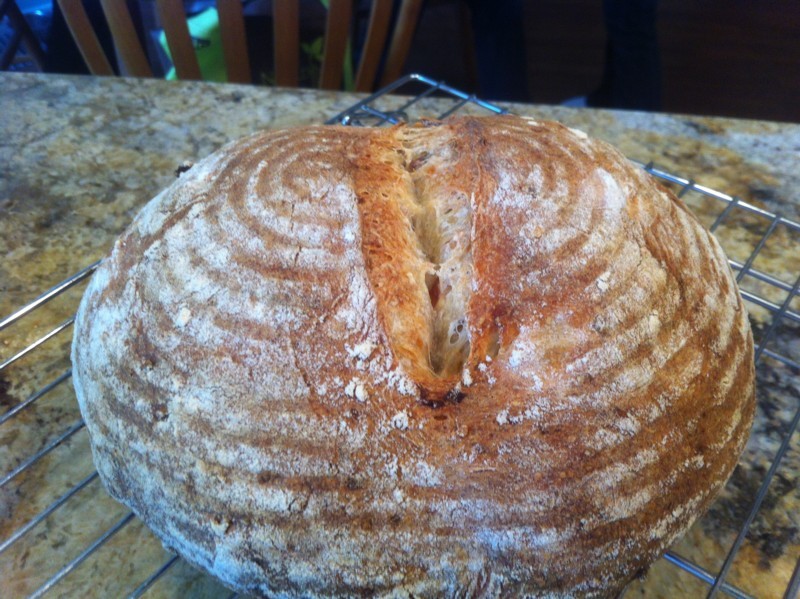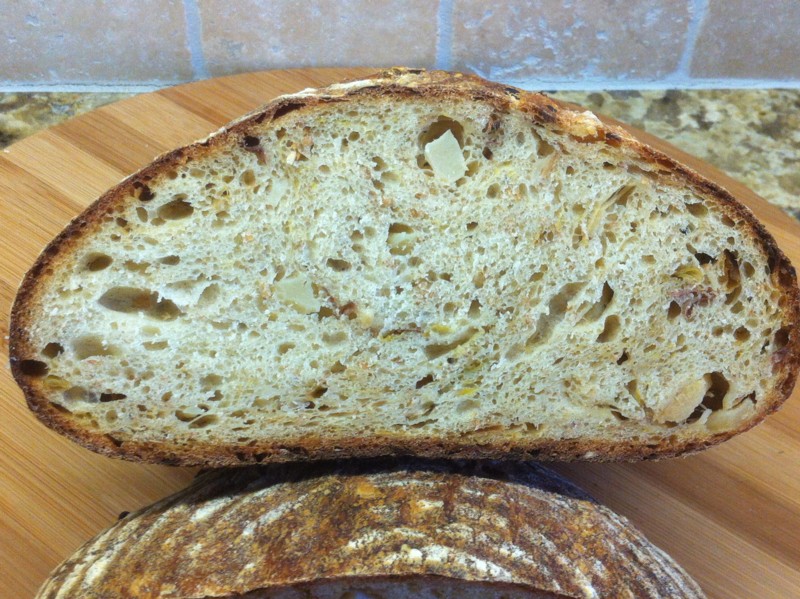 Earlier in the week I'd made some Maple and Black Pepper cured bacon that I thought would go nicely with toasted Potato Leek Bread in a BLT....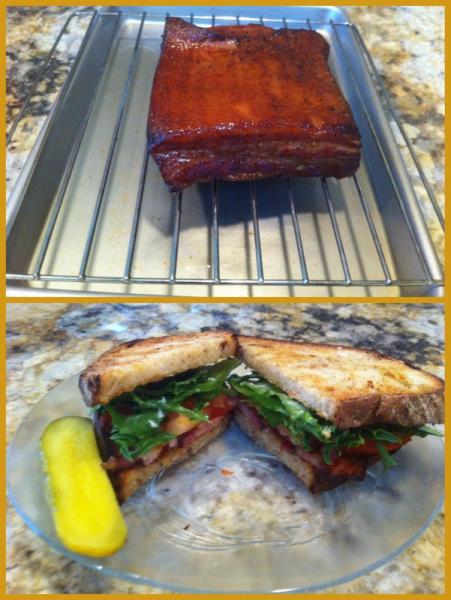 and it turns out I was right! 
The recipe below is my adaptation of Jeffrey Hamelman's Potato Bread with Onions -Pg- 120 of "Bread A Baker's Book of Techniques and Recipes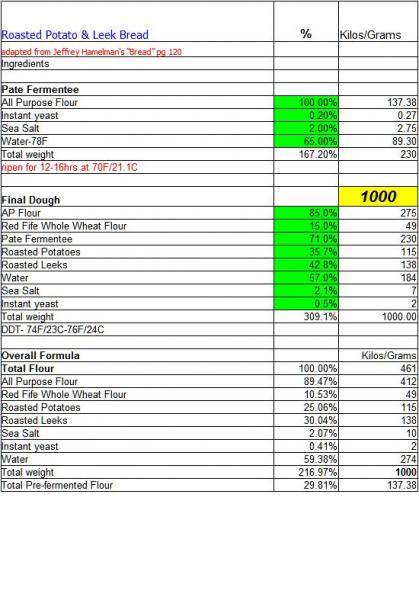 Link to Procedure *Here* 
There is another bread that I've made recently but I think I'll save it for another post, this ones become an epic. 
Cheers to all and a very happy Thanksgiving Day to all my fellow TFL members in the US
Franko