November 5, 2012 - 6:22pm
24 hour 10% Whole Grain SFSD & SD Seeded Fig Bread with Pistachios - 1 g of Starter - No Levain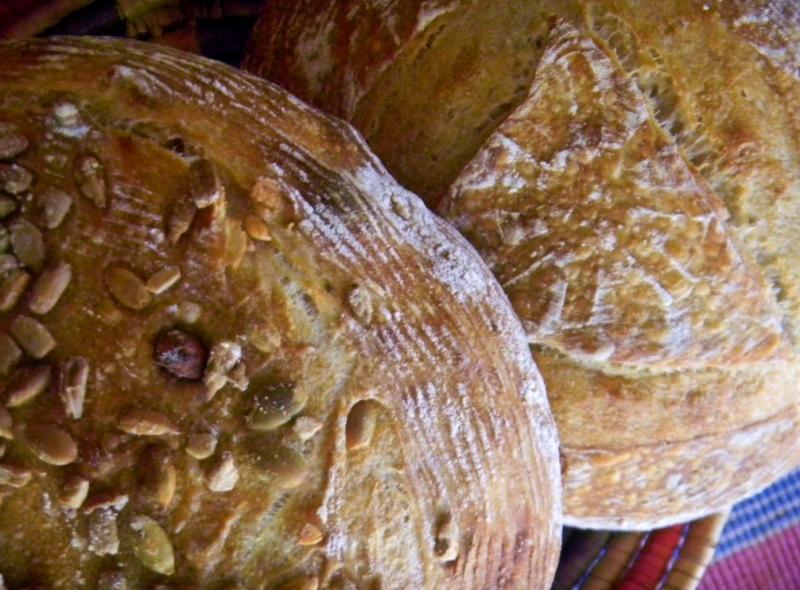 To see the beginning of this bake go to the following link and go down below *********************************
http://www.thefreshloaf.com/node/30755/sd-starter-experiment-how-long-can-it-ferment-counter-goo-overtakes-it
This is about as fool proof, something we need around here, SD bread imaginable that only takes 7 g of starter and 24 hours of basically doing nothing. No retard, no levain building, no refrigerator required.
Just take7g of starter, mix it with 66 g of whole grains, I used equal amounts of spelt, rye and ww. Add 2g each of red and white malts made from the same grains, 315 g each of AP and bread flour with 72% hydration (505) g of water. Once mixed let it sit for 30 minutes to autolyse, add 11 g of salt and do 15 minutes of French slap and folds. Once done let it sit in a plastic covered oiled bowl on the counter for 20 hours until it doubles.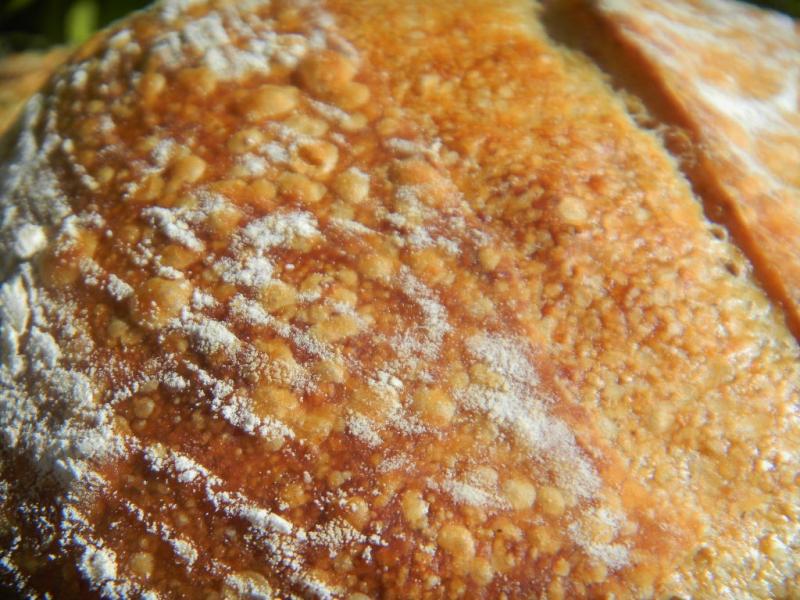 The split it in half and shape one into a SFSD boule to see how tasty and sour this bread is and make the other one into what ever you want. I put (2) kinds of figs, some pistachio nuts and some sunflower and pumpkin seeds in the mix and shaped it into an oval SD seeded Fig and Pistachio boule.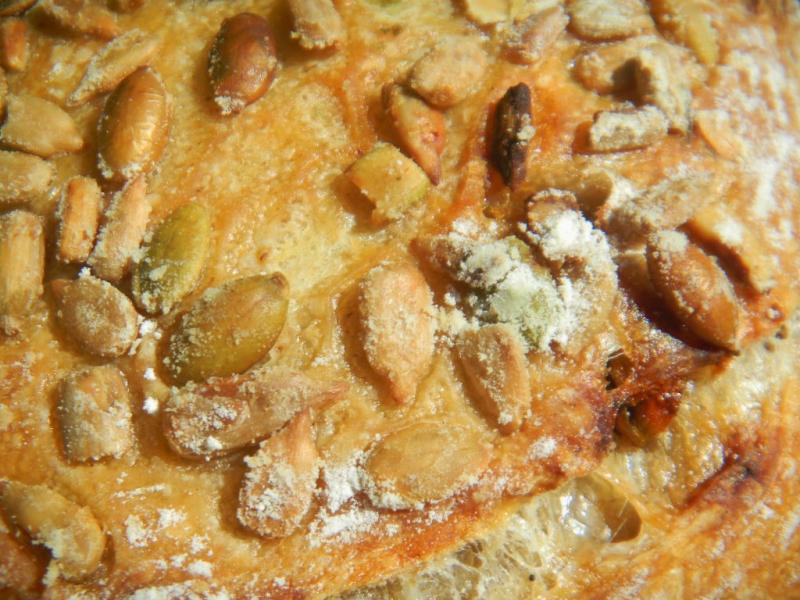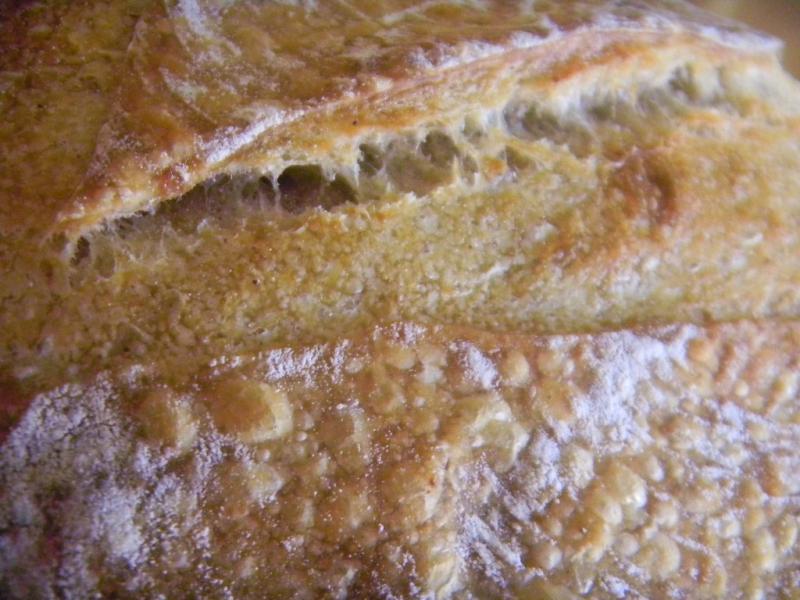 In 4 hours they both went into the 450 F oven with 2 of Sylvia's steaming loaf pand and baling stone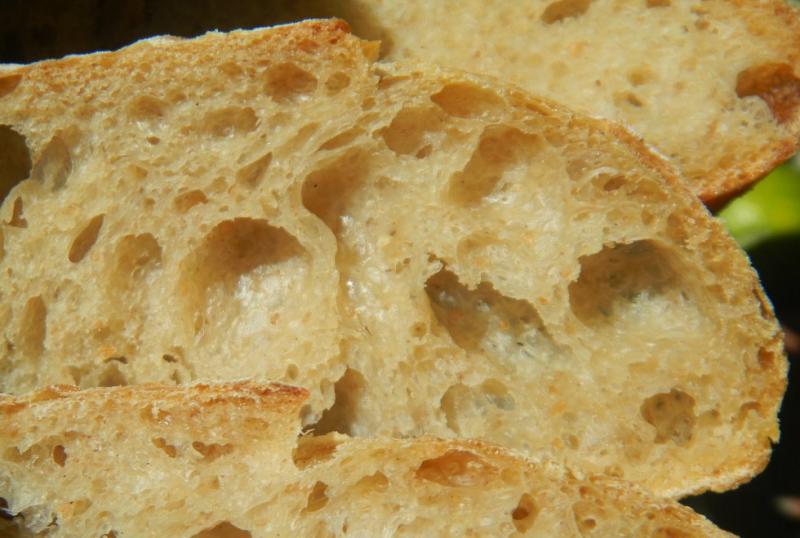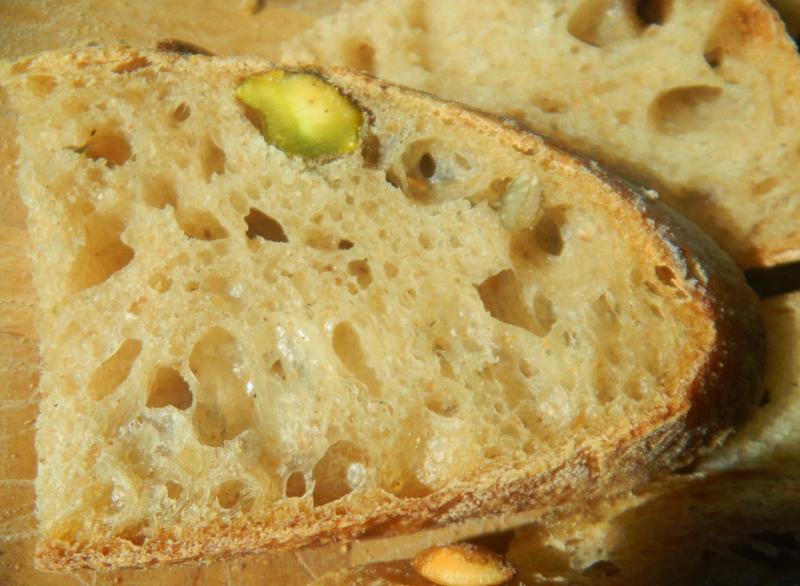 I had thrown some of the seeds into the bottom of the oval basket before the dough went in so when the seeded bread was un- molded I slashed 2 crescent moon shapes on the top where the seeds stopped, about 1/3 the way down from the top. I cut a triangle on the top of the none seeded boule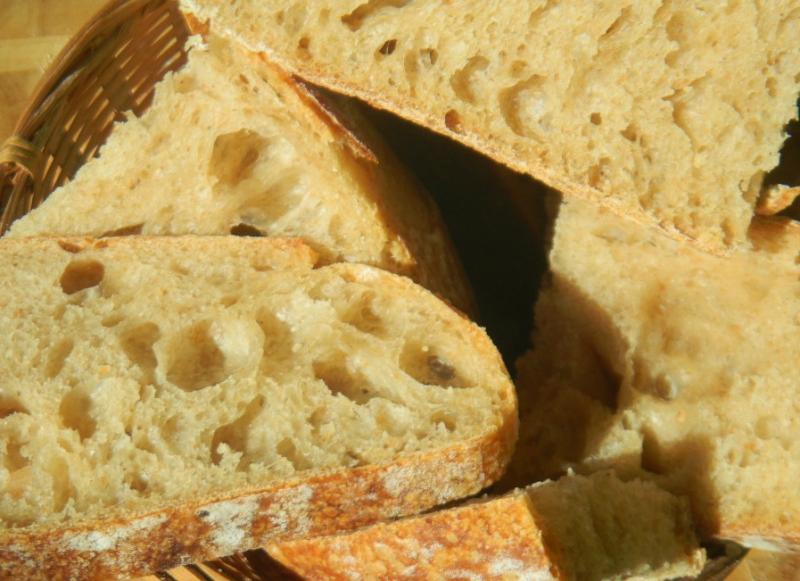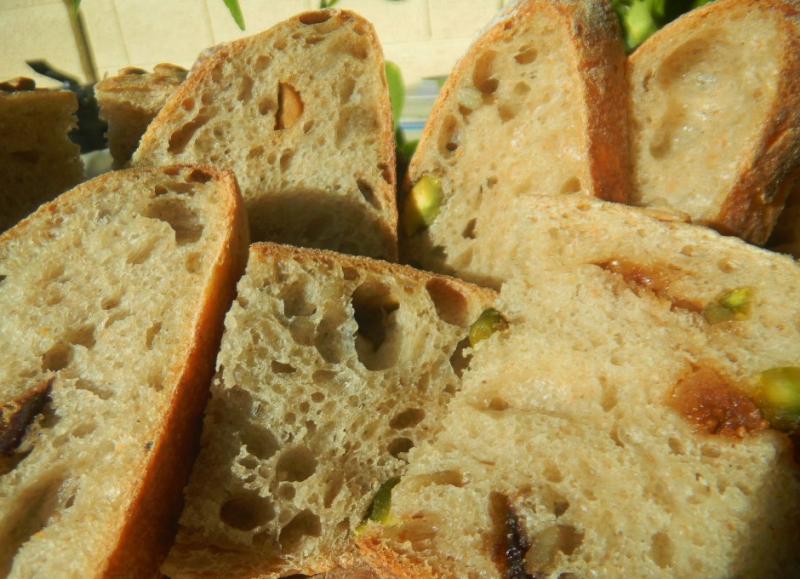 They steamed for 12 minutes and then the steam was removed, the oven was turned down to 425 F convection and the breads baked together for another 10 minutes. Each was rotated 180 degrees on the stone after 5 minutes.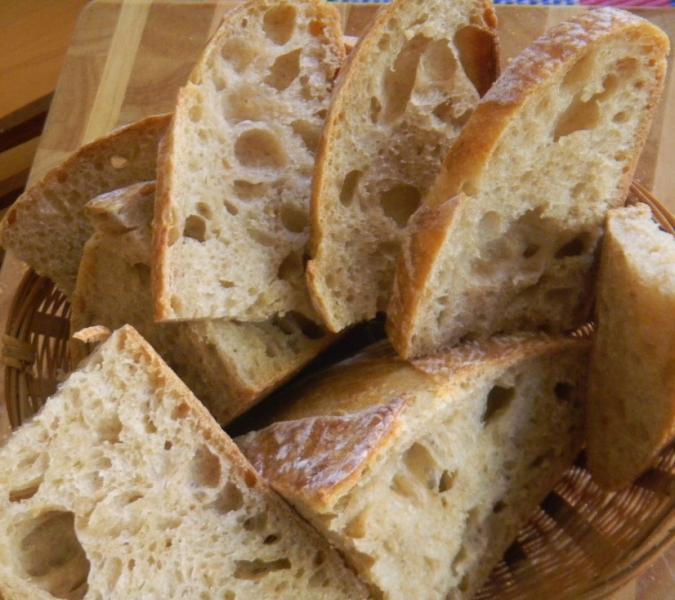 At the 22 total minute mark each bread read 208 F and my apprentice deemed them done with a wag of her tail. We left them on the stone for another 10 minutes with oven off and the door ajar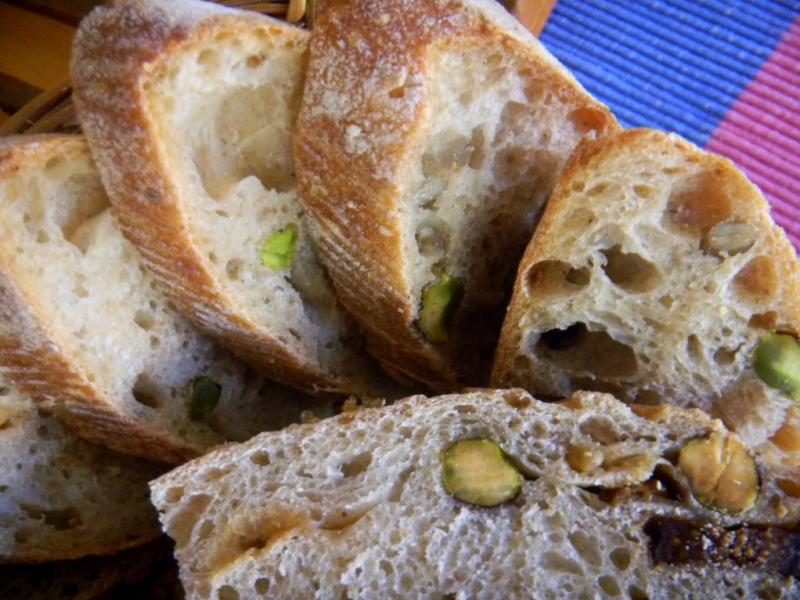 Both of the boules baled up nicely brown without incident. Spring was good, the plain SFSD was well blistered and the seeded bred much less so. The crumb was more open on the plain SFSD as expected but the seeded bread was airy. Both were glossy on the inside with the plain one more so. Both were moist but the seeded fig bread even more moist.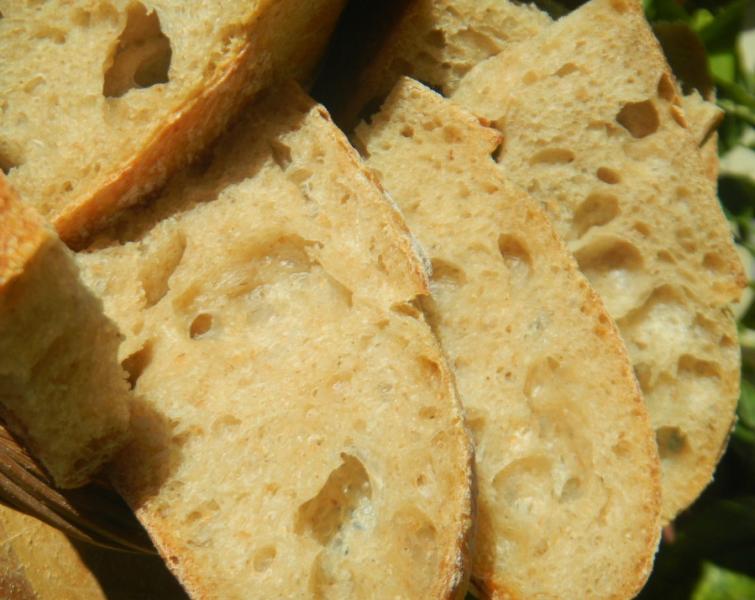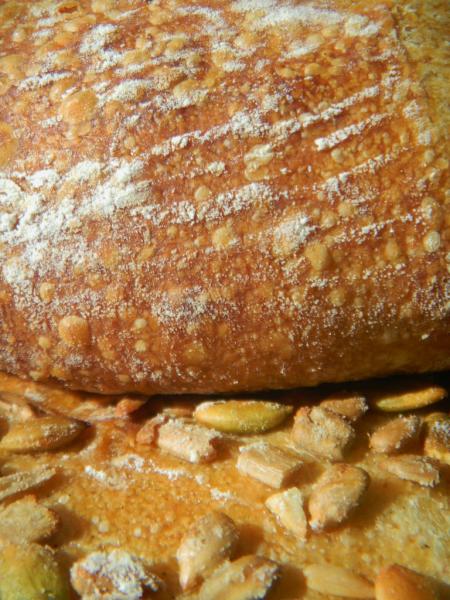 Both were nicely sour and we expect them to get more pucker going by tomorrow. If I had to pick my favorite of the two, I would go for the fig bread this time. It may not be as easy as no-knead but if you are looking for an easy way to make decent SDSF this is it.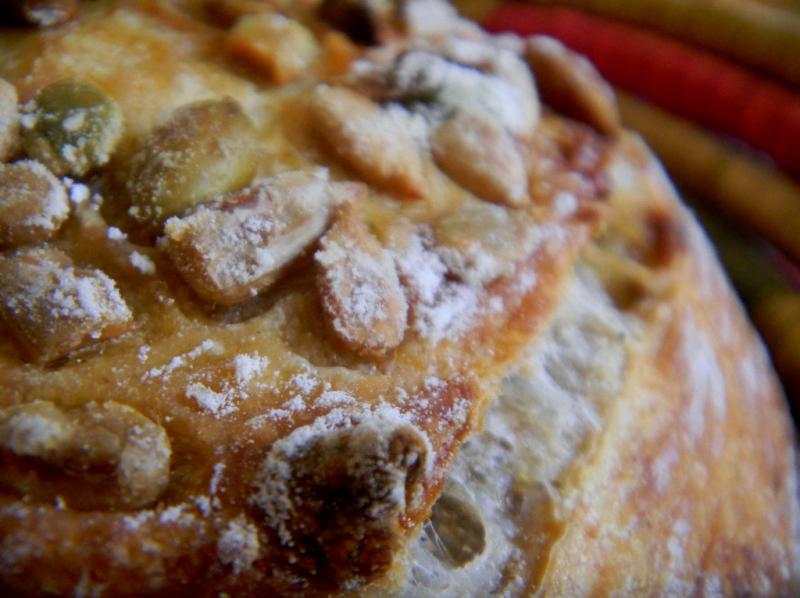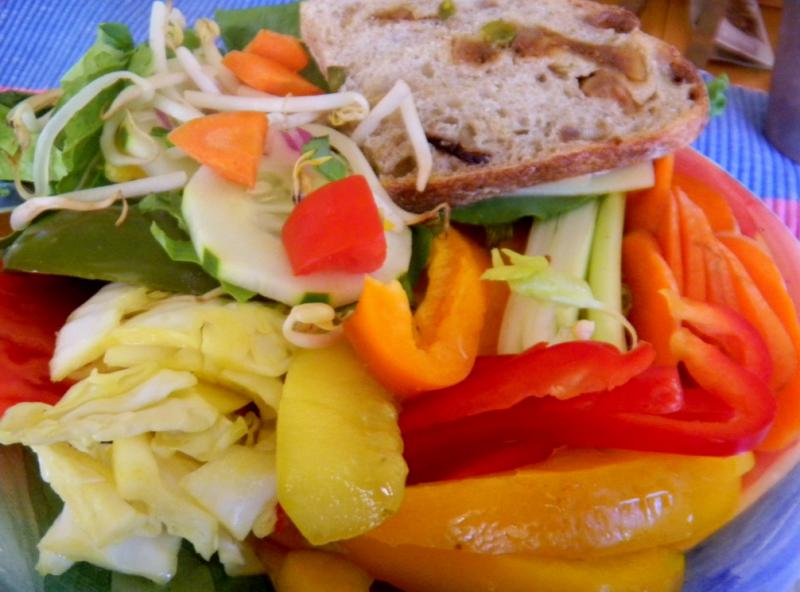 Formula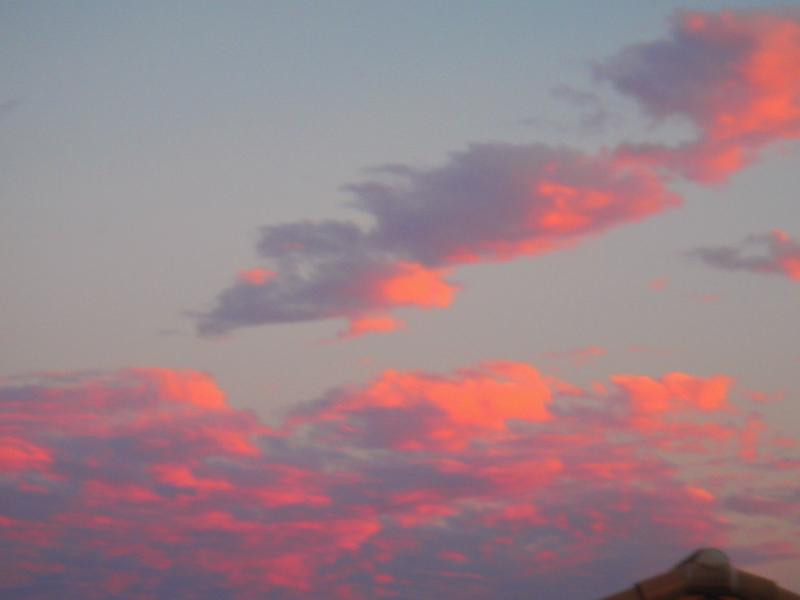 | | | |
| --- | --- | --- |
| Starter | Build 1 | % |
| SD Desem & Rye Sour | 7 | 1.00% |
| Water | 0 | 0.00% |
| Total Starter | 7 | 1.01% |
| | | |
| Starter Totals | | |
| Hydration | 66.67% | |
| Levain % of Total | 0.57% | |
| | | |
| Dough Flour | | % |
| Bread Flour | 315 | 45.26% |
| Whole spelt | 22 | 3.16% |
| Dark Rye | 22 | 3.16% |
| Whole Wheat | 22 | 3.16% |
| AP | 315 | 45.26% |
| Dough Flour | 696 | 100.00% |
| | | |
| Salt | 12 | 1.72% |
| Water | 505 | 72.56% |
| Dough Hydration | 72.56% | |
| | | |
| Total Flour | 700.2 | |
| Water | 507.8 | |
| T. Dough Hydration | 72.52% | |
| Whole Grain % | 10.50% | |
| | | |
| Hydration w/ Adds | 72.11% | |
| Total Weight | 1,231 | |
| | | |
| Add - Ins | | % |
| Red Rye Malt | 2 | 0.29% |
| White Rye Malt | 2 | 0.29% |
| Total | 4 | 0.57% |
| | | |
| Add Ins for Half of the Dough | | |
| Pistachios | 20 | |
| Sunflower 10, Pumpkin 10 | 20 | |
| Mission and Adriatic Figs | 50 | |
| Total | 90 | |
| | | |
| SFSD Total Weight | 615.5 | |
| Fig, Nut & Seeded Weight | 705.5 | |