October 14, 2012 - 6:04am
Reinhart's Spent Grain: 98%+ local content, great ferment smell, but hoping for more flavour?
After coming across this post here at TFL while looking for something else, I thought I'd give baking with spent grains a try.
We have a local microbrewery - Sleeping Giant Brewing Company - here where I live, so I brashly e-mailed the brew-meister asking if I could take some spent grain off his hands to experiment with in exchange for bread.  He quickly agreed.  I picked up a small pail of spent grain from a batch of Skull Rock Stout, and bought some of the stout, to use for a locally-sourced whole-wheat spent-grain bread. 
My local flour is Brule Creek Farms, grown and stone ground less than 20 minutes drive from here (I pick mine up at the weekly farmer's market).  I used 75% whole wheat and 25% partially sifted in my test formula.
I also used some locally-sourced honey I picked up at the farmer's market in the mix.
Based on this recipe (I'm still waiting for Reinhart's WGB), here's the formula I developed for a 1000g/35 oz. loaf (I made two):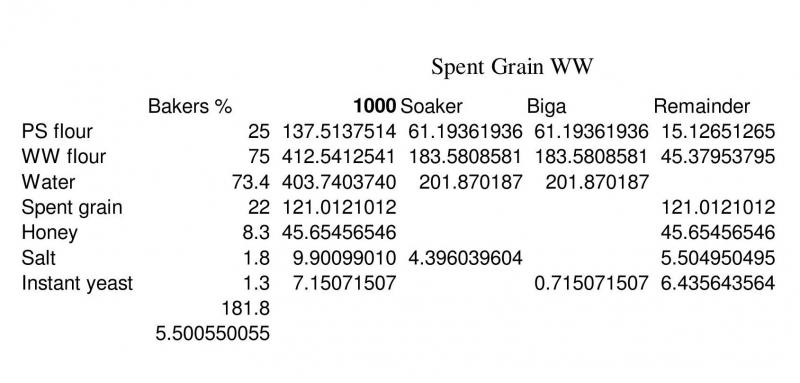 So, based on this formula, we're talking a 98.3% local product by end weight (only salt and yeast was non-local).
I was thinking about using all stout as the liquid component, but when I tasted the rich, dense, almost chocolately brew, I decided to be a touch conservative for the first test batch and go 1/2 stout, 1/2 water.  I used all the stout for the soaker, and all the water for the biga.
Also, the yeast looked a touch too much for even whole grain bread, so I used a bit less - maybe closer to 0.8-1 %, and extended the fermenting times a bit.  I prepared the soaker Thursday night (sitting in the fridge ~10C/50F), the biga Friday night (again, in the fridge), and assembled/baked Saturday morning/afternoon.   A couple of things jumped out at me prior to baking:
1)  the dough (which I mixed by hand) was LOADS softer, looser and more pliable, especially after a brief autolyse while I quickly did the dishes, than other +70% whole wheats I usually do using a straight dough process.
2)  THE AROMA!  There were hints of meat and chocolate in the mix, but the closest I could come to with a description of the overall smell was "Marmite light" - zesty, Marmite-y, with anchovy undertones, but without the tang of the Marmite.  Am I making sense?  This led me to expect great things!
Since I had to drive out of town to pick up some things, I fermented the mixed dough in the fridge for ~2 hours, and then at room temp until it doubled - total:  ~3 hours.  I then shaped & proofed at room temp (18C/64F) for about an hour, then into the oven for a total of 60 minutes until the internal temp was 93C/200F.
Here's what the loaves looked like (excuse the "Soviet satellite photo" quality, but my better half has the good cam for doing research overseas for the next few weeks):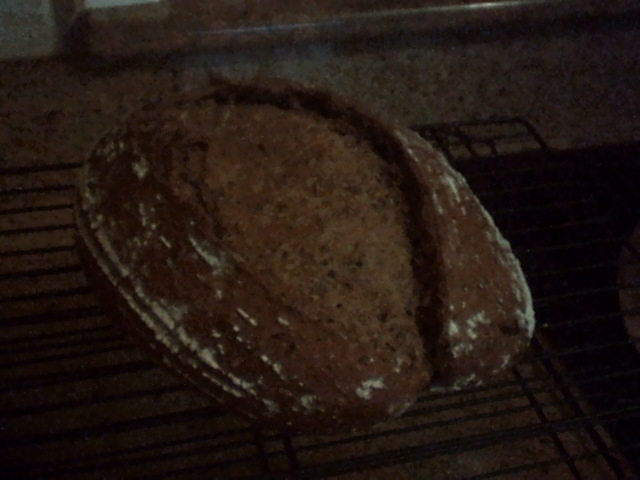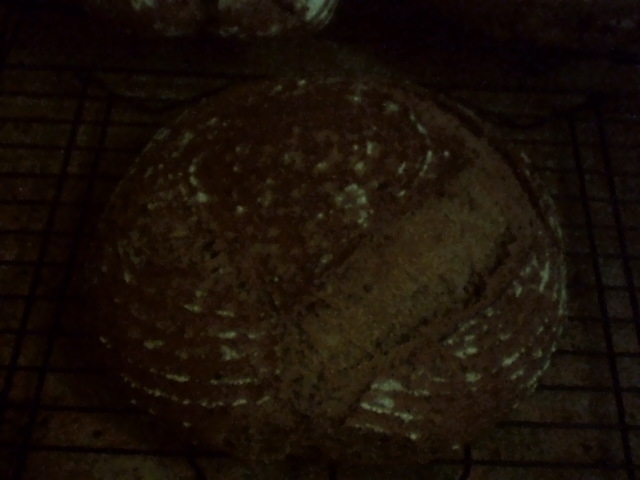 The result?
This is by far the softest, moistest whole wheat I've ever made.  The smell?  Nice and rich without smelling beery. 
The taste?  Here's my surprise:  I was hoping for rich, wheaty, umami flavours, but it was actually a touch bland.  My first question to myself:  could I have used a touch more salt?   Was there something in the process I mucked up/changed toooooo much?
I'm going to taste some more later today to see if it's just my tastebuds that need to wake up a bit (it's going on 9am here, and I've been up a couple of hours), but any input/insights on this would be VERY greatly appreciated.  I don't mind going through all the steps, but I was hoping for a lot more of a flavour zap than I got.