Watson's Mill, a Canadian Heritage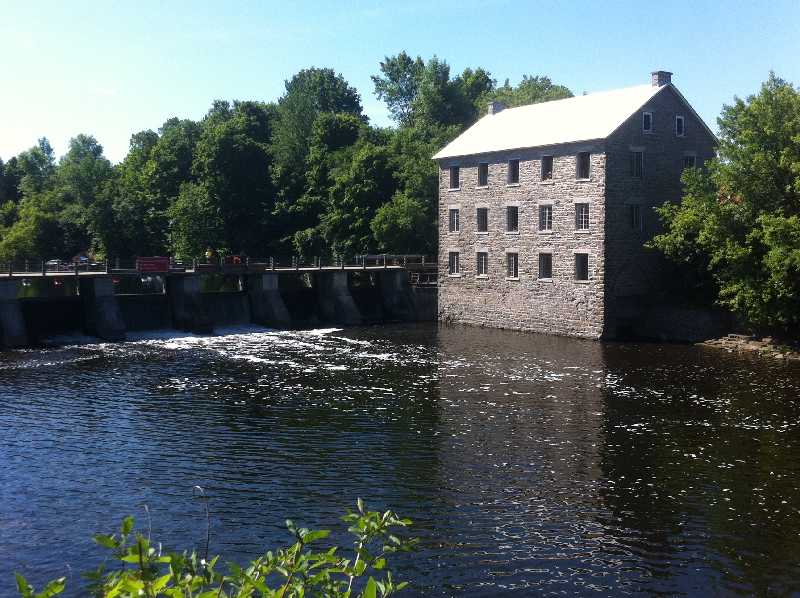 The photo above is of historic [Watson's Mill] located on the banks of the Rideau River in Manotick Ontario, just a few kilometers south of Ottawa. The history of this 1860's heritage mill goes into greater detail in this [Wikipedia] entry for anyone who may be interested. My wife and I had a chance to visit the mill in late June while we were back in Ontario for a few days of sightseeing and to attend our niece's wedding. I'd done a little research in the weeks prior to our trip and discovered that Ontario has a good number of old mills that have been preserved over the years,Watson's Mill being one of the few (or only one) that still produces flour. We'd driven down from Ottawa that Wednesday morning having spent the day before on a fascinating tour of our national capital's historical sites and museums. We arrived at the mill about 30 minutes before it was due to open so put the time to good use exploring the area and taking a few exterior shots of the mill and it's lovely surroundings on this sunny, blue sky, perfect summer morning.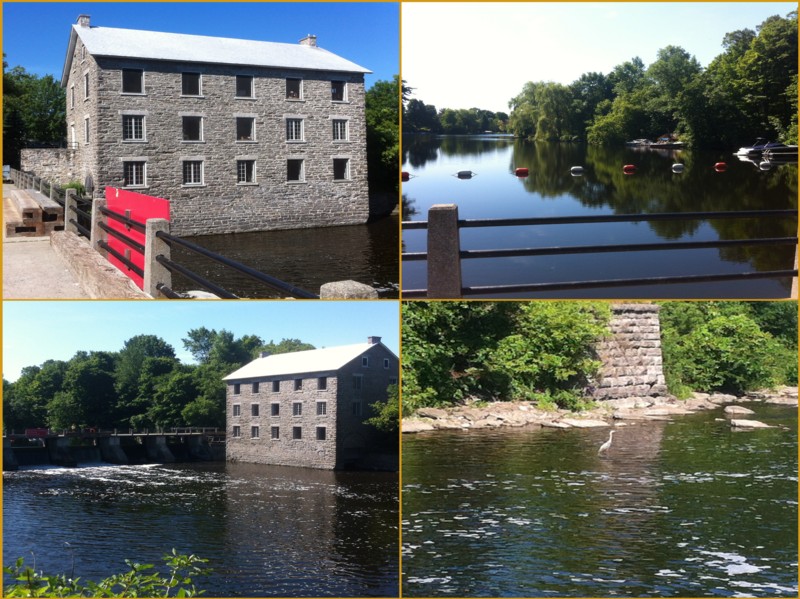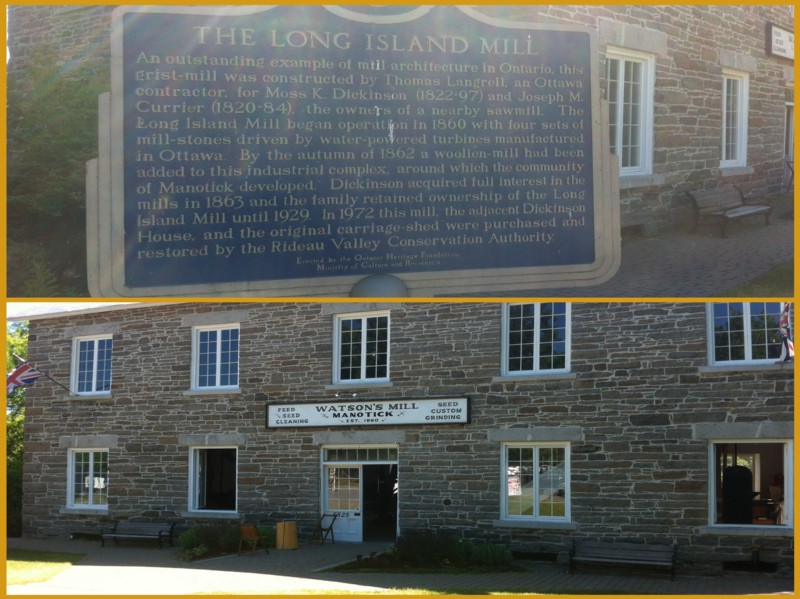 The mill offers the option of a guided tour, or if you prefer you can just browse around on your own. We decided to do our own thing since every section of the mill has information boards posted explaining how the different stages of the milling process take place and the machinery employed. We started out on the lowest level where the river runs under the mill to power the turbines that run the mill are located, then worked our way up floor by floor to see how the grain progresses through the mill using a belt and gear driven conveyor system.The grain travels up and down several times over 3 floors with various parts of the process taking place at each stage. [ Here is a link] that explains the process in better detail than I'm willing to get into here but the illustration doesn't come close to describing the elaborate set up of all the various milling components and how they function together as one large machine. I would loved to have seen the mill while it was running to get a better sense of this, but production is limited to one day a week (Sunday) during tourist season.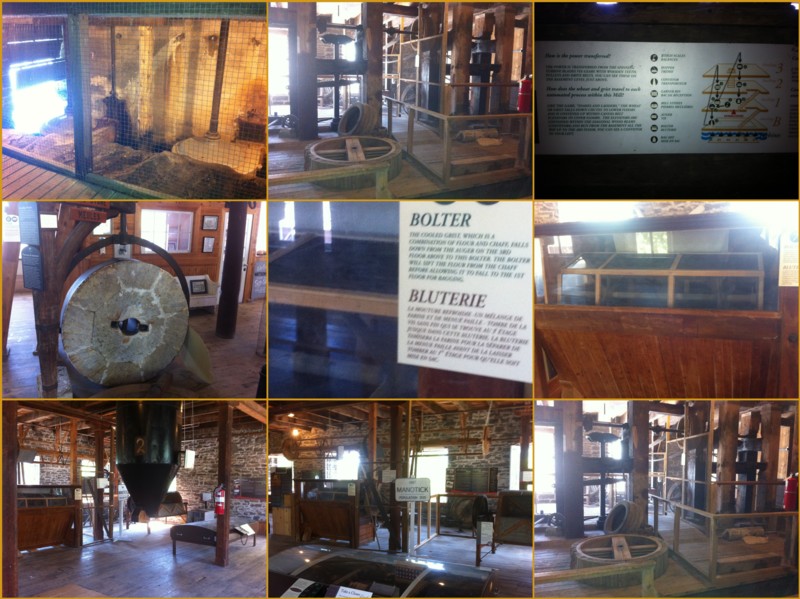 The last stop on our mill tour was the gift shop to pick up a couple of bags of the freshly milled flour to take home for myself and a friend.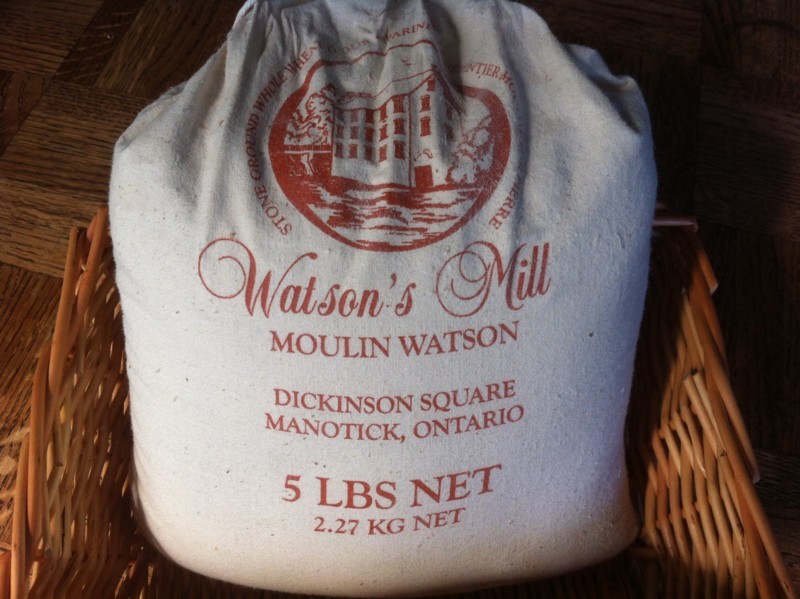 They had an open bag of the flour available that one could reach in and sample the texture of before purchasing, which of course I did. The flour is milled from Ontario Red Fife wheat, a much softer variety than the prairie grown Red Fife that I'm familiar with and has a very silky feel to it, reminding me more of a whole wheat pastry flour than a bread flour. Just around the time I started asking questions of the lady behind the counter regarding the flour, one of the millers happened to stop by for a break from his morning run and was quickly directed over to me. He told me that they typically will sift off 30% of the bran and re-mill it back into the batch, which along with the softer nature of the grain would account for it's fine texture. He went on to assure me that the flour does make very good bread and hoped I enjoyed working with it. Much as I would have liked to have stayed and chatted with him a while longer, we had to be on our way as we still had a long drive ahead of us to get to our destination of Port Hope on the shores of Lake Ontario where the wedding was to take place. 
When we arrived back home from Ontario and had unpacked and settled in I began looking through some of my books for a recipe to use the Watson's Mill flour in, deciding to try Dan Leader's Poilane inspired Whole Wheat Sourdough from "Local Breads" that uses an 80% ratio of whole wheat in the formula. The first mix didn't produce the kind of results I was after mainly because of my impatience in wanting to get some bread made that I could have for sandwiches that week. The levain I'd made using the Watson's was extremely lively but the dough hadn't been developed sufficiently, nor had the bulk ferment been long enough for a full and even fermentation.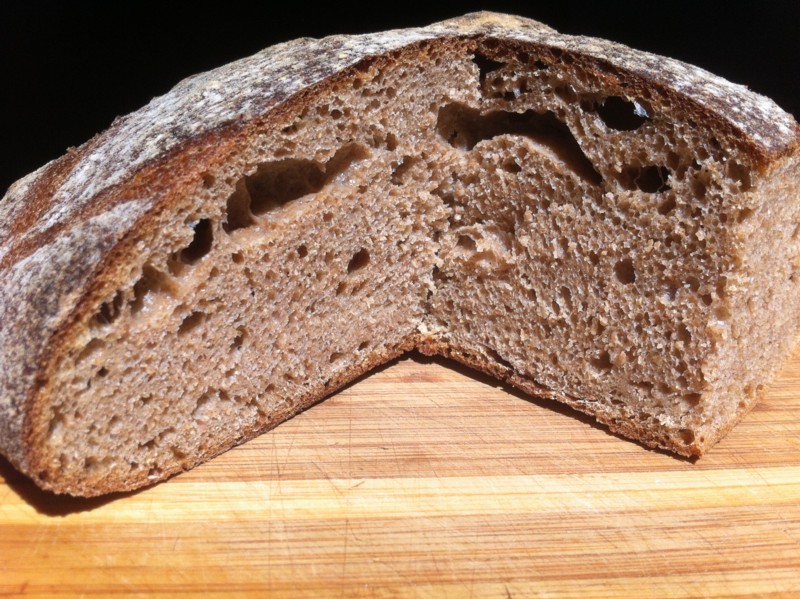 The loaf made the following week was better developed and fermented, with a mild sour flavour and slightly sweet background to it, that if I hadn't known better would have guessed contained some honey or sugar in the mix. Generally, I thought the loaf was OK but somehow it wasn't hitting any high notes for me either.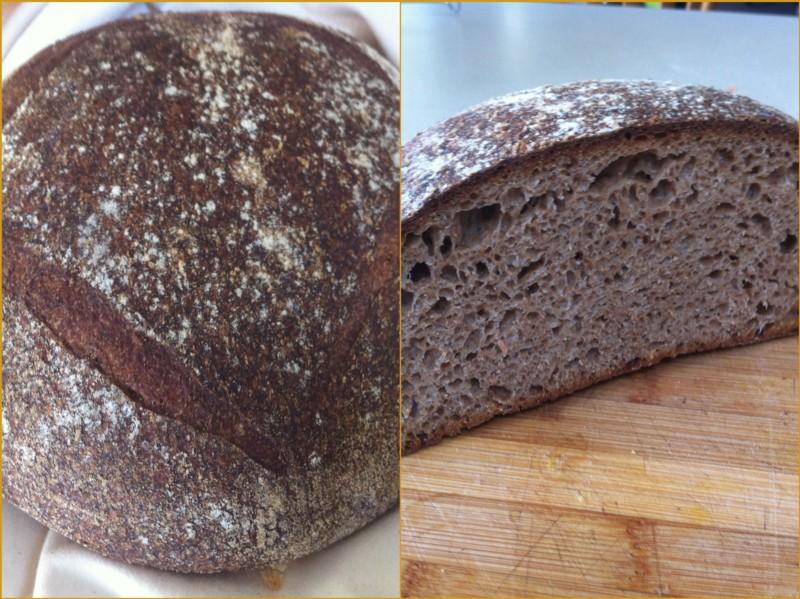 By the time I was ready to mix a third loaf using the Watson's flour the appeal of a high ratio whole wheat bread had paled and instead I chose to make a basic country loaf vaguely similar to Chad Robertson's Tartine bread. Starting with an all white flour 100% levain fermented for 8 hours, it was then converted to a stiff 50% levain for an additional 8 hours before adding it to a mix of 83/17 percent White AP to WW flour.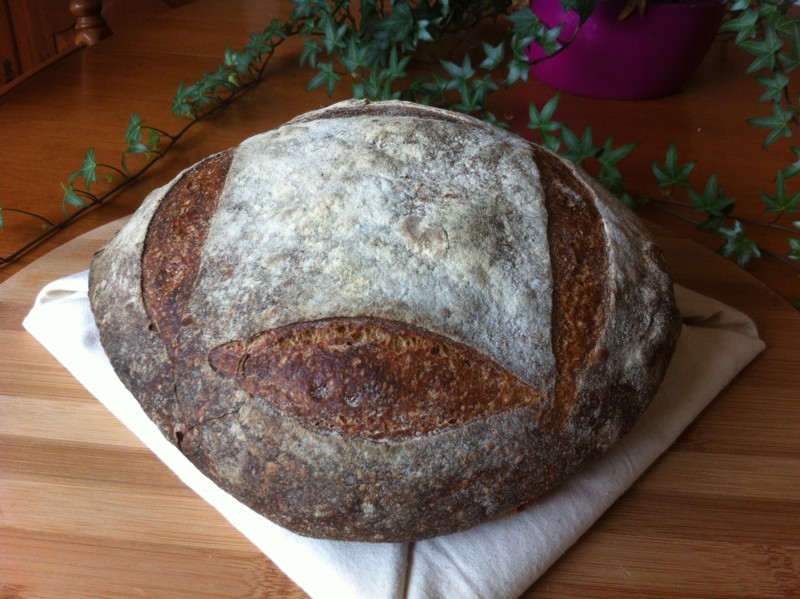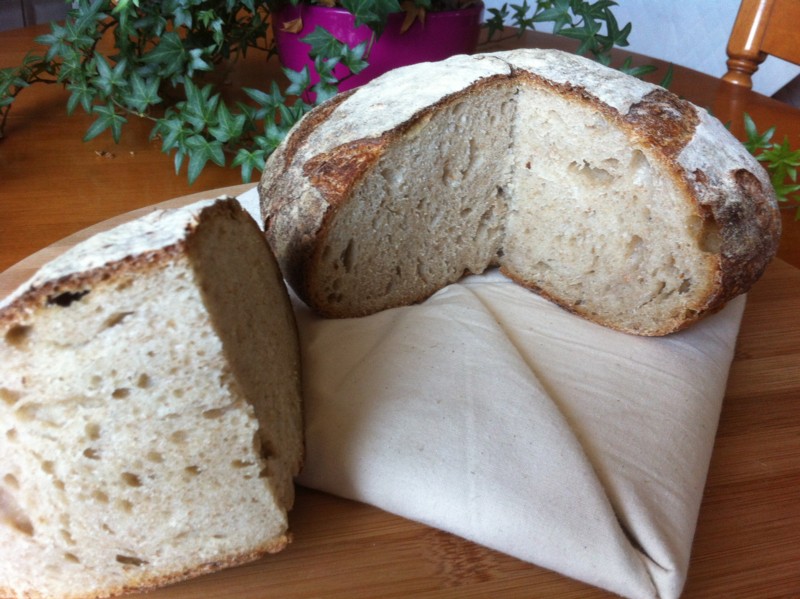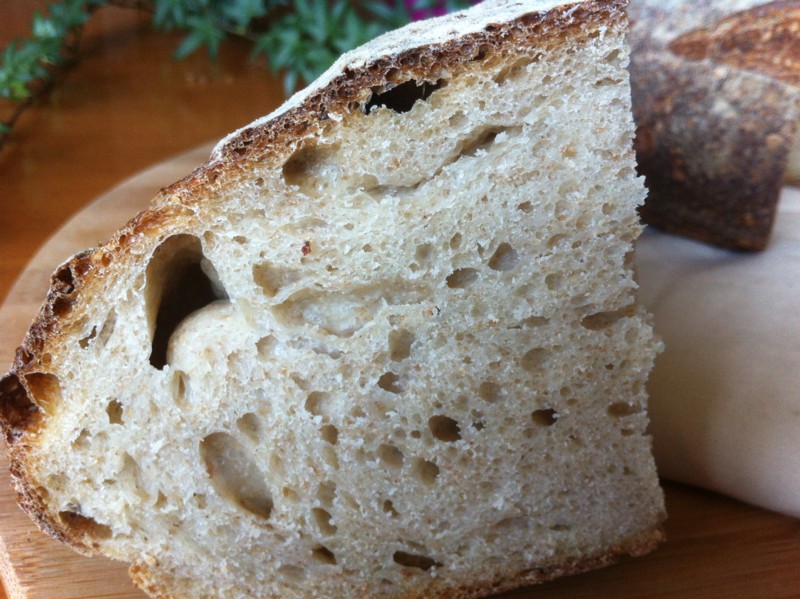 This produced a bread that fell right into my preferred flavour range with the kind of medium sour tang I love, complimented by the same hint of sweetness noted in the previous loaf. The contrast of handling and flavour characteristics between the Ontario grown Red Fife and Saskatchewan RF is significant in my opinion. The soft Ontario flour requires a much more aggressive approach when it comes to developing a high WW ratio dough during the initial kneading, with several stretch and folds needed throughout the first 90 minutes of bulk fermentation, while the prairie grown RF might need only one or two . In terms of flavour and fermentation the Ontario grown grain has a milder, sweeter profile to it than it's spicier, more herbal flavoured prairie cousin. Both flours ferment readily, producing very active and healthy leavens in short order, but lend distinctively different flavour nuances to the finished loaf. For the relatively small amount of Watson's Mill flour I have left remaining,this recipe or similar low ratio WW flour formulae...perhaps some scones as well, will be how it's used in order to stretch it out as much as possible, our next visit to Ontario a few years away.  Recipe for the Basic Country loaf [HERE] and Procedure is [HERE]
Franko