Barley Twists and Cinnamon Cuddles
Hello everyone,
This month, Elle and the Bread Baking Babes are baking MC-Farine's cute and charming Morning Cuddle Breads,
as 'Summer Twists'.

MC, on her always-so-interesting blog!, recently featured a beautiful Barley Bread - in her post she recalls the sucre d'orge (barley candy) she had as a youngster. 
I was curious so looked up barley sugar candy online (noting its pretty golden color), and read on Wikipedia "Barley sugar was often made into small spiral sticks, and the name is… sometimes used for…twisted legs and spindles in furniture…".
                          (So that's where 'Barley Twist' furniture got its name!).



MC's Barley Bread post motivated me to make these breads as 'Barley Twists' … using a bit of barley malt extract , and some of the *lovely* Fairhaven organic whole barley flour MC gave to me (*many thanks!*), in place of oats. 
The barley flour was scalded, to help retain moisture and hopefully add a bit of extra sweetness.
For fruit, I added golden raisins, their color reminding me of the golden color of the sucre d'orge :^)

                  Barley Twists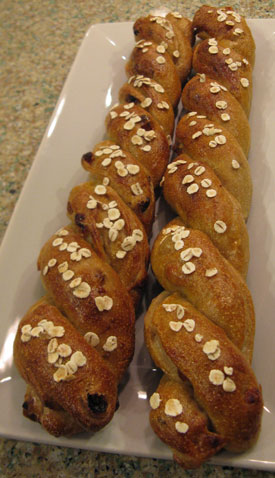 Cinnamon Cuddles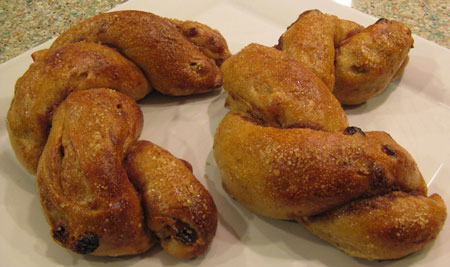 Two breads were shaped as 'Barley Twists', egg washed, and sprinkled with barley flakes prior to baking.

The other two breads were shaped in a 'C' shape, for 'Cinnamon Cuddles' (the raisins in this bread seemed to call out for some cinnamon! ). I added some cinnamon to the egg wash, sprinkled cinnamon sugar along the edges of the twists, where the strands joined, and for a bit of extra golden color, sprinkled some turbinado sugar on top, prior to baking:
 cinnamon egg-wash :^)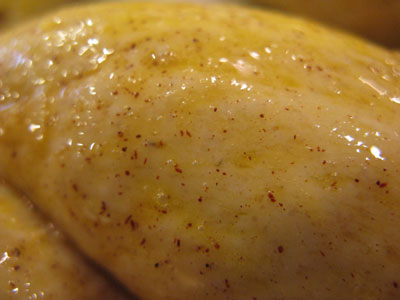 just before baking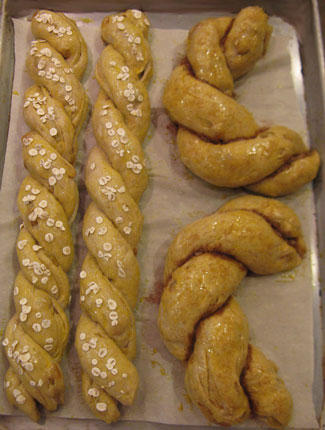 crumb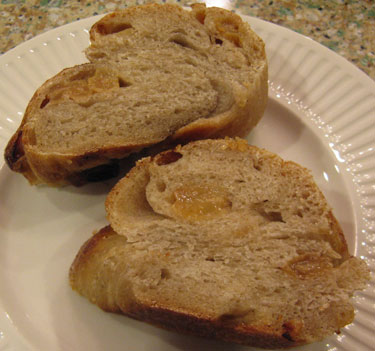 The bread has a soft and moist crumb, nice sweetness from the golden raisins, and the bread itself having a lovely complex flavor that I don't quite know how to describe!, but this is a wonderful breakfast bread.

Thanks to MC for the lovely ideas in her posts, and thanks to Elle, too, for featuring this bread this month!
Here is the formula I worked out, inspired by these ladies' efforts :^)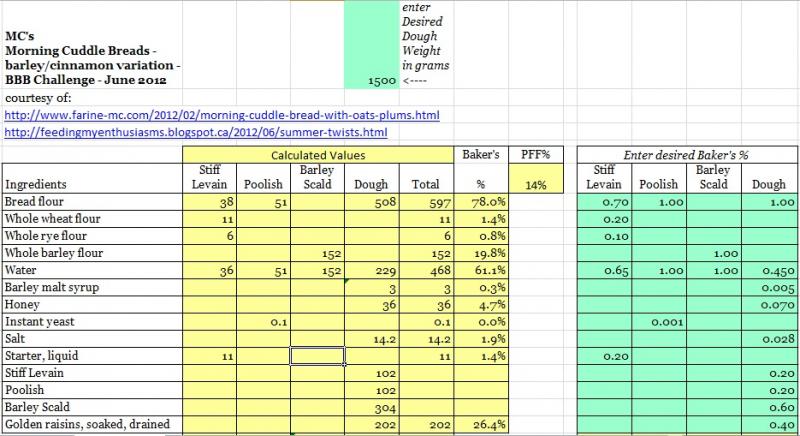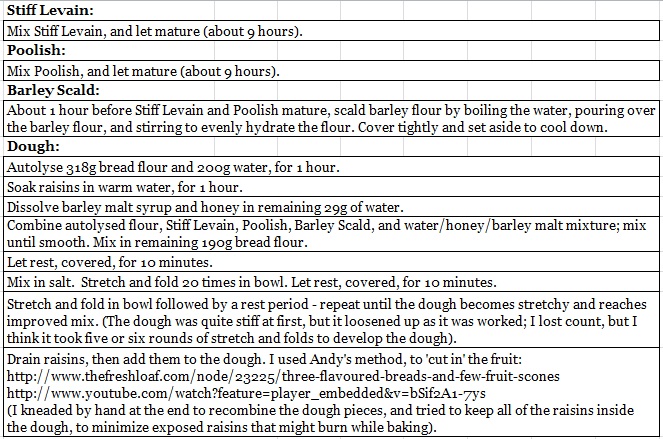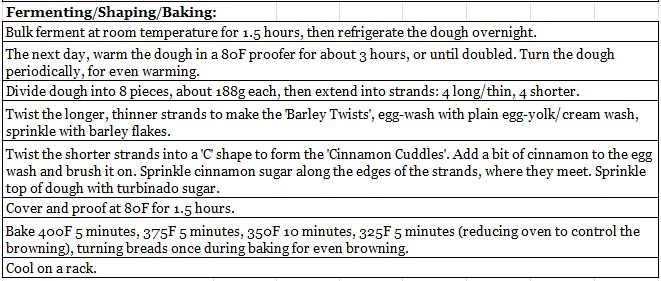 Happy baking everyone,
:^) breadsong
Submitted to YeastSpotting :^)