Three Rye Breads (Einkorn-Rye, 100% Rye and Malthouse-Rye)
A while ago I made my first succesfull 100% rye bread (click to open the post). Since then I kept on baking, different sorts of bread, but never 100% rye again. Afraid of failure? NO. But I'm easily distracted and the list of must-try breads is getting longer and longer everyday and there are too many new formulas that I want to try, so I rarely decide to repeat a recipe. Or at least not very soon after I made it.
It was not the case with today's subject.
In march, Andy (Ananda) posted a formula for seigle d'auvergne. I then modified the formula and made the best 60% rye-40% einkorn ever. Time flew and I forgot about it, till I recently found the photos on my computer. Here is one photo with the crumb (you can see it was early in the spring, as I had some blue and white Hyacinth on the table):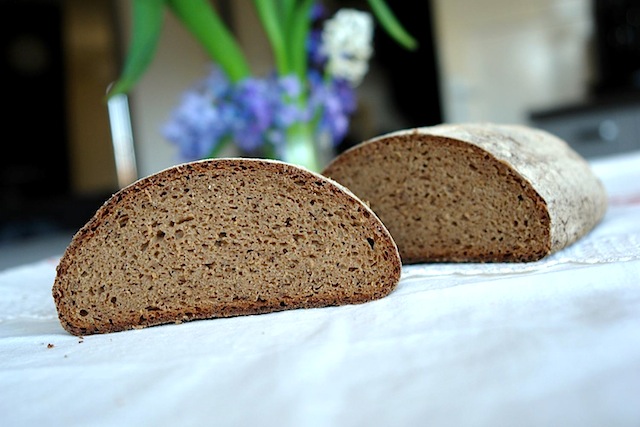 I decided to make it again, using his formula as a starting point, but this time with a higher rye percentage. In 4 weeks, I baked it 4-5 times, with the following changes:
1'st: I replaced the white flour from his formula with einkorn flour and I added altus, rye flakes and caraway. I increased the water percent and I baked it on a tin.
2'nd: 100% rye bread, with dark rye flour instead of his white flour (also, altus, rye flakes and fennel seeds this time)
3'rd: I replaced the white flour for Malthouse Bread Flour from Doves Farm (no altus or rye flakes, but some caraway seeds cause I like the flavor)
You can see more photos on my flickr page, link HERE, or on my Romanian blog post, link HERE.
All the combinations mentioned above have as result some great breads. A friend from Bucharest who received for tasting a rye-malthouse loaf said that was the best rye bread he ever had. My sister in law from Paris got 2 loaves of rye-einkorn when she flew back home and she was very happy as long as they lasted :)
I finally can say that I'm not afraid of rye anymore. I wish I can go further and try pumpernickel or some dark russian breads, but the rye flours I find here are usually light or medium. When I'll find the proper flours, pumpernickel will be the first to try.
With this post I want to encourage everyone who, like me a while ago, is scared of rye paste to give a try to this formula. I find it to be very easy to work with and very friendly and rewarding. Andy, thank you for the inspiration and for being such a great friend and baker.
Codruta ♥
After 3 and half years of home baking, I decided that have to follow my passion and to go on on the bread path. Things are going in the right direction and I will soon share some exciting news with you.
ps. another rye bread I discovered on my computer few days ago is dated from april 2009. I'm glad to see that my skills improved :)