Rye and duck cookery: Part 1
Some urgent matters (i.e. doctoring and trying to save a dying (possibly contaminated) sourdough starter) kept me away from blogging last weekend, so I'll try to make up the lost ground with a two parter this week. Due to the, ehm, subject matters, I think dividing this into two parts makes a whole lot of sense. (The starter made it through in the end (yay!), so I've put the stetoscope away for the time being...) First up: The bread bits.


Having the rye starter all pampered and fired up, I wanted to bake some filling rye breads this weekend. I particularly enjoy baking in the pans I brought back from Kharkiv; much as I like eating the free form rye breads that are shaped and proofed in bannetons, there's also a place close to my heart for the dense, often seeded rye breads that remain moist for more than a week.


When asking for chorny khlib in Ukraine, I was usually given rye bread that reminded me of the Borodinsky rye in Whitley's "Bread Matters". This is a rather straight forward rye, that's notable for being slightly sweetened and flavoured with crushed coriander. Coriander can be an acquired taste (well... come to think of it, I guess rye really is an acquired taste too...), and is rather dominant in terms of flavour, so this is not a bread I would enjoy eating day in and day out, but it's a particularly good companion to sharp blue cheeses.


As the taste of the coriander ryes from Ukraine is still fresh in my mind, I wanted to have a go at recreating it at home. I mixed up an 80% rye that was flavoured with a bit of honey (4.5% of the total flour weight) and crushed coriander (0.75% of the total flour weight). I think that whole rye berries, soaked overnight and then cooked al dente in the soaking water, add a lot of character to rye breads, and I tend to include at least a healthy sprinkling of them in my breads. For this one, the rye berries weighed in at roughly 15% of total flour weight. They'll plump up and add a lot of weight during cooking, so the weight is referring to unsoaked, uncooked berries. 30% of the flour came from a rye sourdough that had been fermenting overnight. The mixed dough was rather wet and loose, but easy to shape with wet hands. Baked off after roughly 2 hour proof: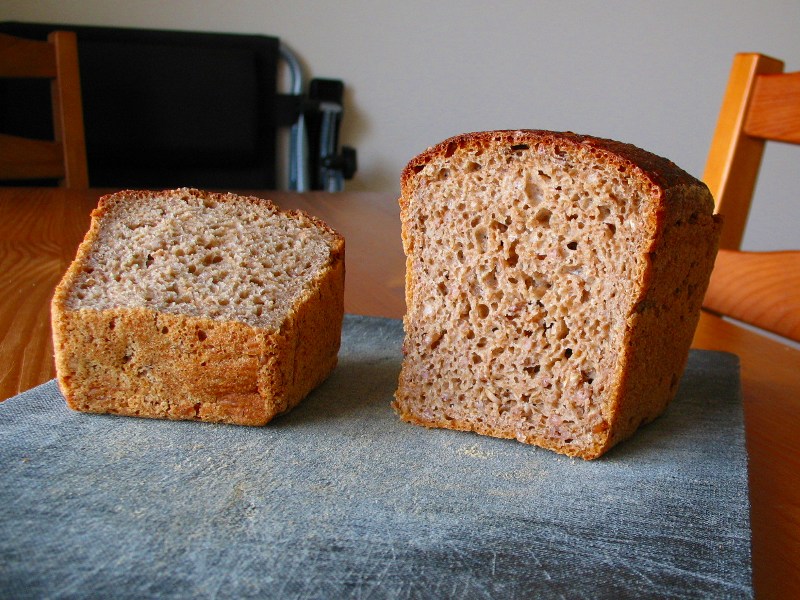 I was very happy with the flavour of the bread. The crumb is quite light, as it's not a 100% rye, and the flavour of coriander was just right for me. I wouldn't go over 1% with the coriander, but then again, I am a bit...boring/conservative/cautious when it comes to spices in bread ;)


Another idea I've had for a rye bread, is for a free-for-all style muesli bread. So rather improvised and "what sounds good goes in", the mixing bowl turned into a bit of a mess: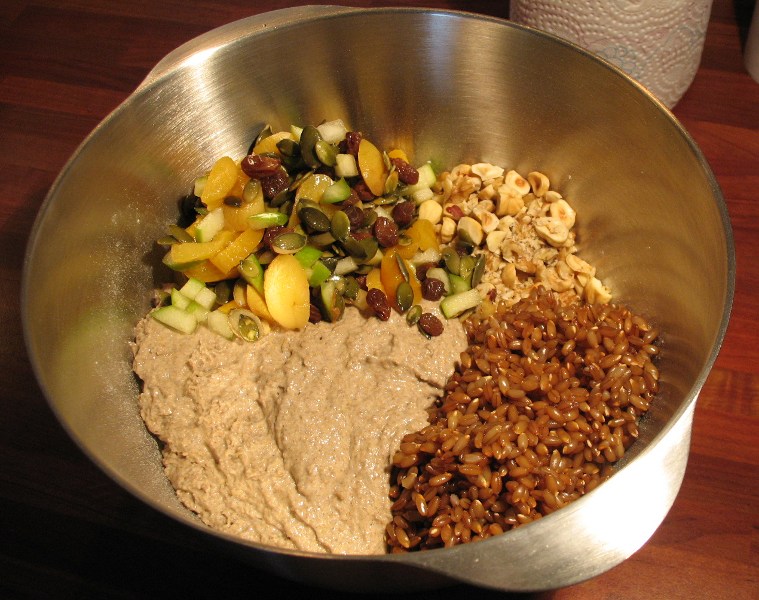 Starring (clockwise from top-left corner): Diced apples, pumpkin seeds, some lemon peel, soaked raisins and dried apricots; toasted hazelnuts and walnuts; rye berries (soaked and cooked); rye sourdough. (Flour and salt underneath.) This was mixed together to a shaggy mass with a spatula, given a rest to properly hydrate the flour, and then mixed on 2nd speed for 3 mins. Panned and proofed just under 2 hours: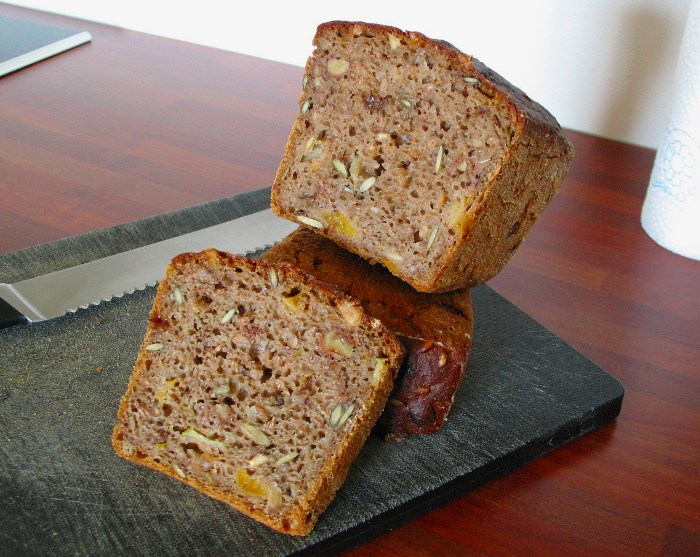 The bread had a lovely smell while baking, and a burst of fruity scents arose when I first sliced into it. Very moist and I'm sure it must be healthy. I'm a bit reluctant to be very sophisticated when it comes to toppings on slices of this muesli bread - either as is, or gently blanketed with butter is about as far as I go. That said, it's wonderful with most cheeses as well (both fresh and aged ones), but save the pickled herring and cornichons for another loaf.


In the rubble left after the duck cookery (stay tuned for part 2), I realised I had some odds and ends left in the fridge with nowhere in particular to go. This included some pastry cream, homemade ricotta, a dash of heavy cream, a couple of eggs and 3 limes. It all came together somehow, in a tart filling. The limes were used to make a lime cream (the lime equivalent of the lemon curd), which was folded into the pastry cream. This was combined with the ricotta and eggs. A nice buttery crust sounded like the way to go to "cut" the tanginess of the lime, so a pâte brisée (unsweetened, flaky and crisp tart base) was pre-baked, and filling poured in. Briefly baked to set the filling. To tell you the truth, it didn't turn out that bad, all considered... It was a bit tangy (just a touch too lime-y perhaps), but I ran out of pastry cream and ricotta that could mellow it out. Anyways, I'm not complaining.