Marcel's Grandmother's Potato Bread (Kartoffelbrot)
Marcel's Grandmother's Potato Bread (Kartoffelbrot)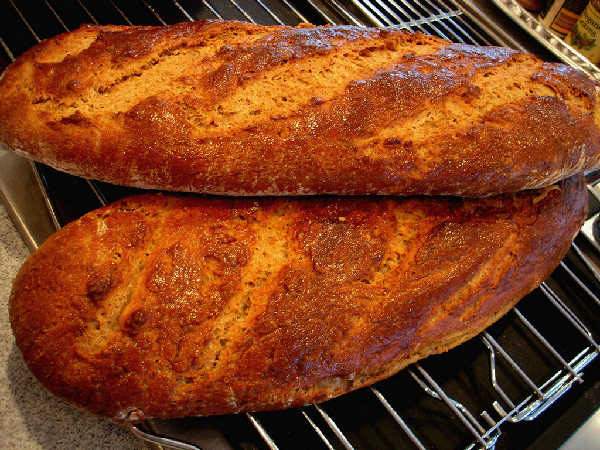 Marcel's Grandmother's Potato Bread (1)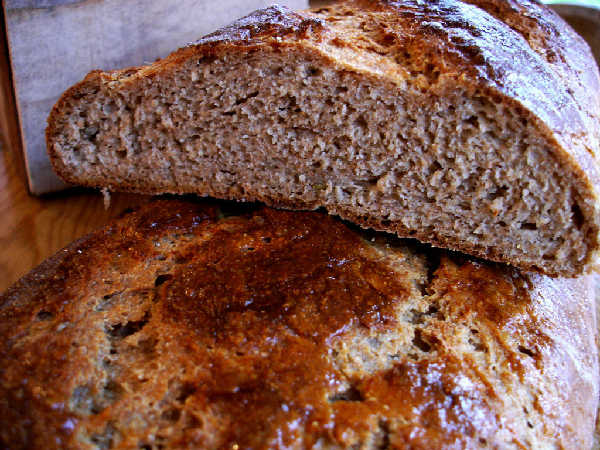 Marcel's Grandmother's Potato Bread (2)
Marcel's Grandmother's Potato Bread (Kartoffelbrot)
We had a German exchange student stay with us for a couple of weeks recently. Marcel is about 17 years old, and we hit it off great. He shares an interest with me and my oldest son and daughter, who are about the same age as Marcel, in physics, math, computers, and music. He is one of the nicest, most polite young men I've met. One day I was making some sourdough bread in my kitchen, and I noticed Marcel paying very close attention to the process. He then mentioned that his grandmother, who lives with his family in Germany, frequently bakes breads, and he is a big fan of her breads. We quickly discovered that bread was another of our shared interests. He described going to a mill near his village and buying spelt flour and rye flour of a coarseness specified by his grandmother for her breads. What a difference from buying over the internet, as I tend to do here in NJ. So, I asked if he could recite some favorite recipes for me. He then got on the phone with his grandmother, and she emailed us two recipes, one of which is described here, and one will be described in a separate blog entry (spelt bread). We had quite a time translating German baking terminology into English for my use, including struggling with the word edelhefe and with correct translations of some or the names of spices. Also, there was some confusion over methods of handling the dough, but eventually, I felt I had enough information to try these recipes. When Marcel returned to Germany, he also forwarded to me some photos he took of his grandmother's process, although only for the spelt bread, and not for this potato bread recipe.
I have photos of my process for this bread and the spelt bread recipe. Since I did both at the same time, there is an intermingling of the two breads, but I hope it will be clear what is going on with each bread.
Marcel's Grandmother's Potato Bread (Kartoffelbrot) Recipe
Ingredients:
400 grams whole spelt flour (I used Heartland Mills Spelt Flour)
150 grams whole rye (I used KA Pumpernickel)
300 grams water
400 grams peeled, boiled, mashed potatoes
12 grams salt
25 grams butter
1 tsp caraway seeds
1/2 tsp anise seeds
1/2 tsp fennel seeds
3 egg yokes, stirred up
1 package active dry yeast (or 1.5 tsp yeast or 30 grams fresh yeast)
Autolyse, Yeast Proof, Prepare Potatoes
Mix the flours and water aside and allow to sit for about 30 minutes (autolyse). Mix 1/4 cup flour, 1/4 cup water warm water, and yeast in a bowl and allow to sit until very frothy (yeast proofing), about 30 minutes. Peel and boil potatoes until soft, then drain and mash them up.
I actually had no potatoes in the pantry, so I used some potato flakes mixed with water to about the consistency of mashed potatoes. I realized later in the mixing stage this was probably too much water, though I suspect that potato bread like this should seem very wet, based on reading floydm's recipe.
Mix and Knead
Mix together the results from the autolyse, the yeast proofing, and the mashed potatoes along with the salt, spices, and butter. In this recipe, because I used mashed potatoes made from a box of potato flakes, the dough came out very, very wet. I was finding myself having more difficulty handling this dough than I normally have with my very wet miche doughs. So, I added some flour, trying to compensate for what was probably way too much water, and I ended up adding something like 1.5 cups more flour to the dough. Unfortunately, this means, it's tough for me to tell you what the consistency of the dough as specified in the actual recipe given to me by Marcel's grandmother really is, nor do I have pictures of it from her. Anyway, I worked the dough a little bit using a folding technique that one might use for a very wet dough. After about 3 or 4 minutes, it seemed to come together into a very supple but workable dough.
Bulk Fermentation (about 2 hours)
Place the dough in a rising bucket or covered bowl and allow to rise. I did the bulk fermentation above my coffee machine where the temperature is about 80F. It took a little longer than 1.5 hours to rise by double, as specified by Marcel's grandmother.
Kneading, Shaping, Final Proof (15 minutes), Preheat oven to 400F
Take the dough out of the container onto a bed of flour. Stretch and fold it a few times. Let it rest a few minutes. Stretch and fold again, and let it rest. I did this because Marcel's grandmother says to knead it with some flour a little bit. This was Marcel's translation. It seemed like the opportune moment to fold the dough, given that it had risen and still seemed fairly wet. The folding did help the dough to come back together, so I then formed two long batards. The recipe says "form two long breads", according to Marcel. I did this very similarly, once again, to JMonkey's video on shaping a whole wheat dough. However, I just made them a bit longer and skinnier, based on the instructions. Put them in a couche, similar to what one would do for baguettes and allow to rise for 15 minutes covered with towels.
Preheat oven to 400F while final proof continues. In my case the oven was already hot from the Dinkelbrot bake.
Marcel's grandmother says to let it rise 15 minutes under a towel. I realize this was just the right thing to do. However, being nervous this was not enough time, based on other breads I've made, I let them sit a few more minutes - maybe 25 minutes or so. This was a mistake, as they puffed up so quickly, that the skin on the surface was ripping slightly here and there. So, sticking to the instructions might have been perfect. Darn, but will do better next time.
Place Loaves on Peel
Place the loaves on a peel or upside down jelly roll pan on some parchment. The loaves were big and floppy, and I had let them go too long in final proof, so this was harder than it sounds. Paint the loaves with egg yoke. Slash the loaves.
I suspect the loaves were too wet and allowed to rise too long in final proof. The result is they were spreading out very quickly on the peel, and I took a little too long painting them and slashing them because I ran out of yoke and had a hard time moving the floppy loaves to the peel and whatnot. Again, will hope to do better with a little less water or real potatoes and less final proof next time.
Bake
Place loaves in oven preheated to 400F, and bake for about 30 minutes. Internal temperature was 210.
The loaves did spring a little, but mostly they spread. I guess the same notes as above apply - reduce the water to make a little bit stiffer dough and don't let it rise for long in final proof.
Cool
Place loaves on rack to cool completely before cutting into them.
Results
Like the Marcel's Grandmother's Spelt Bread, this bread tasted just great. The crust had a nice shine and color as a result of the egg yoke. Marcel says there is a particular look to these loaves, due to the egg yoke coating, that he says is typical of breads from his village in Germany. The spices add a nice touch to the already good flavor of the spelt and rye. I've decided German breads, at least the ones Marcel's grandmother makes, are wonderful after trying her dinkelbrot and kartoffelbrot recipes. Thanks to Marcel and his grandmother for sharing these recipes with me.