Marcel's Grandmother's Spelt Bread (Dinkelbrot)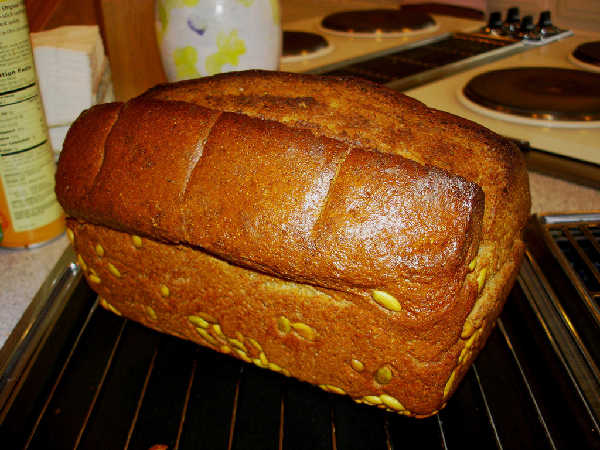 Marcel's Grandmother's Spelt Bread (1)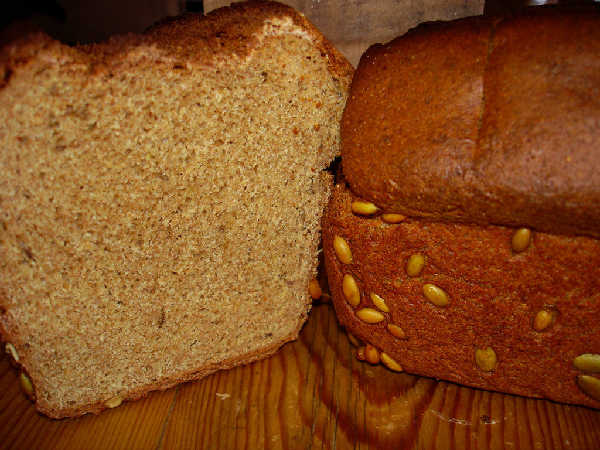 Marcel's Grandmother's Spelt Bread (2)
Marcel's Grandmother's Spelt Bread (Dinkelbrot)
We had a German exchange student stay with us for a couple of weeks recently. Marcel is about 17 years old, and we hit it off great. He shares an interest with me and my oldest son and daughter, who are about the same age as Marcel, in physics, math, computers, and music. He is one of the nicest, most polite young men I've met. One day I was making some sourdough bread in my kitchen, and I noticed Marcel paying very close attention to the process. He then mentioned that his grandmother, who lives with his family in Germany, frequently bakes breads, and he is a big fan of her breads. We quickly discovered that bread was another of our shared interests. He described going to a mill near his village and buying spelt flour and rye flour of a coarseness specified by his grandmother for her breads. What a difference from buying over the internet, as I tend to do here in NJ. So, I asked if he could recite some favorite recipes for me. He then got on the phone with his grandmother, and she emailed us two recipes, one of which is described here, and one will be described in a separate blog entry (potato bread). We had quite a time translating German baking terminology into English for my use, including struggling with the word edelhefe and with correct translations of some or the names of spices. Also, there was some confusion over methods of handling the dough, but eventually, I felt I had enough information to try these recipes. When Marcel returned to Germany, he also forwarded to me some photos he took of his grandmother's process.
I have photos of my process for this bread and the potato bread recipe. Since I did both at the same time, there is an intermingling of the two breads, but I hope it will be clear what is going on with each bread.
Marcel's Grandmother's Spelt Bread (Dinkelbrot) Recipe
Ingredients:
800 grams whole spelt flour (I used Heartland Mills Spelt Flour)
500 grams warm water
16 grams salt
2 tsp anise seed
2 tsp caraway seed
1 cup nutritional yeast flakes (edelhefe in German, I used KAL brand)
1 packet active dry yeast (1.5 tsp instant yeast)
1 tsp honey
shelled, roasted, unsalted pumpkin seeds or sunflower seeds (I used pumpkin seeds)
butter for greasing the loaf pan
Autolyse and Yeast Proofing
Mix water and flour in bowl until flour is hydrated, and set aside for 30 minutes. Mix a small amount of flour with 1/2 cup of warm water, yeast, and the honey. Let sit for about 1/2 hour until it foams up. When I did this, the foam about doubled or tripled in volume and was very foamy.
Mix and Knead
Mix in salt, spices, nutritional yeast flakes, the contents of the cup with the yeast, flour, water, and honey and mix in mixer or by hand. I found the dough a little dry at this point, so I added just a touch of water to facilitate mixing the ingredients. The dough was fairly stiff but somewhat sticky, even after the addition of a small amount of water. I kneaded it for just a couple of minutes to fully mix all the ingredients and to bring the consistency to more like a dough. The recipe Marcel's grandmother gave me doesn't specify any kneading at all. I suspect that is correct, and that I should actually have just stopped after minimal mixing, based on a photo she sent me of what the dough looks like after mixing. Mine rose more than hers appeared to, and I think the bread may be meant to be a bit more dense than what I came up with doing what I did here.
Put Bread in Loaf Pan
I greased the sides of a 9 inch glass loaf dish with butter and sprinkled pumpkin seeds onto the butter. The seeds barely stick to the sides, but they do stay in place. I then formed a stumpy batard, which I shaped in much the same way that JMonkey did in his whole wheat bread shaping video. Again, I may have done more shaping and kneading than was intended based on the pictures, as I look at them in retrospect. Marcel's grandmother has a picture that I now see may have been more significant than I thought where she simply dumps the dough straight out of the mixer and into the loaf dish. I believe there is less kneading and mixing intended by Marcel's grandmother than I did in my version here.
Bake - No Preheat
Slash the loaf down the center, and place the dish in a cold oven and turn the temperature to 400F for 90 minutes. The bread rises nicely as the oven preheats. I forgot to slash the loaf, so I tried to do it after about 15 minutes. The crust was already forming. You can see the result from the pictures, which is not all that pretty. Sorry, it would have worked beautifully to slash before putting it in the oven, even though the oven started out cold. Oh well, I'll do better next time. The internal temperature of the loaf was about 205F after 90 minutes, and the crust was quite thick, hard, and dark.
Cool
Allow the loaf to fully cool. I dropped it out of the dish and let it cool on a rack.
Results
The crust that results is delicious. This bread tastes just great to me, and I generally have a big bias toward the flavor of sourdough breads. However, this yeast raised whole grain bread was just delicious. I realize I must be missing out on some wonderful breads in my baking life by not paying enough attention to German breads. Thank you Marcel, and Marcel's grandmother for sharing this wonderful recipe, for sending me photos, and for spending a lot of time and effort translating and explaining the ingredients and procedures that I was not familiar with.