Worth waiting for (well, hopefully)
Today is the final day of Easter, and I thought I'd like to put up a couple of things that I've enjoyed puzzling with in the kitchen over the weekend.
 Worth waiting for, part 1
Pasta is one of those things that I love making during weekends. There's something about weighing up flour, heaping it up on the work surface and making  a little mound in the middle for some eggs and a dash of olive oil, that just feels right. Like bread, the basic ingredients are so simple, but the variations are virtually endless. A little over a year ago, I bought an Atlas 150 pasta machine that I'm happy to say has been in use on an almost weekly basis since then. Fresh pasta - delicious and fun to make – what's not to like?
 I had my sister over for dinner on Saturday, and wanted to prepare a light pasta dish as our first course. This time I settled on some raviolis (perhaps tortellini or cappeletti is a more accurate name for the final shape of these?), filled with homemade ricotta and spinach.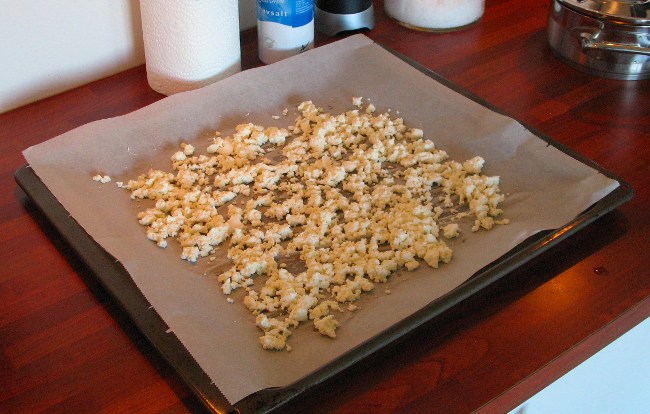 I find that the main advantage of making one's own ricotta (apart from the satisfaction of making it from scratch, of course), is that the cheese has a much smoother mouthfeel than the otherwise coarse and crumbly industrial product. It keeps in the fridge, well covered, for up to 2 weeks, so it's worthwhile to make a fair batch while you're first at it.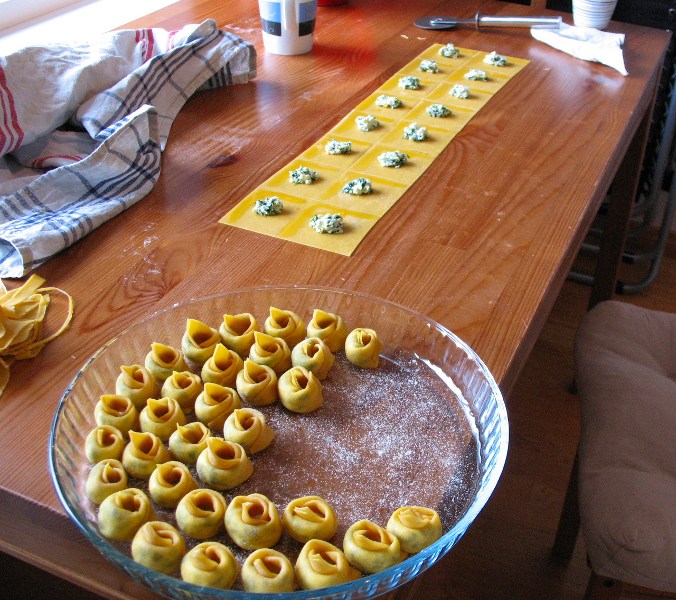 Filling and shaping these rascals take time, so setting out making these on a busy week night is not something I would recommend! They're perfect for a lazy weekend afternoon, accompanied by good background music and a glass of crisp white wine.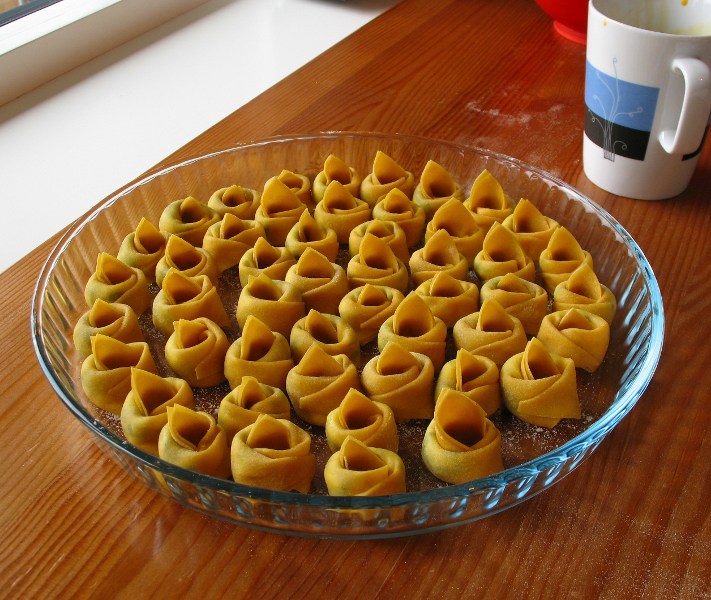 There! An Italian grandmother would probably not fully approve... but hey, at least they look handmade... there's something to be said about the «rustic» quality of that though, right?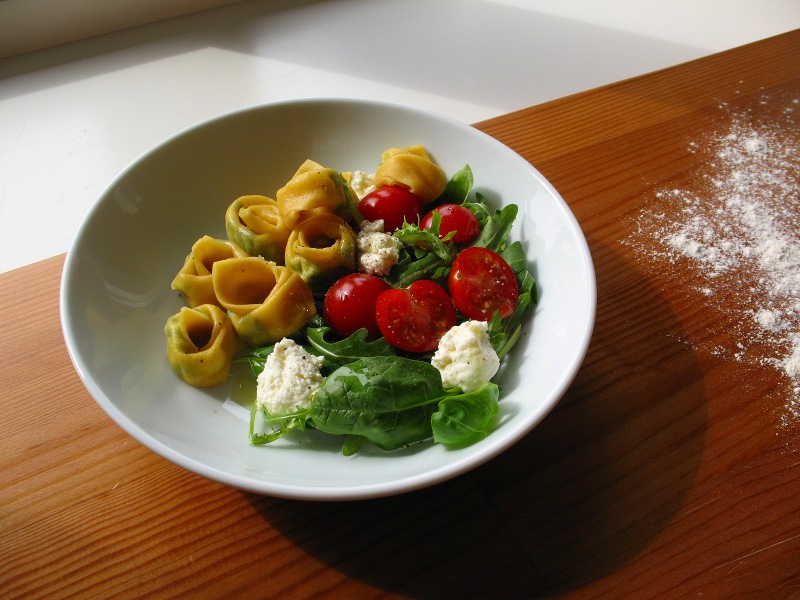 Anyways, both me and my sister enjoyed these as our first course – here accompanied by some greens, cherry tomatoes, more ricotta, a dash good olive oil and a grinding of pepper.
 Worth waiting for, part 2
I'm very, very fond of salted, dried cod (clipfish), and that's what I planned for our main course on Saturday. Spanish fishermen fishing cod at Newfoundland were the first to salt and dry their catch, and this was a method of conservation they started sometime during the 16th century. The practice of salting and drying cod was brought to Norway by the Dutch Jappe Ippes in the 1690s, and the method was further established in this country by some Scots in the early 1700s. Since then, particularly Kristiansund, a town on the Western coast of Norway, has been known for excellent salted, dried cod.
As the availability of fresh fish increased, Norwegians looked upon salted and dried cod as a «poor man's fish», and most of the conserved fish was (and is) exported to Spain, Portugal, France, Brazil and other Latin American countries. Export of salted, dried cod (and also un-salted, dried cod) is still a large industry, but thankfully, with the help of popular gourmet chefs, this product has been re-discovered by more and more Norwegians over the last decade. Now, a wide range of salted and dried cod products can be found in most well-stocked grocery stores; from the cheaper tail end pieces suited for casseroles, to highly expensive, gracefully aged loin pieces, comparable to some of the finest cured sausages.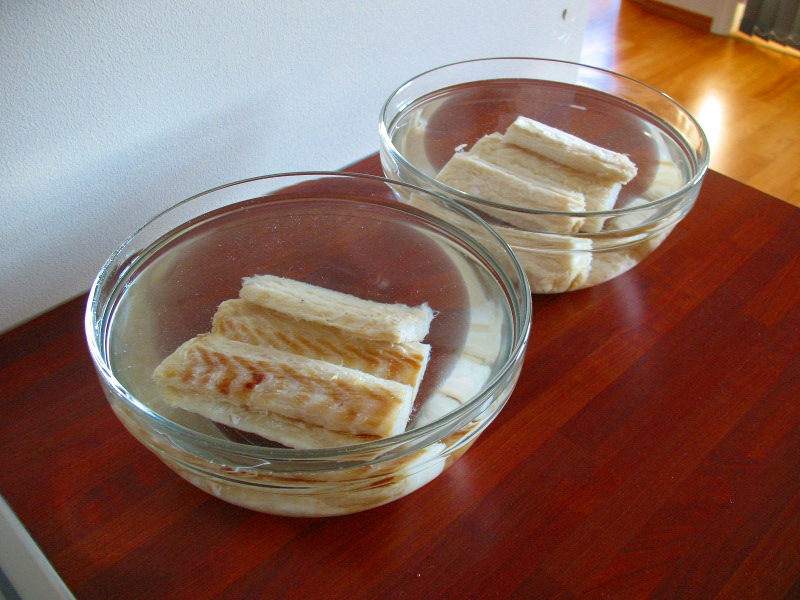 For our dinner, I chose some mid-range loin cuts that are well suited for grilling, pan frying and baking. The cod needs to be reconstituted in several changes of cold, fresh water before they can be cooked; this re-hydrates the meat and extracts some of the salt from it. Soaking can take anything from half a day for the thinnest pieces to more than 4 days (and 4 – 5 changes of water) for the thicker, neck pieces from the fish. Ours took roughly 2.5 days and 3 changes of water to be ready.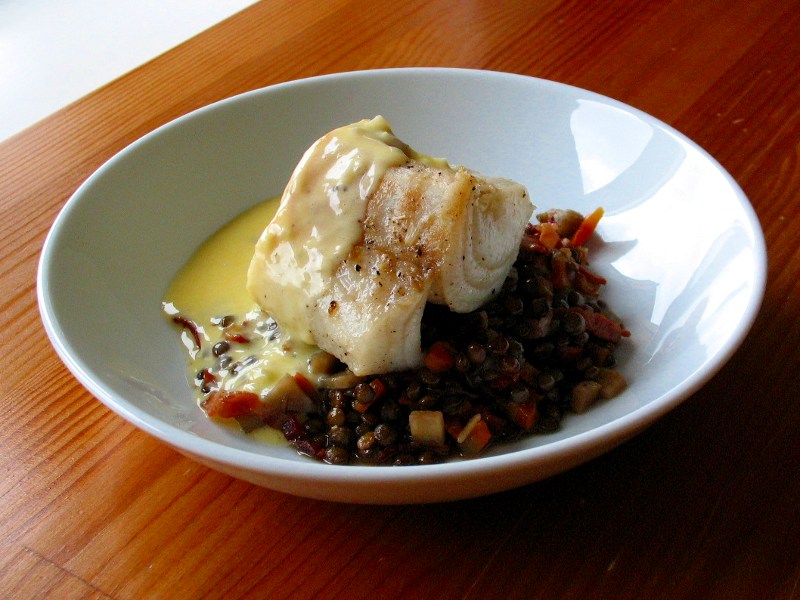 We enjoyed the fish on a bed of Puy lentils and root vegetables, thin slices of salted pork belly and Nantais butter sauce (begin by simmering shallots and white wine in a sauce pan, as for a beurre blanc, add a dollop of crème fraîche after 5 mins, continue to simmer until slightly thickened, then beat in cubes of butter over low heat, whisking vigorously, taste for salt and pepper).
  Worth waiting for, part 3
 Well, yes, there needs to be a loaf up here as well... Equally inspired by a Hamelman formula and David's wonderful walnut and raisin sourdough loaves that he told us about recently, I felt a craving for bread with walnuts in it. I came up with a formula rather similar to the one in "Bread" for a sourdough rye with walnuts, but with slightly less walnuts, some whole-wheat flour in there and a higher hydration.

I wanted to focus on the flavour of a nicely ripened rye sourdough, the flour composition and the walnuts, so the recipe and formula itself is rather minimalistic and straight forward. It was the first time I tried it this morning, so it's not fully optimised yet, but I still feel it came out well-balanced hydration wise and in terms of bulk fermentation time and the final proof. It could hopefully serve as a decent baseline if anyone would like to bake a similar bread.
Below is a photo of the dough after bulk fermentation, just prior to pre-shaping. As the bulk fermentation was roughly 2 hours, I feel that a (very) gentle fold is required midway through. This strengthens the dough significantly, and makes it much more responsive and easier to shape afterwards.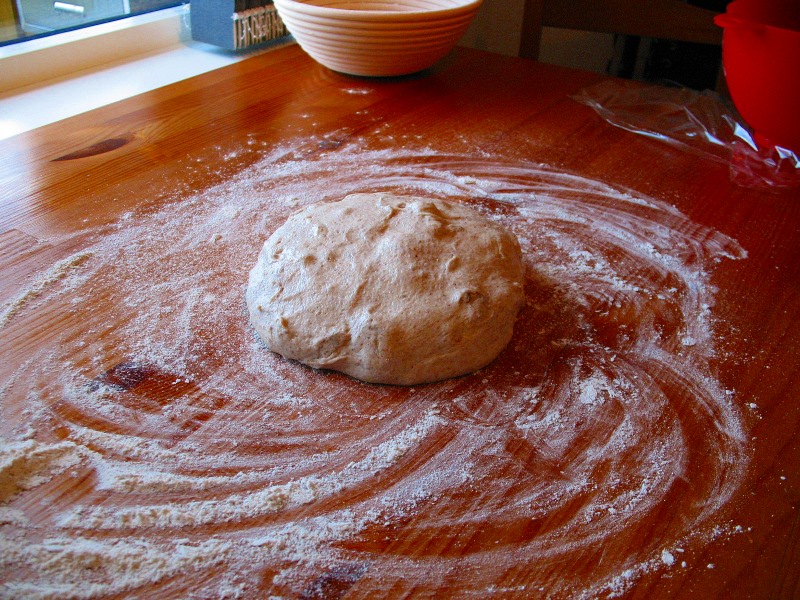 If your time runs out, or if you're baking on a week night, you could probably retard it immediately after final shaping, but I think I would reduce the amount of pre-fermented flour somewhat if you're heading that route. I proofed and baked the loaf without any retardation; in that case, a final proof of approx. 1hr 45mins was right for me. It will definitely depend on your ambient temperature and the vigour of your sourdough, so start poking gently after some 70 - 80 mins.
Here's a shot of the loaf, directly from the oven: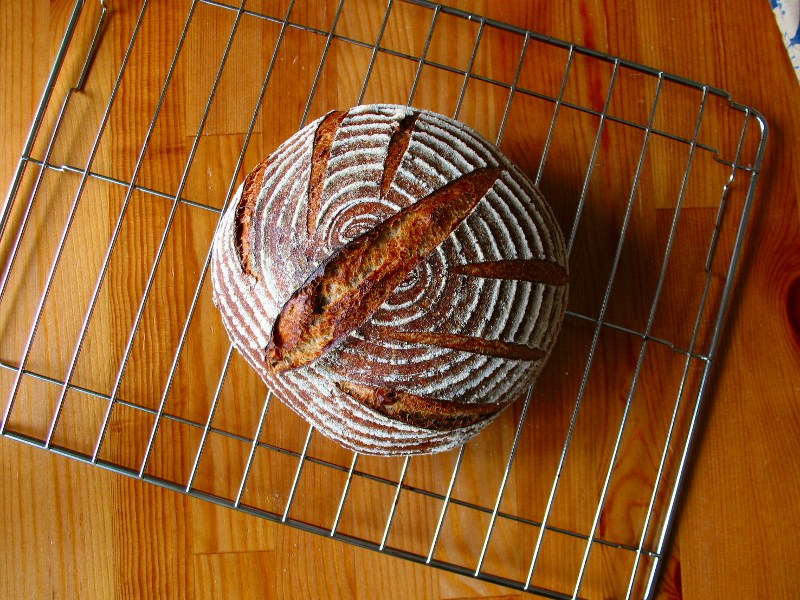 It had a nice, singing crust as it cooled down, and filled the kitchen with a most lovely smell. The singing crust and smell of the baked loaf is one nice perk of baking at home... And the crumb: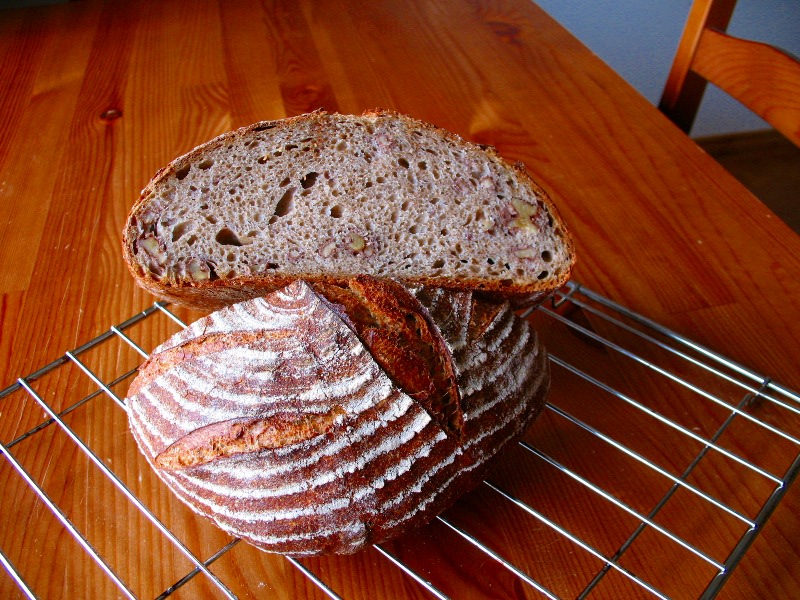 This will keep me happy the coming days, I expect!
I hope everyone enjoyed their Easter, and that you were able to spend it with friends, family and your loved ones. The days around Easter are always welcome as a respite from hectic weeks on either side of the celebration, and one can find a bit of peace and time for reflection.
I'm set for more time off in a few days, as I'll be taking my vacation early this year. I'm flying to Kiev on Friday, and I'll be spending three weeks travelling around in Ukraine, a country that has fascinated me for a long time with its rich culture and proud (but also, at times, tragic) history. I won't be freshloafin' much during those weeks, but I will make sure to sample Ukraine's range of baked goodies while I'm there. Hopefully, I'll have some photos to share in my next blog post. Until then, au revoir!