This year's hot cross buns: one lot SD, one yeasted
Every Easter I make sourdough hot cross buns, then try one or two new recipes using dry yeast. My sourdough recipe I've tweaked over years now, so no surprise that the SD buns usually get the nod over the yeasted ones. Last year's were terrif, and I was not expecting to better them this year. I didn't. Pretty good, but not quite up to 2011's batch. I compromised on a couple of ingredients and left out another, rather than sticking to the tried and true that had worked so well in previous years. Baker's slackness then. If anyone is interested in the recipe, which virtually guarantees an outstanding bake if you don't get lazy and compromise on quality ingredients, here it is.
And here are pics of the SD buns:
+ crumb shot
This year's yeasted buns, on the other hand, were a surprise - very good indeed! I adapted a prize-winning recipe published by a national online newspaper. Ingredient measures were in cups, which I weighed and recorded in grams as I worked through the recipe. I also needed to adjust the flour, and added spices and mixed peel to taste. I'm not sure whether this is a particularly good recipe (it seems pretty standard - similar to others I have tried), but it did work out very well. I'll type it out if anyone is interested in giving it a go.
yeasted buns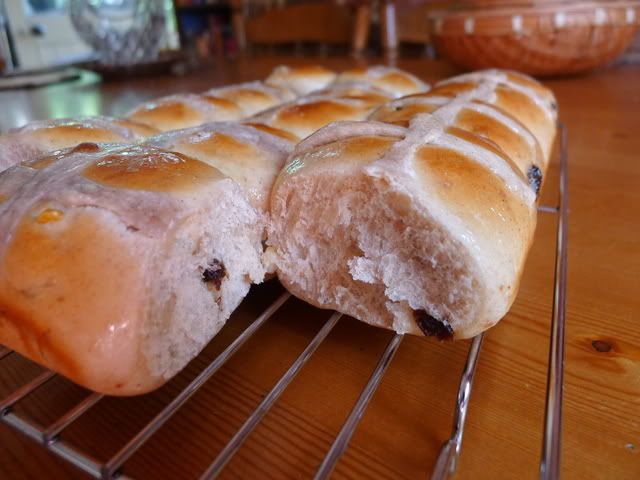 + crumb shot
Cheers all!
Ross