Tartine Loaf using 85% Extraction flour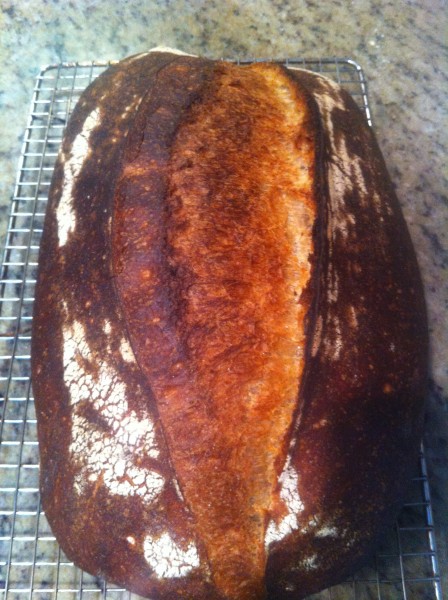 This is a Tartine-style loaf I made using 100% Central Milling Old Country Type 85 (high extraction) flour.  I was very happy with the result since I got an extremely tender crumb with the my ideal crumb structure.  I can finally enjoy my favorite Tartine loaf with some added nutrition from this type of flour.  
Here is the final dough recipe which should yield a 3-lb loaf. 
100% CM Old Country Type 85 flour - 725 gr
85% Water - 616 gr
20% Leaven - 145 gr (100% hydration using CM Type 85 flour)
2% Salt - 14 gr
I pretty much followed the Tartine workflow for the Basic Country Loaf - 4 hrs bulk fermentation with folds being done every 30 mins, 18 hrs final rise in the refrigerator shaped into a large batard to imitate the Tartine Country Bread from the bakery.  
This loaf was baked for 20 mins with steam using 2 steaming towels and another 25 mins without steam to set the crust at 475F. 
Submitted to YeastSpotting - http://www.wildyeastblog.com/category/yeastspotting/