It is finally getting a bit warmer here, but nights and mornings are still bitterly cold. We have winds from north, and they chill you to the bone if you're not well packed in. The weather has been beautiful the last couple of days, with clear blue skies and some warmth coming from the sun. Still, things don't thaw up before lunch time, and summer is clearly still a few months away.
I live next to a farmer, and he has kept sheep the entire winter on a small patch of grass just next to our house. By the looks of it, they're enjoying the sun just as much as us two-legged ones are. I love the view these days, here a photograph from Saturday, taken while I was waiting for a loaf to finish baking...: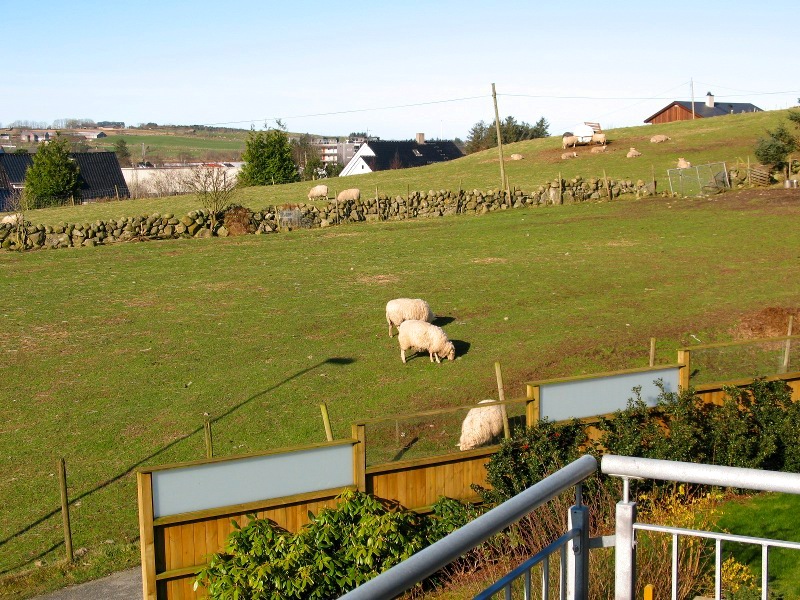 Just this morning, I noticed what I guess must be the first lamb of the season on the farm - a cute and fragile newborn that's been tumbling around next to his mother all day today. I feel this is truly a wonderful time of year - bursting with vibrant colours and scents, and there are signs of life, birth and re-birth everywhere. It all feels so much more intense these first few weeks after the long, dreadful winter.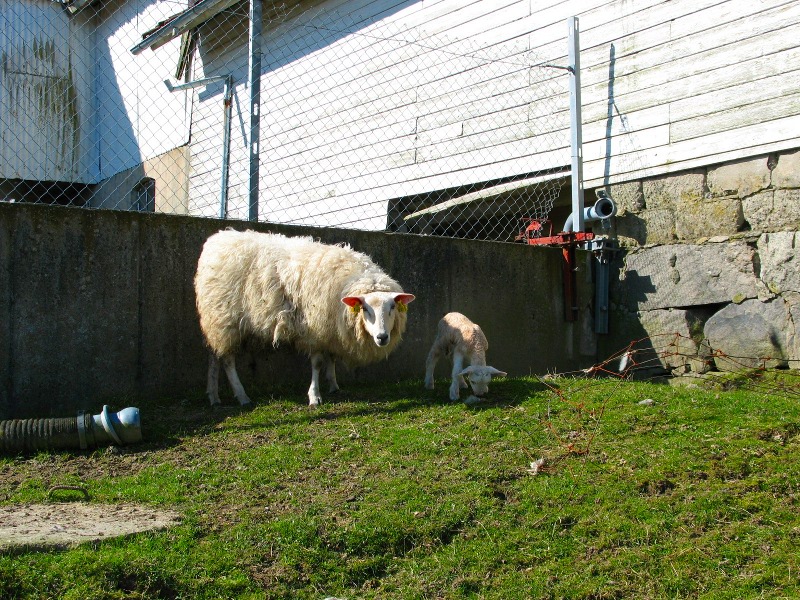 Although I try to spend as much time out in the sun as I possibly can, the cold, frostbitten weekend mornings are still excellent for dough handling and bread baking. I've baked two multigrain rye loaves this weekend; the first, the boule below, was an improvised 50% sourdough rye, with some flaxseeds, sunflower seeds and rolled oats added to it. The hydration was a bit over 90%, so this loaf has kept fresh for several days, just improving in flavour.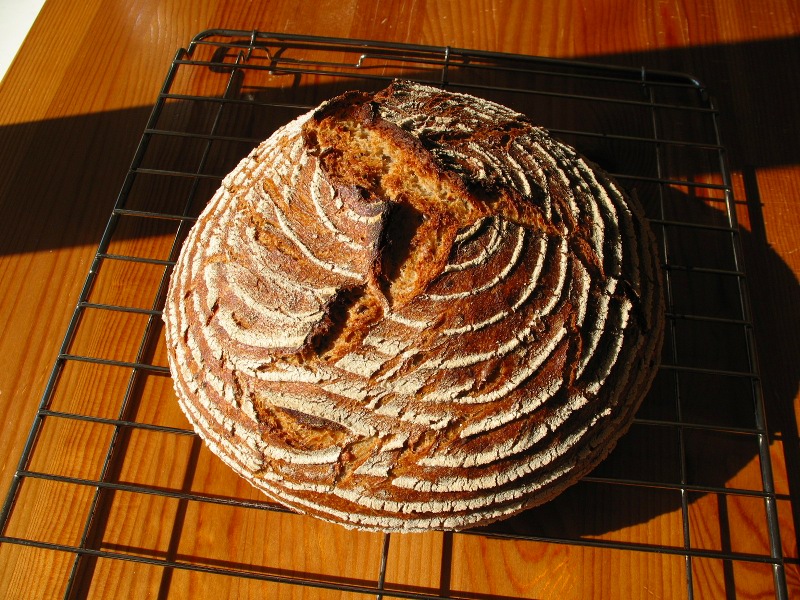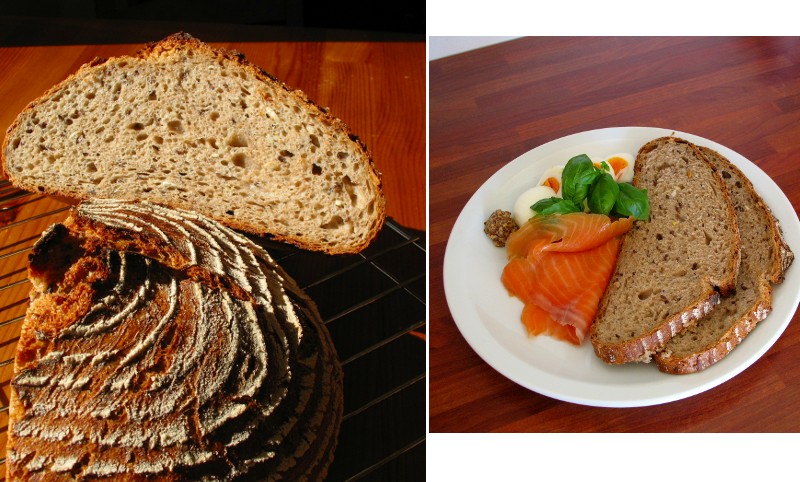 The second loaf was one of my old favourites: Hamelman's flaxseed rye from the Modern Baking website. I baked this regularly before, and I can't believe it's been over a year since I last tasted a sample of this one (shame on me). High time to get everything together in the mixing bowl (clockwise from top: old bread + flaxseed soaker, rye sourdough, bread flour and whole rye flour)!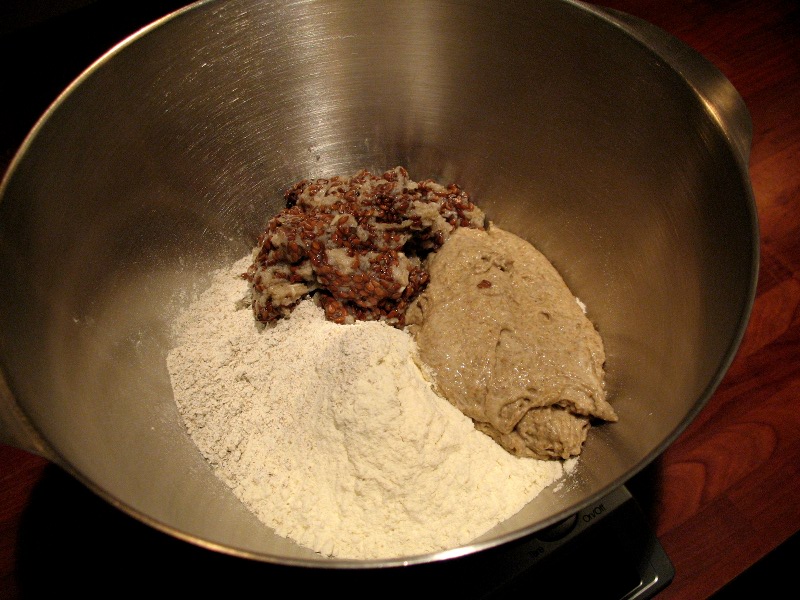 Usually I scale and bake these formulas as roughly 1.2 kg loaves (they keep so well, one might as well bake a large one while at it), but this time I settled for a smaller 800 gram batard. The dough comes together quickly, and is easy to work with.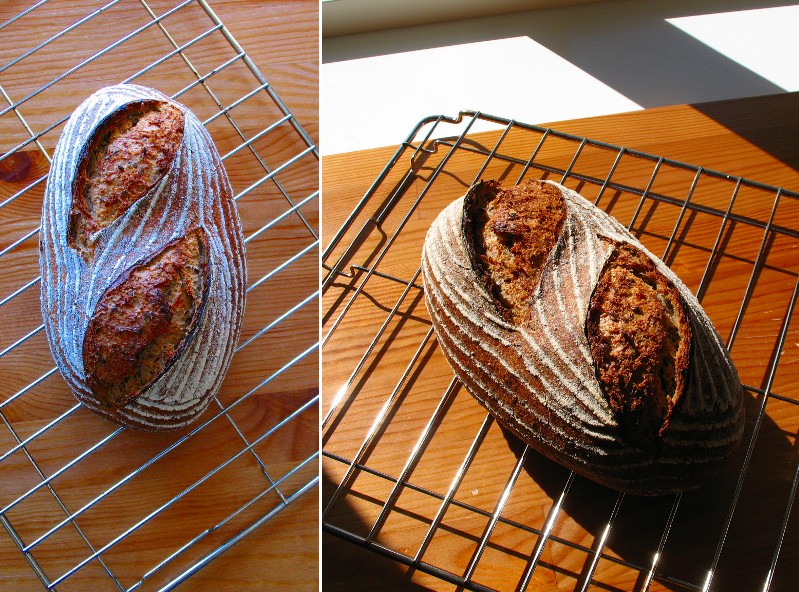 I was very happy with the result; a bread with a deep, full-bodied rye flavour, and a crisp crust. The good thing about smaller loaves, is that you can bake them more often ;-)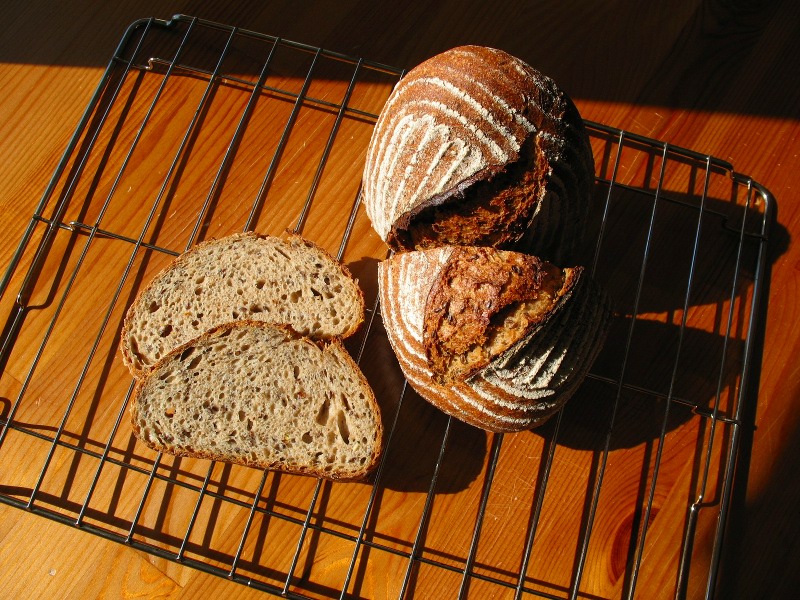 Have a wonderful Easter everyone!
Edit: Below is a copy of the formula for the flax seed rye bread above. Hamelman's original recipe in Modern Baking can be found here.