In the middle of March, we had a long weekend / short week in Sicily - great fun!
Varied breads - we had two completely different Pane Nero de Castelvetrano (one from a baker in Marsala, one from a supermarket in Sciacca) and one Pugliese I think (well, it looked like it) from a baker in Sciacca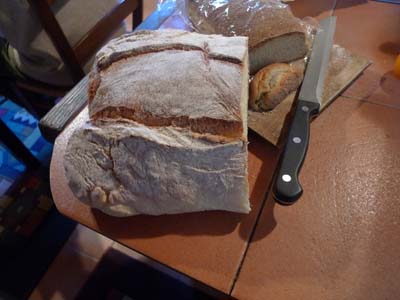 This is the pugliese - well, 3/4 of it, with the supermarket Pane Nero behind it...  It was my favourite bread - light, yellowy, great crust, I loved the shape (Chris said why didn't I do a square bread - but it won't work very well in La Cloche!)...  Excellent toasted, drizzled with olive oil and with fresh tomatoes on top (+ garlic rubbed if wanted)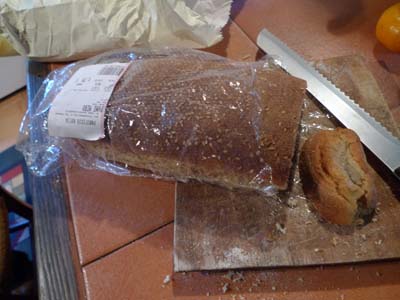 This is the supermarket Pane Nero - a long oblong, I guess baked in a pan.  Sesame seeds on the top.  Chris liked this one the best - it tasted like a good wholemeal, it was brown, quite a rich complex taste but boring crumb (well, I thought so)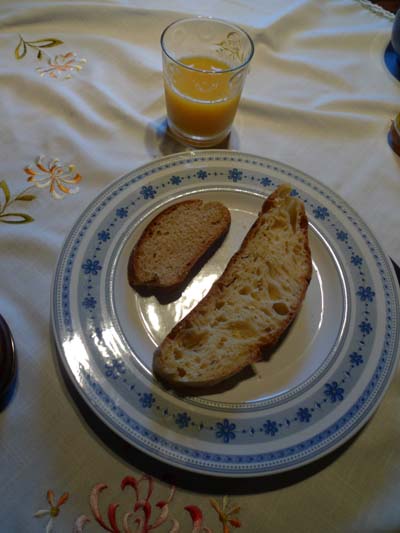 The crumb shot of the two breads!  I must admit I looked at the Pugliese one and thought "My pugliese looks quite a lot like that!" which was very exciting <grin>
Now I really thought I had a photo of the other bread - but I can't see it!  It was a boule shape, it wasn't a very dark crust, whitish crumb, quite a nice taste but to be honest, nothing special, and we tended to go back to our own favourites for breakfast...
So I'll leave you with another photo instead - the ruins at Selinunte