Yeast Water, Rye, WW, Garlic Chive, Onion, Cheese and Chorizo Bialy's
Sticking strictly to the Jewish bialy recipe by using onions, I strayed slightly from the rest of the traditional recipe and mixed it up into a Mexican / Japanese fusion sort of breakfast bread pizza thing that anyone would think is completely natural, if a little strange and weird, for the most part.  OK it is real strange and weird!
I also combined a nearly real Polish and a mostly fictitious Russian version of the bread dough with the standard Eastern European one with various modifications to it too.  But we won't talk about that for fear that too much change may not be good for anyone in the long run.    These are just delicious.  The garlic chives comes through in the crumb and taste.  Onions and chorizo are very tasty with some onions and chorizo going crisp on top.  The spring was 100% - explosive, like yeast water breads tend to do.  The crumb was as good as one could expect for openness, soft, moist and chewy.  The crust was crispy but became chewy as it cooled.   Recipe follows the pictures.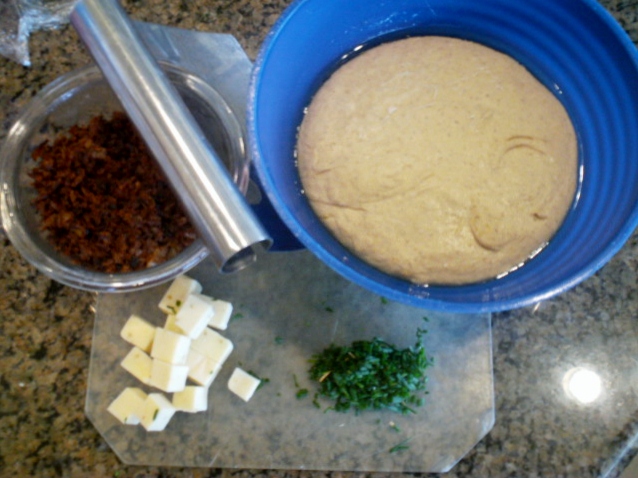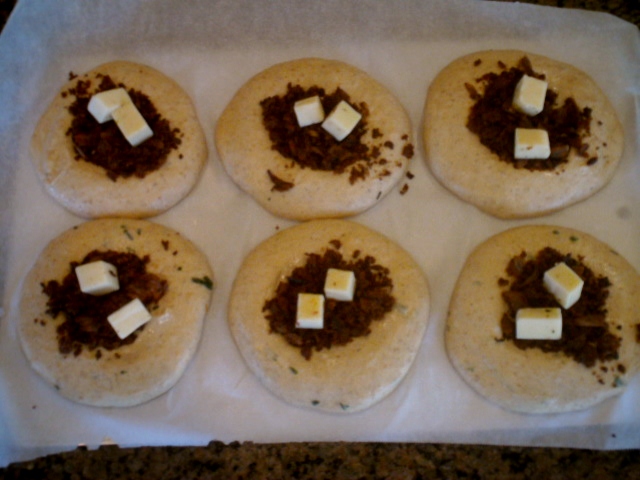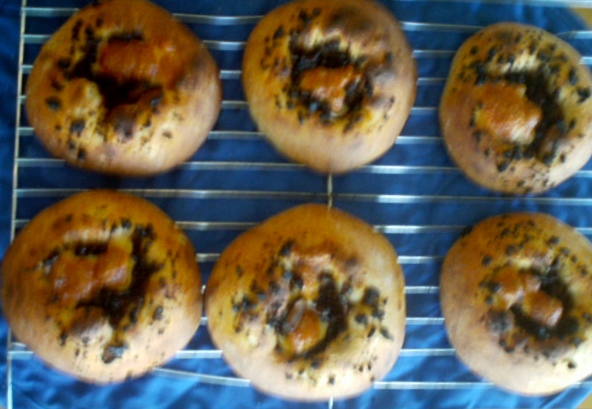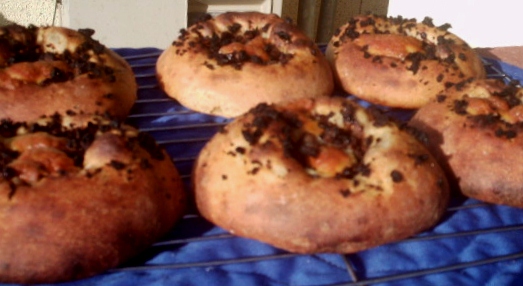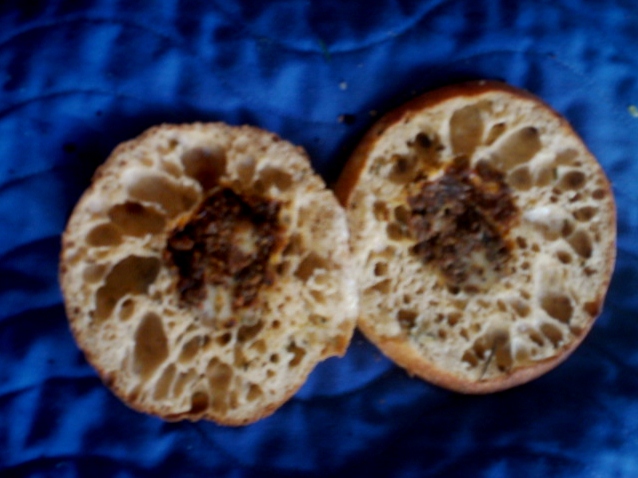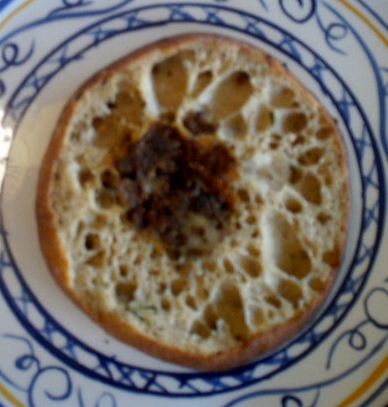 Yeast Water, Rye, WW, Garlic Chive, Onion, Cheese and Chorizo Bialy's
Levain Build
20 g KA AP flour
20 g milled Rye berries
25 g milled WW berries
65 g yeast water
Grind berries and combine with the yeast water and let sit on counter overnight – 12 hours.  Then add :
50 g KA AP flour
25 g milled rye berries
30 g milled WW berries
40 g yeast water
50 g water
Let sit for 4 – 6 hours until doubled, then add:
Dough
125 g KA unbleached bread flour
10 g instant potato flakes
65 g water
1 tsp each of molasses and barley malt syrup
1 T softened butter
1 T chopped fine garlic chives
5 g salt
Place all except salt and garlic chives into mixer bowl and knead with dough hook for 5 minutes and then cover and let sit  for 60 minutes.  Add salt and knead for 2 minutes.
Do 5 stretch and folds on a floured work surface where you incorporate the garlic chives.  Move to an oiled bowl and bulk ferment at 80 F for 1 hour - do 5 stretch and folds on a floured counter at 30 minutes and return to oiled bowl.  At 60 minutes divide into 6 balls and flatten into a 4-5 " disk that is about  1/2" thick on parchment lined cookie sheet .  Place in a tall kitchen plastic trash can liner and let proof at 80 F for 1 hour.
Sauté 1/4 pound of home made Mexican chorizo in 1 tsp of olive oil until it just starts to caramelize.  Remove from pan and add 1 tsp of olive oil to the pan and sauté 1 medium red onion until caramelized.  Mix chorizo and onion together in a bowl.
Use back of wetted spoon to depress the middle of the dough disk to ¼" thick and dock the depression with a fork to persuade it not to rise.  Place 1 -2 T of onion and chorizo mix in the depression and cover with 2  cubes of pepper jack cheese.
Preheat oven to 500 degrees and bake for 10 minutes until brown. Remove the parchment at the 5 minute mark.  Move to wire rack to cool.