February 26, 2012 - 4:07pm
Pink Strawberry Chocolate Chip Cake
So this year my son turned 10, and he requested a cake that was all sorts of "half-and-half".
Half of his cake, he wanted "hockey" themed. The other half, he wanted "warrior cat" themed. (He's been reading a series of books about fighting cats)
And he wanted strawberry AND chocolate cake as well.
I wasn't up for making a layered cake, so I asked if he'd take a strawberry cake with chocolate chips in it - and then found myself having to make something up since I couldn't find anything that matched that description online. The boxed strawberry cake mixes from the store are pretty...meh.
So I found a bunch of strawberry cake recipes that called for a white cake mix and a package of Strawberry Jello, or I'd find ones that were totally from scratch that had crushed berries in them but which weren't pink, so I decided to go with something in between since I'm not fond of the boxed white cake mixes and wanted something in between.
I am very pleased with this one, because I've never messed with a cake recipe that much before.  It came out very strawberry flavored, not too sweet, with just the touch of chocolate.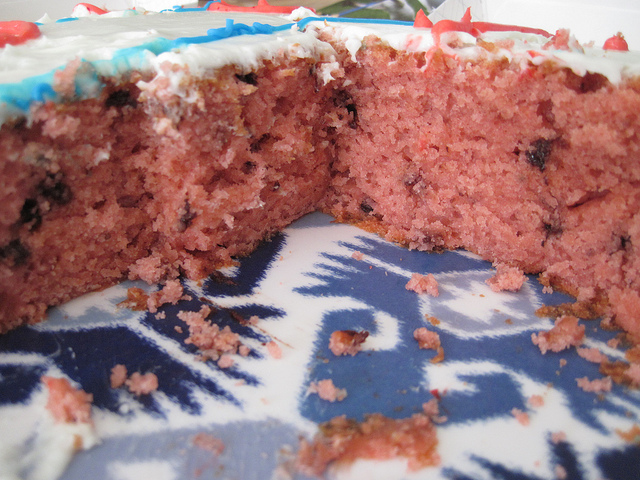 Pink Strawberry Chocolate Cake:
This is the recipe I came up with when making a 9x13 "hockey rink" cake:
I put some frozen strawberries in a ziplock the day before I made the cake, so they'd thaw before I made it.  Then for the cake, the first thing we did was to mash up those berries. This was a great job for the littlest helper who was excited to help make her brother his special cake.  The leftover mashed berries can be thrown in a container and used for smoothies later - bonus!
cream together:
1 3/4 cups white sugar
2 sticks of butter (1 cup)
then add:
4 eggs
about a Tablespoon vanilla extract
when this was all ready, dump in and mix gently:
3/4 cup of the mashed strawberries
mix the dry ingredients FIRST, and add to the batter mix:
3 cups all-purpose flour
3 1/4 teaspoons baking powder
1 small package of Strawberry Jello gelatin mix (this stuff basically gives it that ice cream parlor taste, along with the crazy color)
And finally, after youve mixed all that stuff together, add in
3/4 cup of milk
1/3- 1/2 cup mini-chocolate chips (the mini ones were perfect for this!)
Fold it together and you're going to have some pretty shockingly pink stuff to cook with.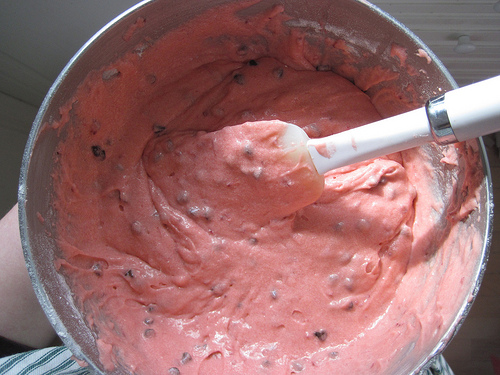 Pour it into your pan, having greased the sides with some butter beforehand.
Oh - and I discovered an awesome trick which is kind of a "duh" but which had never occurred to me until I ran across it searching for recipes - line the bottom of your pan with parchment paper and your cake will be a snap to pop out of the pan! 
Bake @ 350 for 1/2 hour and then start checking the cake with a toothpick to check when it's ready (toothpick won't come out mushy) - mine took about 40 minutes.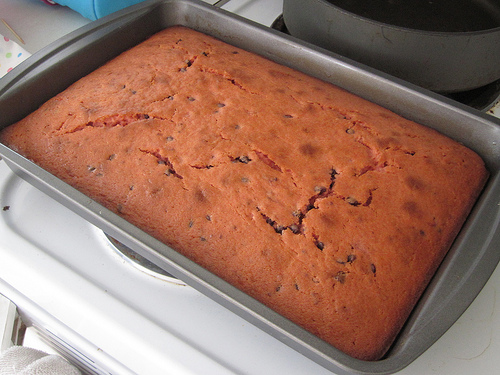 THAT'S A PINK CAKE! Your house should be smelling pretty "strawberry" now.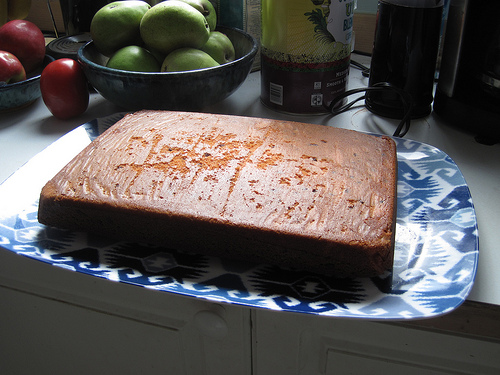 parchment paper, I love you!
Once the cake cools, it's time to frost:
Take
2 packages 8 oz cream cheese  
2 cups confectioners' powdered sugar in a mixing bowl, and whip with an electric beater until smooth. 
(*DONT DO THE NEXT PART UNTIL THE STUFF IS SMOOTH, or you'll end up having to "zamboni" your ice rink like I did and start a new batch because it'll end up all powdery )
Then add about 
1 cup of heavy whipping cream and beat again until you have a spreadable consistency.
Decorate as desired, in my case, it was with a hockey rink and some printed card cut-outs of pictures of cats playing hockey. :)