February 17, 2012 - 6:49am
SF Country Sourdough-formula from GSnyder w-slight modification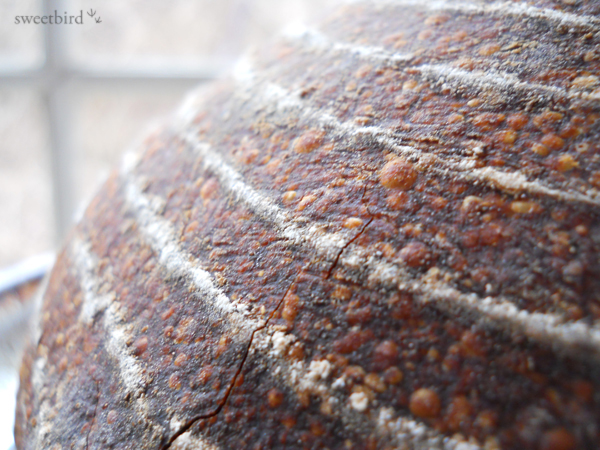 I've been raiding my freezer for slices of homemade bread lately and decided it was time to make some fresh loaves. There will never be a shortage of frozen homemade bread in this house but there are times when I just can't stand it—I have to bake! I picked Glenn Snyder's San Francisco Country Sourdough as my project and I'm so glad I did. It's a lovely formula. Here is a link:  http://www.thefreshloaf.com/node/25402/sf-country-sourdough-%E2%80%93-my-best-ever%E2%80%A6not-sure-why.
I had made this once before with excellent results, but ended up making some minor changes both times. Not from any desire or need to improve the formula, but just because of "conditions on the ground" as the generals say in wartime.  First time around I had to refrigerate the dough after 1½ hours of the bulk ferment. I took it out in the morning, did a rough shape, bench rest and final shape and it came out beautifully.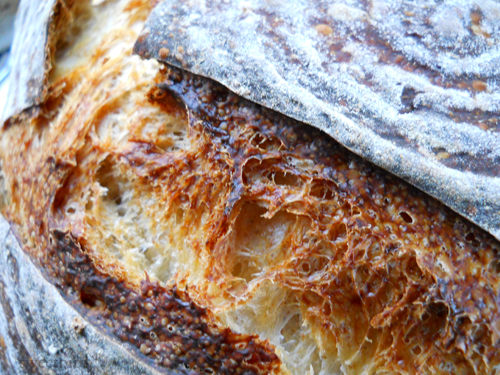 Flours used were King Arthur AP, Central Milling organic whole wheat, Bob's Red Mill dark rye. Also spring water and Celtic salt. My sourdough culture was at 100%, so I made a minor adjustment to the water to compensate (Glenn calls for 75% culture).
This time I decided to follow a kind of Tartine-style handling of the dough. After the autolyse I added the salt (in my case I used fine Celtic salt) along with a tiny bit of water (I had held a little back in the earlier stage) and did a rough mix by hand in the bowl, finishing up with quite a few stretch-and-folds. Since I hadn't mixed it quite as thoroughly as the formula calls for, I changed the S & F schedule and did one every half hour for the first two hours of the bulk ferment, then I left it alone for the final hour. At the end of that time, it was lively and pillowy and it smelled of gentle wheaty fermentation.
I divided into two halves and pre-shaped, then left it to rest for about 45 minutes. Then shaped into two boules and placed into 8″ brotforms. I put one in the refrigerator and kept one out to rise and bake.
Since I was already in a Tartine frame of mind, I decided to bake the first loaf in my Dutch oven. Preheated the oven to 500°F with the Dutch oven on the lowest rack. Turned the boule out onto a rectangle of parchment paper lightly dusted with a 50/50 blend of AP flour and white rice flour, took hold of the corners and lowered it—carefully!—into the Dutch oven. Then I closed the lid and returned it to the oven, reducing the temperature to 450°F. Glenn calls for a reduction to 460°F but I though it best to go a little lower since I was using a blazing hot Dutch oven. As it turned out, I could have reduced it even a bit more; the lower crust was somewhat overdone.
That loaf was a wild thing, with explosive oven spring. It felt almost weightless when I removed it to the cooling rack. As with my Tartine loaves, this had gorgeous, deep caramelization. The flavor once it cooled was a real delight—a crust that crackled when I cut through it and released deep caramel-wheat flavor when I bit into it. The interior was sweet and somewhat moist. Not much sourdough tang. I assumed I would get more of that in the loaf that was resting in the refrigerator overnight, but that turned out to not really be the case.
I baked the second loaf the next morning in the more traditional way on a heated baking stone on the middle shelf, with steam for the first 12 minutes. It also had exuberant oven spring, but was a little more controlled. I had taken it out of the refrigerator for about a half hour before baking, as it seemed to need it. This was my favorite of the two loaves. An incredibly deep, blistery, crackly mahogany crust, loaded with flavor and texture, with a soft but substantial interior. I really loved this crust, as you can probably tell from the overabundance of pictures! This one also felt as light as a feather after baking (+ its 10 minute rest with the oven off and the door open).
This is a great sandwich or toasting bread, and last night I made croutons by roughly cubing up several slices, crust and all, and putting them in a hot cast iron frying pan with extra virgin olive oil, garlic, parsley and basil. These got sprinkled over a homemade escarole-bean soup and made for a memorable, comforting meal on a wintry day.
Thank you for the formula, Glenn!
All the best,  Janie
p.s., sending to Susan for yeastspotting http://www.wildyeastblog.com/category/yeastspotting/