February 6, 2012 - 8:24pm
Saatenbrot - Many Seed Bread (Equal Opportunity Baking #3)
The best recipe collection (bread, rolls and snacks) of German bakers' magazine, "Allgemeine Bäckerzeitung", supplied the formula for my third "fair baked" bread.
A heavy weight, scaled for 21 loaves, with selling points, marketing tips, production cost and time calculation, including sales tax (7%) and even a suggested retail price (1.83 Euro). The production steps are briefly listed - no need to explain to professionals what they do every day.

  Die besten Rezepte aus der Allgemeinen Bäckerzeitung - Brot, Brötchen & Snacks
Scaling the ingredients down to home bakering proportions was not difficult (a minimum of 3 loaves), and the instructions, though brief, were precise, and didn't overtax my mental capacities.
The recipe said (more or less) only: "make a dough". I tried to stretch and fold it, but that didn't work too well, the dough was too wet. Therefore, instead of soaking only the flaxseeds in hot water for 1 hour (original recipe) I would include some of the flour in the soaker, to have a larger preferment, and more water already absorbed in the flour.
I like to retard my doughs, overnight fermentation works better for my schedule, and, also, improves the taste (the original recipe had only the longer starter development.)
The Bäckerzeitung says: "roll the shaped loaves over a wet towel, and then dip them into the (topping) seed mixture". Though this coated the breads nicely with seeds, they didn't stick well enough, and a lot of them fell off during and after baking. Next time I would either take care to press them more into the dough, or brush the loaves with egg white, instead of just moistening them with water.
The breads turned out very nice, crusted with seeds they looked quite attractive, and the taste? Modestly (haha!) I will only quote my friend Lynn - beneficiary of this triplet bake: "Our seedy, seedy bread was delish! We toasted it which really brought out the flavor of the seeds! Mmmmmmm!"
SAATENBROT - MANY SEED BREAD (3 loaves)
SOAKER
143 g whole wheat flour
  84 g medium rye flour
299 g water
     4 g salt
129 g flaxseed

 STARTER
  21 g rye mother starter (mine is 100% hydrated)
214 g medium rye flour
214 g water, lukewarm
 
FINAL DOUGH
all starter and soaker
130 g medium rye flour
143 g bread flour
187 g water
    5 g instant yeast
  12 g salt
129 g sesame, toasted
129 g hemp seeds
    2 g anise, caraway, fennel and/or coriander
 14 g sesame seeds (for topping)
 14 g hemp seeds (for topping
 14 g flaxseed (for topping)
 DAY 1:
1. In the morning, stir together all ingredients for soaker, cover and let sit at room temperature. Mix all ingredients for starter (in 1-step), cover and let ferment at room temperature.
In the evening, mix together all ingredients for final dough for 1 - 2 minutes on low speed. Knead on medium-low speed for 4 minutes (or knead by hand). Let dough rest for 5 minutes. Resume kneading for another minute (dough will still be somewhat sticky). Divide dough into 3 portions, place in oiled containers, cover and refrigerate overnight.

DAY 2:
2. Remove dough from refrigerator 2 hours before using. Shape into sandwich loaves. Roll breads over wet towel, and then over seed mixture. Gently press seeds into dough. Place breads in oiled loaf pans. (No scoring). Mist with spray oil, cover, and let rise for 45 - 60 minutes, or until they have grown 1 1/2 times their original size.
3. Preheat oven to 240ºC/465ºF, including steam pan. Place pans into oven, steaming with 1 cup of boiling water. Bake at falling temperatures: 10 minutes at 240ºC/465ºF, 10 minutes at 220ºC/428ºF, then turn loaves out onto baking sheet, remove steam pan and continue baking for 10 minutes at 200ºC/400ºF, and 10 minutes at 180ºC/355ºF. The internal temperature should be at least 200 F/93 C.
4. Let breads cool completely on wire rack before slicing.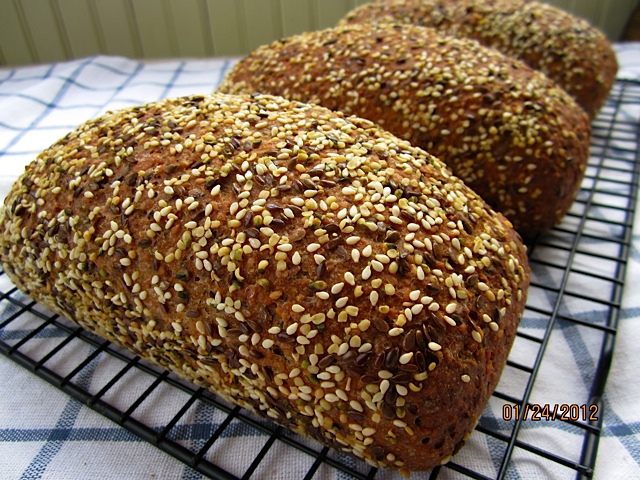 Saatenbrot - Many Seed Bread