January 29, 2012 - 5:52pm
Daniel Leader's French Walnut Bread
The second bread on my "Equal Opportunity Baking" list (http://www.thefreshloaf.com/node/26944/fair-baking-my-equal-opportunity-pledge) got its place near the top because of my curiosity.
In the past I had read several comments on the many errata in Leader's books, and, therefore, decided not to buy it. But Christmas came, and, being blessed with three daughters (2 step and 1 own), I found several baking books under the tree, among them "Local Breads".
With my fair baking pledge in mind, I searched for the errata posts in TFL again, and saw Mini's (MiniOven) comment on a translation error, a mixup between the German term for caraway = Kümmel (a typical German bread spice) and cumin = Kreuzkümmel (a spice used in Indian and Middle Eastern dishes). Both taste totally different, and cumin has no part in traditional German cuisine.
I looked at the German bread section in the book, and found that Mini was right. Somebody had posted Sharon Burns-Leaders' contact address, and I emailed her about Mini's and mine observation. She answered me promptly:
"Thanks for the correction! Since it was pointed out it seems quite silly that we never questioned it! I do try to answer all of the queries from readers personally myself,  though reading through some of the posts on The Fresh Loaf was, I have to admit, a bit frightening.  We did work very hard on that book and I personally tested every recipe so the personal and passionate comments were a little hard to hear when they were critical, however, I am amazed, as always, at the dedicated and talented bakers that are out there!"
That was a very gracious answer, and I decided to cut Leader's book some slack, and find out for myself how his recipes are working. Because I like breads with walnuts, I chose a variation of his Whole Wheat Sourdough Miche, French Walnut Bread.
I have a lively 75% hydration starter in my fridge, so I didn't have to make a levain from the scratch. Leader's stiff levain contains a mix of all-purpose and whole wheat flour, so I started with feeding my whole wheat mother starter with AP flour, adjusting the water to make the stiffer levain.
Since I had decided to give my new KA 600 Pro a chance, I mixed the dough with it,  again regretting my jump at Amazon's "Black Monday" bait, when the bowl started wobbling and would have jumped out of the holders if it wasn't held down with brutal force.
Long experience with nut additions told me not to wait until the dough had fully formed (it's a real big pain to work the nuts in at this stage - I really don't know why all baking books, from Reinhart to Hamelman insist on doing that!), so I fed them slowly to the dough while kneading.
I basically retard all my doughs, so I did the same with the French Walnut Bread, placing it in the refrigerator after an hour of rising, and a brief kneading. The dough was, as expected, a bit sticky, but not too difficult to handle.
Overnight the dough had almost doubled, and, after it came to room temperature, behaved exactly as it should. Instead of steaming, with ice cubes I used a steam pan and boiling water - why lower the oven temperature unnecessarily?
The result was a good tasting bread, with the typical purple-ish color (walnut "dye") and a nice airy crumb.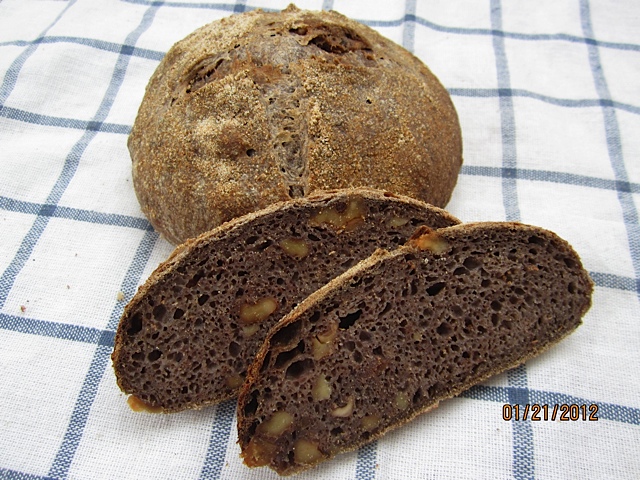 Next time I might just use S & F as in Peter Reinhart's "Artisan Bread Every Day", instead of a long, slow knead.