Better results for Whole Wheat Sourdough thanks to Jane and others
Seeing everyone make such beautiful whole grain breads lately inspired me last weekend to finally try Jane's lovely sourdough technique (Jane's results here), with tips by JMonkey and Tomsbread as well - thanks guys!
I converted some of my mixed white/WW starter into a 100% hydration WW starter, followed Jane's techniques and made a rather wet dough of about 80% hydration, kneading in my stand mixer for about 12-15 minutes on speed 2. I did not ferment the dough in the frig as Jane did though, I just left it in my cool room temp kitchen for maybe 3-4 hrs for the first ferment - it rose nicely. Then I divided the dough, rounded, rested for 10 minutes before placing in bannetons for final 80-85F proof near the woodstove (this was the day the big Nor'Easter started so we were getting 5 inches of wet snow, good reason to have a fire going and good weather to stay in and bake bread).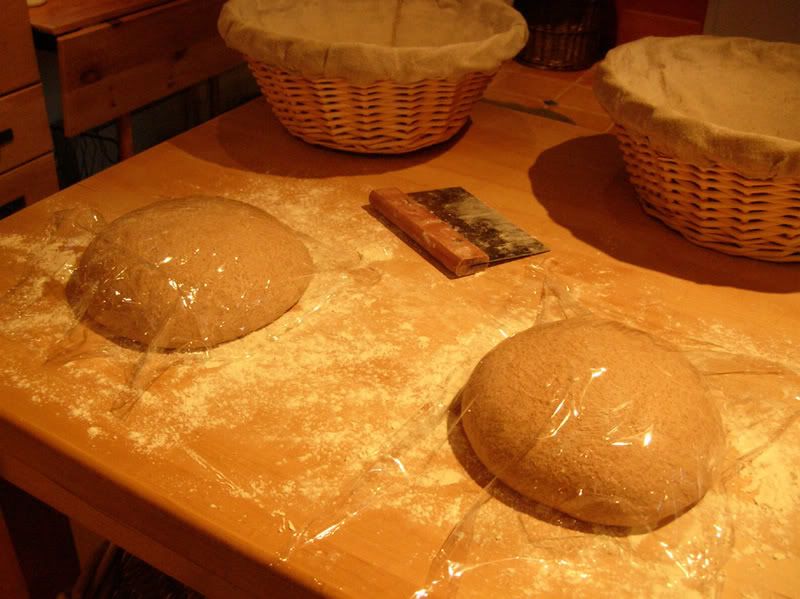 Since I had 2 loaves of rather wet dough, I decided to do a little experiment and bake one in my 5 qt cast iron Lodge dutch oven to hopefully keep it from spreading too much, while I baked the second one right on the hot baking stone after the first was done. I was surprised at some of the differences between the two. The loaf on the left in the photo below was baked on the preheated to 500F stone which was immediately turned down to 400F, and the one on the right was baked in the dutch oven at 450F entire time (lid removed after 25 min.):
I was surprised at how much darker the crust was on the dutch oven loaf. On the other hand, the dutch oven loaf did not rise much higher, probably because it sort of collapsed after an awkward flop into the oven from the banneton, hence the crumb was slightly more dense than the free-form loaf's crumb. I'll try the dutch oven again but try to be much more gentle in getting it into the oven, maybe using parchment like Susan did in her posts of her beautiful "football bread".
I am really happy with how the free-form loaf came out, the crumb was much hole-y-er than any 100% WW I've done so far, not as hole-y as Jane's, but next time I'll try an even higher hydration with a little more folding and see how that comes out. Seems like the key for me was wet wet dough and very very gentle handling - I didn't shape the boules as tight as I normally do, I kept them much looser.
This was also the best tasting WW sourdough I've made yet, it tasted better than the last desem I made. It had a nice tangy SD taste rather than a bitter wheat taste, probably from the long cool bulk ferment and also long warm final proof. In fact, the reason the second free-form loaf may be so much lighter is because it was slightly overproofed so the crust did not carmelize as much, but it still tasted very good and it lasted all week! We are still enjoying this loaf made last Sunday (5 days ago), it has stayed fresh-tasting and moist just sitting on the cutting board with a piece of foil covering the cut end. It did not get dried out and hard like other lean WW breads I've made before.
The same weekend, I also made a batch of Columbias and Leonard boules. I hadn't made the Columbias in awhile, and this time my batartd-shaping and slashing showed significant improvement over the last few times making this recipe, where the batards used to collapse at the slashes. Thats's thanks to Floyd's batard-shaping and slasher video! Giving the dough the extra folds also helped it get much better height and oven spring than my earlier attempts. These did not last the weekend and got eaten right away.