January 27, 2012 - 6:17pm
So here is my take on the classic Cheese bread.  I love the flavor and aroma of melted/toasted gruyere cheese. I wanted this flavor to infuse my basic sourdough loaf without getting muddled in the process.  I have seen several different types of this bread but all of them simply mix the cheese (either cubed or grated) in the dough during the mixing/kneading stage.  I wanted something more "in your face" gruyere, melted/toasted cheese flavor in every slice while, at the same time, achieving a very rustic-looking country bread.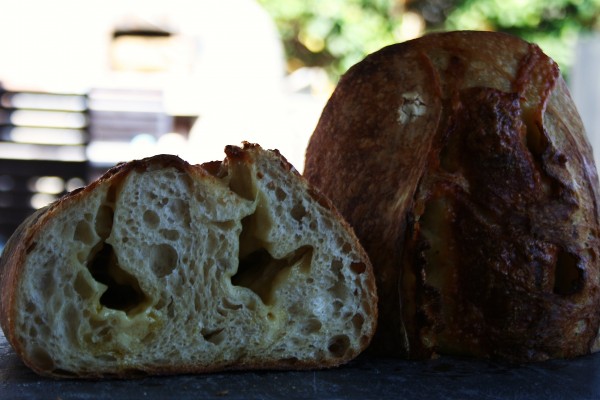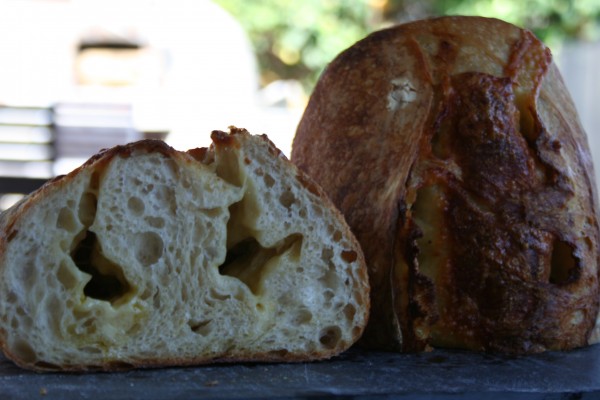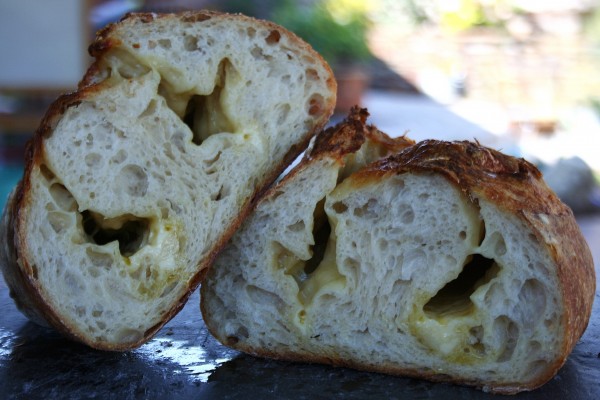 Here is how I made this wonderful bread:
90% Bread Flour - 446g
10% Rye Flour - 50g
70% Water - 347g
40% Leaven - 198g (Starter culture was fed with flour/water mix at 100% hydration, 12 hrs before mixing the dough)
2% Salt - 10g
Gruyere cheese, grated - 200g
1)  Dissolve leaven in water; mix all of the flour by hand.  Autolyse for 30 mins. 
2)  Add salt and mix until fully incorporated. Perform stretch and fold  every 20 mins during the 1st hour of bulk fermentation and once every hour afterwards to complete a 3-hr bulk fermentation.  
3)  After the 3-hr bulk fermentation, the dough should be billowy and very easy to stretch.  Turn the dough out into a lightly floured counter.  
4)  Preshape the dough into a rectangular mass.  Bench rest for 30 mins.  
5)  Lighty dust the dough with flour then turn it over, doing the same to the other side.  Using a rolling pin, flatten the dough into a rectangle (about 12"x18", 2cm thick).  Rub some flour to the rolling pin if the dough is sticking to it.  
6)  Scatter the grated gruyere cheese on the dough leaving about 1.5" border all around without cheese.  
7)  Starting from the short side of the dough, roll it into a log just like a jelly roll/cinammon roll, making sure the cheese is being trapped inside the cavity.  Also, make sure that the log is rolled tight with the edges sealed underneath to build tension on the surface of the loaf.  
8)  Proof for 3 hrs seam side up on a couche or a lined-banneton dusted with flour.  Alternatively, you can proof for 1.5 hrs at room temp and retard in the refrigerator for 10-12 hrs. 
9)  Preheat oven to 500F.  If the loaf was retarded overnight, take it out of the refrigerator 1 hr before baking.  
10) Place your steaming apparatus inside the oven (I used 2 wet towels), then place loaf inside.  Lower oven to 450F.  
11)  Bake with steam for 15-20 mins, remove steaming apparatus, bake for another 25-30 mins until crust is dark golden brown with the cheese oozing out from the grigne.  
12)  Leave in the oven for another 10 mins.  Let cool, slice, and serve.  Enjoy!
Submitted to YeastSpotting  http://www.wildyeastblog.com/yeastspotting/