January 10, 2012 - 9:01am
Reinhart's Many Seed from WGB
German Style-Many Seed Bread
When Hanseata posted her last bread of the year, it was a reminder of a recipe I have seen in Peter Rhinehart's "Whole Grain Breads". I hadn't made this one yet but it looks like it has promise. Actually, I love this book. Peters "Epoxy or pre dough" method is inspired. The need for less kneading during the final dough mix delivers delicious results every time. I get rave reviews on all the breads I bake from WGB.
A couple of days ago, Khalid (mebake) posted his results on the same bread and reported his family loved the flavor. I know Khalid to be a very talented baker so for his family to make a big deal on this one, well, that is enough to drive me to try it. I checked my supplies and prepared for a 4 times multiple batch. I decided to follow Khalids lead and add crushed and toasted walnuts to the toasted seed package. Somehow toasted walnuts sounds perfect for this bread.
The bread I am baking is on Page 210 of WGB under the International section and is considered a Transitional bread as the Biga is made of Bread flour or Hi Gluten flour. Considering the amount of seeds added, I used All Trumps Hi Gluten and fresh ground WW.
My initial plan was to hand mix this 9 Lb+ batch.  But as I started to chop the large amount of seeds into the soaker and biga, the DLX was calling my name.  One of the things I try to avoid when baking PR's recipes in this book is ending up with a crumb that has swirls because I didn't distribute the ingredients well enough. Maybe a single loaf batch would be easier but this one looks like a physical challenge. The DLX handled the incorporation of the seeds with the soaker and biga with no problem. The aroma of the dough is remarkable.
The dough proofed quite well for being so rough. There are over 775g of seeds in 4200g of dough so I wasn't expecting  a large rise. The oven spring was nonexistent however so I was glad for the proof results. As you can see, it browned well and the baking profile was perfect to get a done interior crumb that is still moist. This bread is loaded with good wholesome flavor.
I highly encourage those who enjoy whole grain hearty breads to pick up a copy of Whole Grain Breads.  Read the chapters on the process and the Master formula. Reinhart's method on this is unique.  Once you do it a couple of times, I find it's very easy to fit in the schedule. He gives a conversion in most recipes for using your sourdough starter instead of yeast in the biga. His formulas  and methods produce everything I am trying to accomplish with baking. 
Eric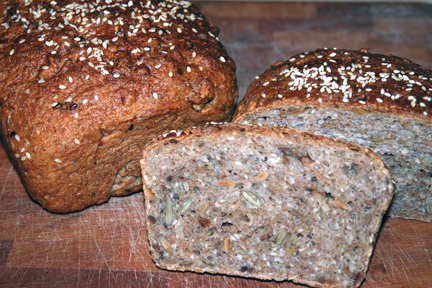 As good as this was last night just slightly warm, toasting brings yet another level of flavor out.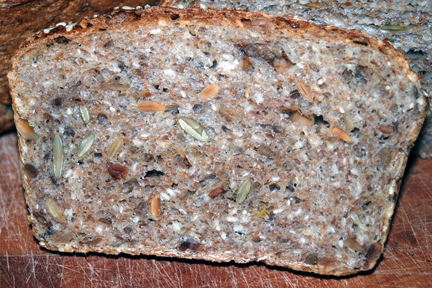 Here, a freshly cut slice shows the many seeds.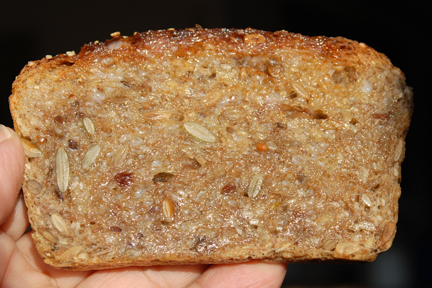 Glistening with melted butter, the flavor is amazing!