New Years Day Bake and traditional good luck dinner
I just would not feel right without some black eyed peas on New Years Day.  Fresh black eyed peas they say represents coins and the kale money...hummm sounds good and lucky to me.  
This is my MIL real southern cornbread recipe..god bless her...I call it grandma Turner's cornbread.  It has no sugar and no flour and is dropped into a hot skillet of bacon fat.
That's italian sweet sausage from my local butcher's in the soup.  Also pictured is today's bake of sourdough loaves..the fourth one was in the oven.  It was made into a round boule..to fill with cheese, like I saw on Farine's blog...yummm.
Grandma Turner's Cornbread
Preheat oven and 10" or 12" (I use 12" for single and double recipe) inch frying pan with bacon drippings in a 400F oven.
2 cups white or yellow corn meal
1 tsp. salt
1 tsp. baking powder
1/2 tsp. baking soda
2 cups buttermilk
2 eggs
4 to 6 TBsp. of veg oil or bacon drippings  - add some or all in the pan.  I add about 6 TBsp. full and  put the pan into a hot 400F oven - removing about 3 TBsp. to go directly into mixed batter.
Mix the cornbread. 
Mix all the dry ingredients.
 Lightly beat eggs into the buttermilk
Add wet buttermilk and egg mixture into the dry ingredients.  Add hot bacon drippings - or veg. oil.   I added 3 TBsp. of bacon drippings.  Reserving about 3 TBsp. in the heating frying pan.
 Very lightly stir the mixture and pour into pre-heated hot iron pan.  It will sizzle when it hits the hot bacon drippings.  I used a 12" pan.  This recipe can be doubled if using a the large 12" frying pan.  The corn bread I have pictured is not a double recipe.
You don't have to do the hot skillet and drippings..if you do..use caution, everything is very hot!  You can just add veg. oil or melted butter to your batter and pour it into a well seasoned and greased heated frying pan.  I used all hot bacon drippings in this bake.  I also like using melted butter in the batter and then pouring the batter into hot bacon drippings in the iron pan.
Bake for apx. 20 mins.  The bread will come away from the sides of the pan and start to crack a little..that's good sign it's done!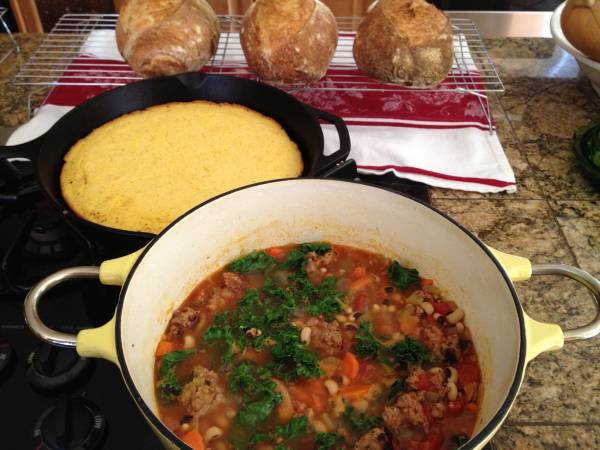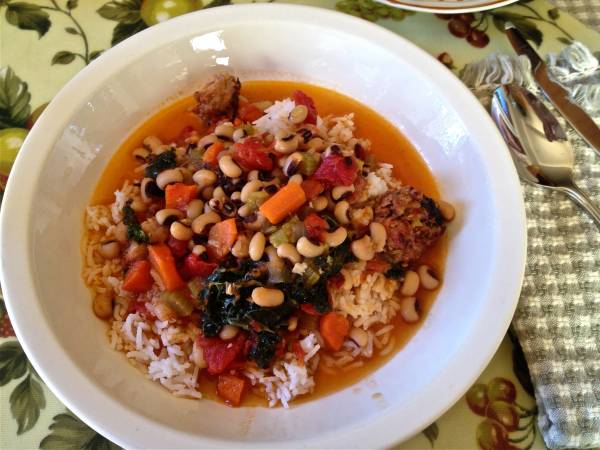 Photo for fun and interest.  We burn a lot of oak around here, but not this one.
                                        I saw this on a television show the other day.  It's the US largest oldest living Oak Tree.  Less
                                        than 50 miles from me.  It has quite a history about the land it's on in Temecula, CA.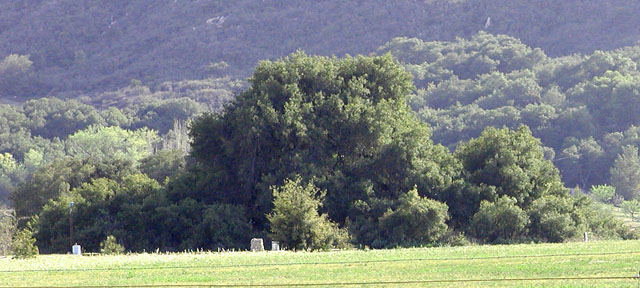 Happy New Year's Day!
Sylvia