December 31, 2011 - 4:38am
Reflection is a bitter sweet thing.
Why do we have dessert at the end of a meal? Dessert gives us a feeling of happiness. Why do we love coffee? For me, to counter the sweetness that has accumulated in my palate.
On this last day of the year I reflect:  Bitterness gives meaning to sweetness.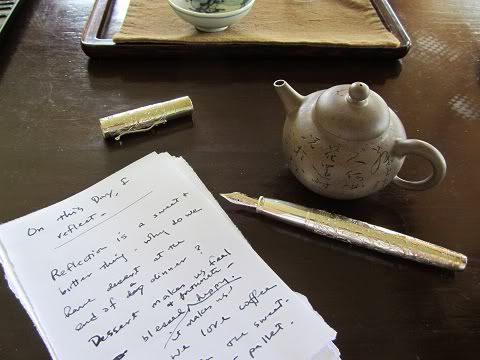 My husband replaced our refrigerator while I was away. The old fridge had refused to give up the ghost and was still going. I do not know what prompted him to replace it. Early spring cleaning?!
My girlfriend came by to have coffee and a piece of chocolate panforte. I was looking through the junk in our new fridge that my husband has kept for me from the old fridge. I saw a jar of green tea powder and asked my girlfriend to have a look. She said, with a roaring laughter, "It expired in 2008!" Notwithstanding, I had a taste and it was very bitter. Then, I found a gift packet from Three Sisters' Inn in Kyoto, Japan, where I had stayed numerous times. It contains sachets of green tea soup – savory with a hint of sourness.
In the back of the new fridge, I found more macha green tea powder. Can I build this into a sourdough with, say, chocolate – sweet and bitterness? Here it is, but don't do what I do. It is a bit wacky for a sourdough.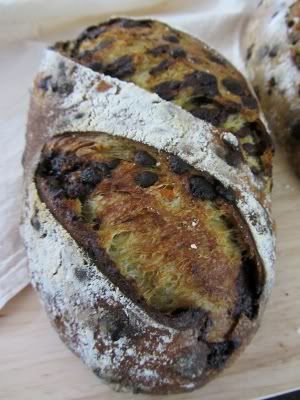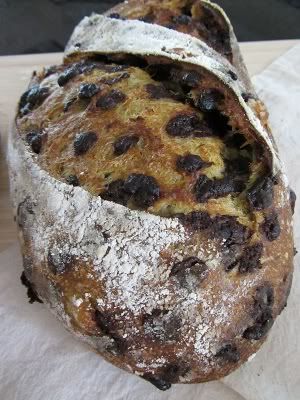 I also built in orange preserves to give it contrast and colour.
Green Tea, Chocolate and Orange Sourdough
230 g liquid starter (fed 90% plain flour and 10% rye flour)
575 g flour (90% plain flour and 10% rye flour)
4 g macha green tea powder (mixed into the flour)
150 g chocolate chips (Don't use expensive ones; cheap ones keep their shape better in baking)
260 g orange preserves with its syrup (stew slices of oranges in sugar, cloves, and some lemon juice depending on how sweet your oranges are)
300 g water (Here is the tricky part. I started with about 250 g water. I wanted a medium soft dough consistency, about 72% overall hydration. It depends on how much syrup in your orange preserves. I ended up using more water, maybe 50 g or so.)
14 g sea salt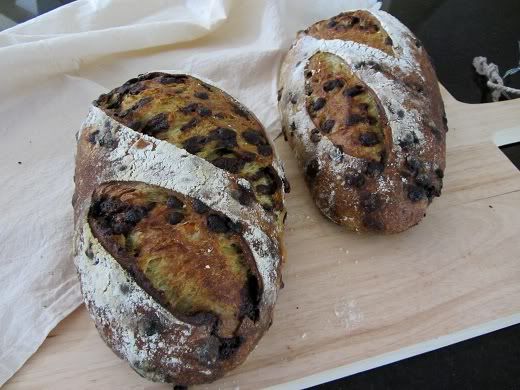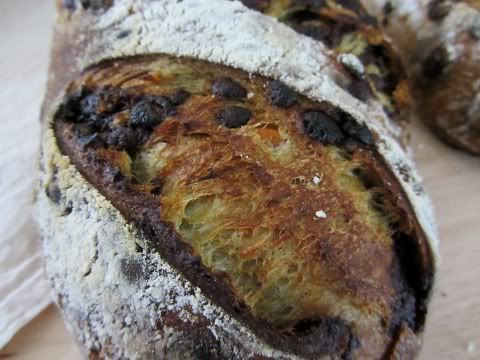 I forgot there was much sugar in the dough and  had baked it in too high a temperature, around 230 C.  Lower temperature would have been better to allow a longer bake for crispier crust.
With so many ingredients and flavours in the dough, David's 21-hour retarding won't be necessary. Lean dough benefits from a long period of retarding, but it will be an overkill for the kind of dough I have here.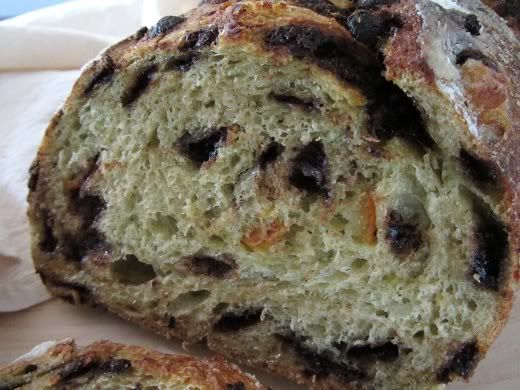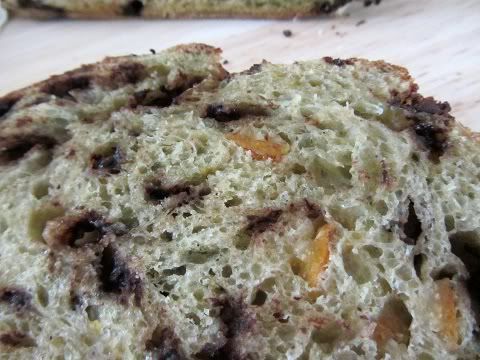 The dominant flavour in this bread is chocolate, and therefore it is sweet. The orange gives it an added dimension. You hardly smell or taste the macha green tea and it is a shame.
I believe there will continue to be efforts in building in more bitterness in our baking and our cuisine in general. Bitterness adds depth in flavour, and more fullness in taste. I believe we are ready for more complexity.
I have always had a sweet tooth. I have just had too much sweetness in my life…
Have a wonderful 2012!
Shiao-Ping