December 29, 2011 - 9:58am
Christmas Stollen - my adaptation of an Anna Thomas recipe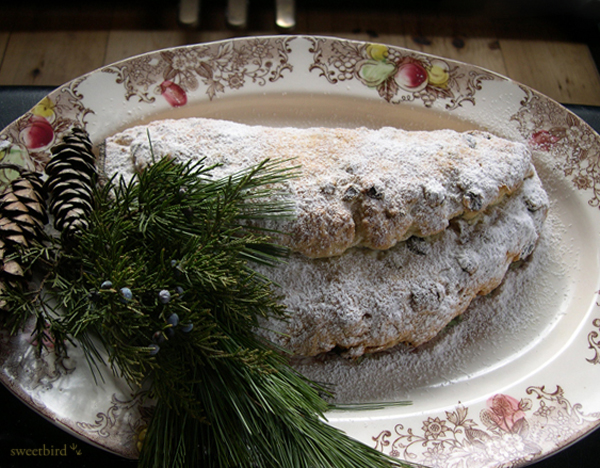 One of my most beloved cookbooks is the original Vegetarian Epicure by Anna Thomas. It began its life with me in San Francisco in the early 1970s and has traveled with me ever since, now nestled on a bookshelf in upstate New York. It is in tatters with no binding left, but that only makes me love it more. It is well used.
 I've made the Christmas Stollen from that book every year since I first got it, and it's something that my family and I look forward to throughout the year. Because it's an unyeasted "quick bread" recipe, it's different from any Christmas Stollen I've ever tried, and from the first bite it stole my heart. It's deeply rich from the butter and cream cheese, gently sweet from the fruit, rum and a bit of sugar, all balanced by the tang of lemon, mace and cardamom.
 A few years ago I decided to write a note to Anna Thomas letting her know that her stollen had become a treasured tradition in my family, and to my delight she wrote back a lovely note! Her newest book Love Soup is wonderful too, by the way.
 I made some changes way back in the 70s based on availability and personal preference and since it turned out so well I kept making it the same way. Here's the version I've made all these years:
 Christmas Stollen
(my adaptation of Anna Thomas's recipe from The Vegetarian Epicure)
  w/metric conversions:
  352 gms (2½ C.) unbleached AP flour
2 tsp. baking powder
125 gms (¾ C.) (or slightly less) sugar
½ tsp. salt
½ tsp. mace
seeds of 5 - 6 cardamom pods, crushed (I usually use green) -or- ¼ tsp., rounded, powdered cardamom
100 gms (¾ C.) almond meal (or ground blanched almonds)
½ C. butter, cold
226 gms (1 C.) cream cheese (reduced fat OK), softened at room temperature
1 large egg, room temperature
½ tsp. pure vanilla extract (I use Madagascar Bourbon vanilla extract)
1/3 tsp. pure almond extract
2 Tbs. Bacardi light rum (original recipe calls for brandy, which I haven't tried yet)
85 gms (½ C.) seedless dark raisins
85 gms (½ C.) golden raisins
finely grated peel of 1 organic lemon (use a rasp for the finest consistency)
Preheat oven to 350°F.
 Sift together the flour, baking powder, sugar, salt, mace and cardamom. Stir in the almond meal. Cut the butter in with a pastry blender until mixture resembles coarse sand.
 In a blender, cream the egg with the softened cream cheese, vanilla, almond extract and rum. Pour it into a bowl and mix in the fruit and lemon peel. Gradually stir in the flour mixture until everything is more or less incorporated, then turn it onto a lightly floured board and knead it for a couple of minutes -- just until smooth. At first it's more like "smooshing" or squeezing things together than kneading. It will seem dry and you might have the urge to add some liquid, but resist if you can.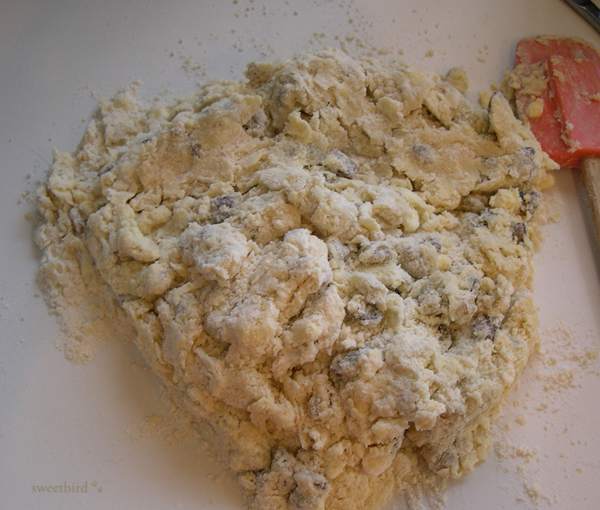 Flatten into an oval about 10″ long by 8″ wide. With the blunt edge of a knife, crease it just off center, length-wise. Fold the smaller side over the larger side and form it into a slight crescent moon shape.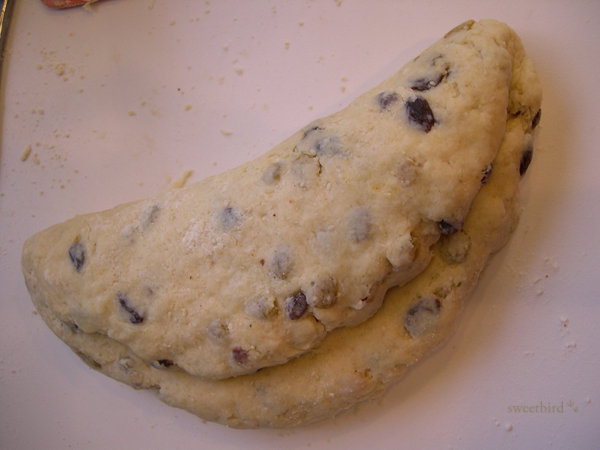 Bake in preheated oven for about 45 minutes, or up to an hour, depending on thickness. This year I made mine a little thicker than usual and needed the full hour. Turn at 20 minutes. Watch closely after 40 minutes or so and protect it with strips of aluminum foil if it's getting too brown at the edges. Allow it to cool before dusting it with confectioner's sugar.
Happy New Year to all!     Janie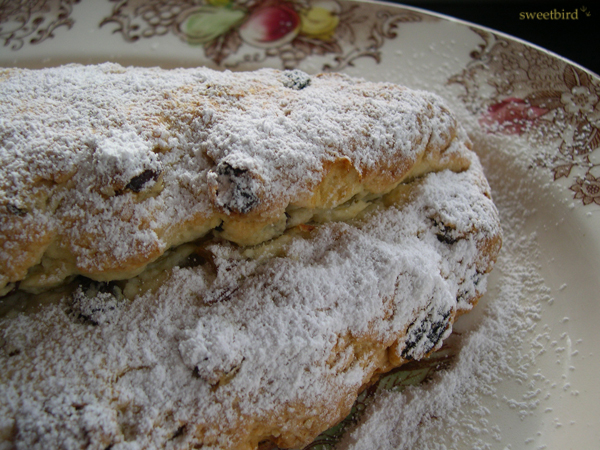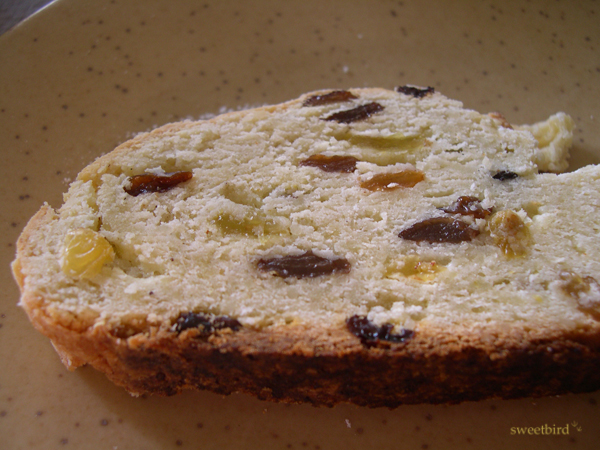 NOTE: The differences in my recipe from Anna Thomas's original are:
 - I use light Bacardi rum; she uses brandy (same amount)
- I omit the candied lemon peel and substitute grated peel of 1 lemon
- I use seedless dark raisins instead of currants (same amount)
- I reduce the sugar somewhat (¾ C. is the original amount, but I usually use a well rounded ½ C.)
- I use Bob's Red Mill almond flour if I have it available because it's good and it's easier than grinding blanched almonds
- I usually substitute slightly reduced fat cream cheese