December 1, 2011 - 4:48pm
Lepard's Ale-Crusted Potato Pasties
A few days ago, my lovely stepdaughter, Cat, convinced me to join twitter. As if I didn't spend enough time already on my computer!
But it's fun to follow Dalai Lama (my favorite, whose tweets are not about food, but food for thought), well-known food gurus, like Mark Bittman ("How to Cook Almost Everything" - always good for some environmentally conscious comments) -  or new baking entrepreneur Martina Snetkova ("Cookie Time!") in her heroic fight to establish her little bakery-on-wheels against a big chain cafe who tried to crowd her out of the Bay Area market before she even got started.
And Dan Lepard. When I saw this recipe, I jumped on my bicycle (yes, at the end of November! In Maine!!!) to get local brown ale, sharp cheddar and white onions:
http://www.guardian.co.uk/lifeandstyle/2011/oct/21/ale-crust-potato-pasty-recipe
Having learned a few tricks by watching the French video on croissants (that somebody here just posted), working with the ale dough was fairly easy. I americanized the potato onion filling a bit by adding some fried bacon. The amount of the filling would have been enough for nine pasties instead of six (my husband will work the surplus into somosas).
This is the result: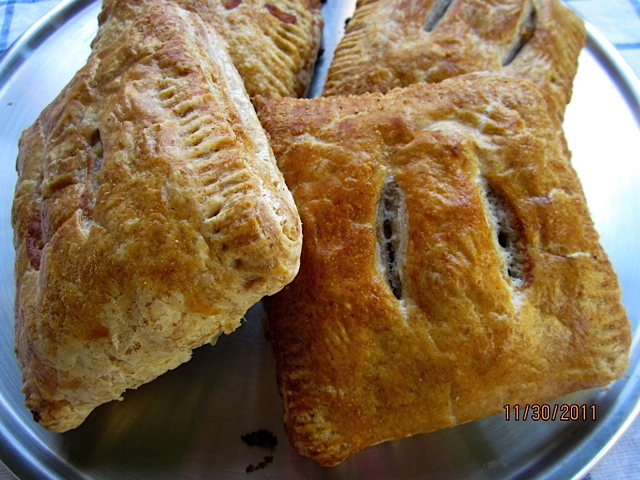 The crust was wonderful, and can surely be used for pies crusts, too. Smaller versions would be great finger food at parties.
Here ist my adaptation of the recipe (with a reduced amount of filling - enough for the six pasties):
ALE-CRUST POTATO PASTIES (6)
DOUGH
325 g bread flour, plus extra for rolling
175 g spelt flour, or whole wheat (I used spelt)
10 g salt, (2 tsp.)
300 g cold, unsalted butter, cut into 1 cm (0.4") cubes
250 ml Newcastle Brown Ale, or similar (I used Bar Harbor Thunderhole Ale)
 
FILLING
2 slices bacon, cubed
265 g white onions, chopped
¼ tsp. salt
15 ml olive oil
65 g water
salt and pepper, to taste
50 ml heavy cream
350 g potato, cooked and diced
70 g sharp cheddar, grated
egg, lightly beaten , for egg wash
1. For the dough: Stir together flours and salt. Toss butter cubes through flour mix. Pour in beer and mix to rough lump (the butter pieces will still be visible).
2. Transfer dough to floured worktop and roll out ca. 1 cm (0.4") thick. Fold it like a business letter, roll it out and fold it again into thirds. Wrap dough package in plastic foil and freeze it for 30 minutes to firm. Repeat this double rolling and folding 2 x more at 30-minute intervals. Chill the dough for 1 hour.
3. For the filling: In a saucepan, cook bacon until crisp. Using slotted spoon, take out bacon bits, place on piece of paper towel, and set aside.
4. Add onions, oil, water and 1/4 teaspoon of salt to sauce pan, and bring to a boil. Cook until all water has evaporated, and onion is very soft. Stir in cream, let thicken a bit (mixture should not have too much liquid). Remove from heat, add potatoes, season well with salt and pepper, and set aside to cool.
5. Divide dough in halves. Return 1 piece to refrigerator. Roll other half into rectangle ca. 23 x 33 cm (9 x 13"), then cut into thirds (using a pizza cutter), each about 23 x 11 cm (9 x 4 1/3").
6. Brush dough stripes with water, spoon filling towards one end, covering about half of piece (leave edges clean, otherwise you can't seal them!), top with bacon and sprinkle with cheese. Fold other half over filling, and seal edges with a fork. Repeat with other pastry sheet. Chill pasties until firm, at least 30 minutes.
7. Preheat oven to 400 F/200 C.
8. Brush pasties with egg wash, and trim cut sides, if necessary. Place on parchment lined baking sheets and slash tops.
9. Bake for 15 minutes. Rotate 180 degrees for even browning, and continue baking for another 15 - 25 minutes, until puffed and golden.