November 10, 2011 - 11:58am
I bake so I am; kanelbullar (with video)
Comfort
When asked where, or who, or what I would turn to when in need of comfort, I blurted out:
"I bake" All around the table there were people nodding in agreement. Comfort, food, baking. A no-brainer.
My answer caused a growing feeling of unease within myself though. As the rest of us came up with their ideas (books, photo albums from the attic, secret benches at water fronts) I counted the number of times a week I throw something into my oven, and started to get slightly worried. I must be in need of an awful lot of comfort...
Ever since, every time I bake, I ask myself; why am I baking?
Sometimes the answer has indeed something to do with comfort. A missed job that had my name written all over it will spark a very comforting autumnal frangipani.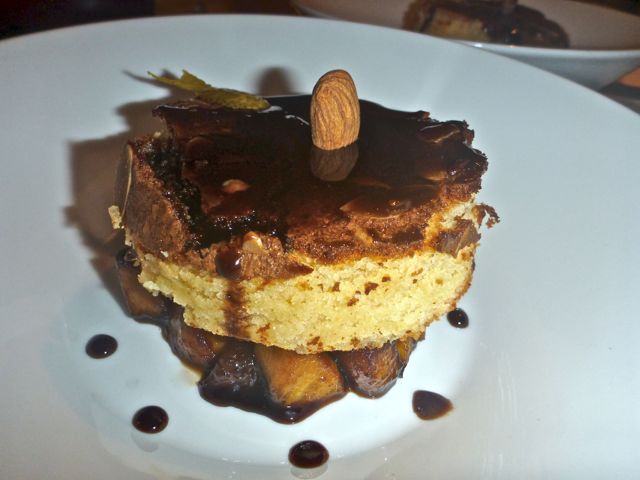 Last week I found myself baking Dutch crust rolls after I shattered two (!) plates I really liked. At times, it is about a passion for new things and learning. Croissants, ensaimadas, macarons, complicated sourdough breads that take up to 36 hours to make, bring it on!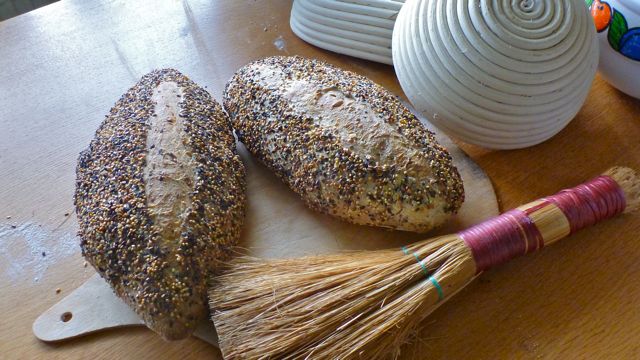 Most of the time the answer seems way more trivial. All the bread eaten in this house come from our own oven. I bake because there needs to be bread on the table in the morning. Simple as that, or is it...
Sharing as a disease The best part of baking, especially when baking bread, is eating it together. Sharing bread is right up there with the big boys when it comes to what is ingrained in our very genes from the start of humanity.
"In the sweat of thy face shalt thou eat bread till thou return to the ground."
No sooner were we kicked out of paradise, or bread came into our existence... It is at the heart of what makes us human and has stayed with us till this very day!
I heard a wonderful story of a guy, here in Amsterdam, who has made it his mission to GIVE in life all that he can, without ever asking anything in return. He helps complete strangers to a new bike, finds lost photo albums and brings it back to the rightful owners, things like that.
One of the people, a radio journalist, who was touched by all this - he himself got a new bicycle after complaining on a radio show that it was stolen from him - dug around a little and found out the guy was operating... from a mental institution.
He was diagnosed mentally ill. His own words; "over here they consider sharing a disease".
The disease that is called sharing... Personally I hope it is airborne and viral, very contagious and practically incurable. This world could do with a bit of sharing.
This recipe for Swedish Kanelbullar (cinnamon rolls) came to me by way of a baking friend. She got it from a new food channel, who got it from somewhere else, etc. Along the way tweaks were made in the recipe, and what you end up with are some really stunning, very tasty cinnamon rolls that are real easy to make. Maybe something for at the coffee table on Thanksgiving? For me, any old day will do to make them; they have become very popular quite fast in this household.
Swedish Kanelbullar
For the filling:
150 g almonds
150 g sugar
100 g unsalted butter
8 TS cinnamon
4 TBS water
For the dough
500 ml milk
150 g butter
12 g instant yeast
120 g sugar
13 gr. salt
1 TS cardamom
850 gr. bread flour
1 egg
(pearl) sugar for decorating
Warm the milk and melt the butter into it. Add the yeast, sugar, salt, cardamom and bread flour. Make sure the milk has cooled enough before adding the yeast. 35° C is okay. Mix on low speed until the dough is nice and stretchy, around 10 minutes.
In the meantime, prepare the filling. Pulse the almonds together with the sugar and the cinnamon in a processor until fine. Add the water and the butter to it and mix until well incorporated.
Rest your dough in an oiled container until almost doubled in size. The warmer it is the quicker it goes. About one hour or so. Next, roll out the dough to a big rectangle on a lightly floured work surface. Make sure it doesn't stick, it makes working this dough much easier.
Put the cinnamon paste on half of the dough and fold it onto itself. Roll out again to even it out and cut the dough into strips. Form the rolls by stretching and winding the strip of dough, loosely, around your hand twice, go over the width of the roll and tuck in the end. No matter how you do it, it will always look lovely, so don't get too over zealous in trying to get them to look all the same!
Let the rolls proof until they are nice and plump, about 45 minutes. In a warm kitchen they might be ready within 30 minutes or so.
Preheat the oven to 200° C. Take out all the racks and prepare to bake on the second lowest rack.
Give the rolls an egg wash with the slightly beaten egg (use only egg yolk for a deeper, richer shine and a more dramatic contrast) and sprinkle with small sugar pearls if you have them. Normal sugar works as well, but won't look as classy. Bake for about 20-25 minutes with convection until they turn a deep golden brown. Let them cool on a rack and.... SHARE!
happy baking!
Freerk