November 7, 2011 - 1:14pm
When I saw the strong proofing OWS was getting from his attempts at baking the Vienna Bread from Inside the Jewish Bakery.  I baked this as a tester a long time ago but this is the now released version so I thought I'd give it a whirl. It's a fast rising enriched dough that just takes a few hours to complete.
The first thing I noticed is that the volume amounts an gram measurements don't line up just right for me. The flour I scoop and level weighs 135g per cup. The recipe calls for 4-1/3 Cups. In my kitchen that would be 584 grams where the gram number is 620g. The oil is 2 T at 3.0 grams. I measured over 3 T of oil to be 30 grams. I didn't go down item by item to see how they all worked out, I figured these are really Norms recipes and he would have kept notes in percents, Cups and pounds/ounces. I chose to use the gram weights and ignore everything else.
Another variable I had to make a decision on was the dough temperature. The recipe calls for warm water. I figured if the water was 82F the dough would come out near 78F after adding a cold egg and the other room temperature ingredients. That worked out perfectly. My dough temp was 77F.
My standard bread flour is Gold Medal, Better For Bread in the bright yellow bag. I think it's right around 12% protein. The recipe calls for bread flour so my BFB should be OK.
One other thing that caught my attention was the use of malt and sugar. I only added 1 heaping teaspoon of dry malt powder where as the recipe calls for 2 T of dry or liquid malt or 20 grams. 2 T seems like a lot for under 4 cups of flour.
I used my Kitchen Aid mixer for this 2.3 Lb batch. It took 10 full minutes to reach a semi smooth consistency and a decent window pane window.  I think I could of continued a little longer and fully developed the dough in retrospect. After removing the dough and manually kneading it for a minute or so, I shaped it in a ball and returned it to the mixer bowl and put it in the proofer, set at 78F. The dough was at 78F and after the rise it was still just where I wanted it, 78F. It took just 1 hour to double as you can see. I divided and shaped it into 2-534g logs. The recipe calls for 510 g pieces but this is what the recipe gave me. I don't think the additional 24 grams will cause any serious over flowing of the dough. But considering what OWS has been seeing, it's worth considering.
I egg washed after slashing and baked for what turned out to be 30 minutes at 350F to get an internal of 205F. I'm a little surprised the top tore open so much but It looks nice. The crumb is soft and tight grained as would be expected. The crust has a little bit of crunch where the egg wash came in contact with the sides of the pan. Sugar is caramelized slightly. I followed the directions pretty near right like the recipe called for, except for holding a little malt back. Looks OK to me and tastes great. This would be a great French Toast. Actually I almost made rolls out of half the dough and stuffed them with stewed onions. The girls loved this bread.
NOTE TO OWS: The only thing I am aware of that I did differently than you did is change the flour and held a stable dough temperature so I could judge the oven spring fairly. The spring seemed about right to me. Oh, and the malt may have been lower.
Eric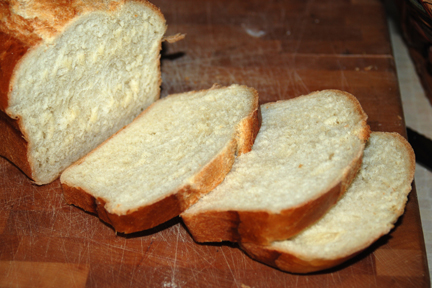 No collapsing here. Just a great enriched dough loaf.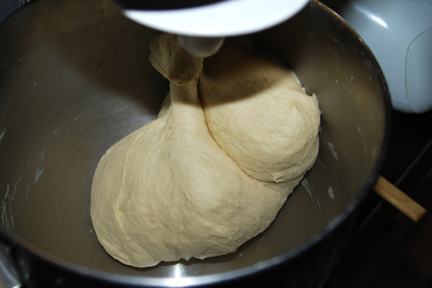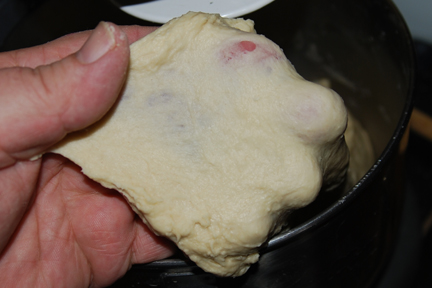 After 8 minutes the dough looks about there. Total mix/kneading was 10 minutes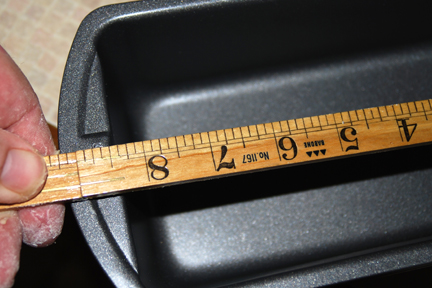 I would call this the right size pan for 534 grams of dough. 8.5X4.5 inches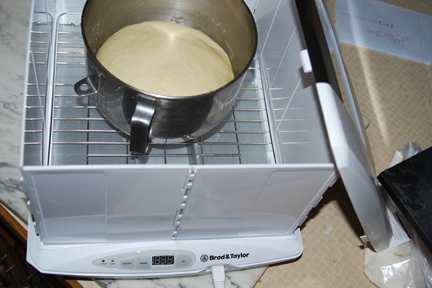 Finishing proof at 78F at one hour.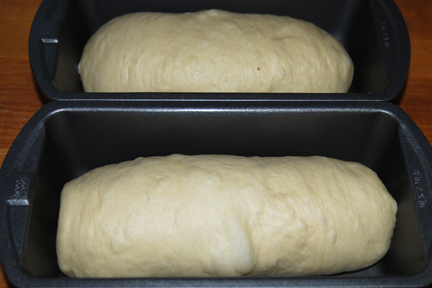 Divided and shaped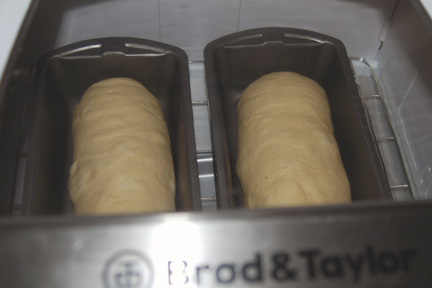 Back in the 78F proofer for another hour.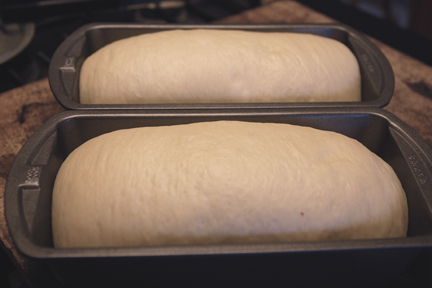 Proofed to just over the top of the pans. Looks good.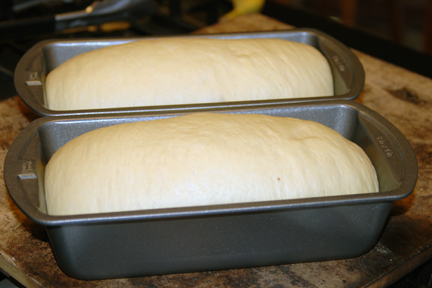 Better lighting, proofed.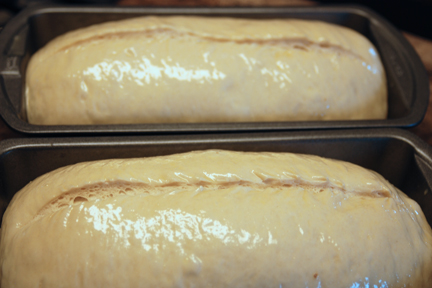 Egg wash and slash.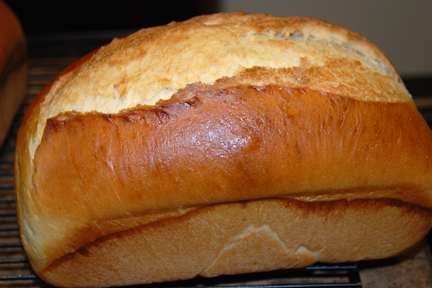 They look pretty good to me here.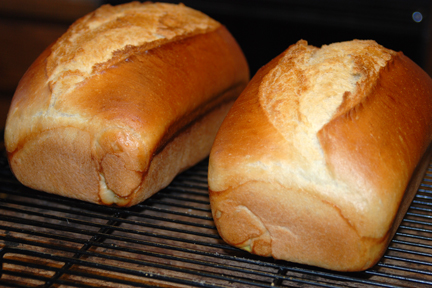 Not overly expanded. Just right. They didn't collapse after cooling