October 30, 2011 - 10:52am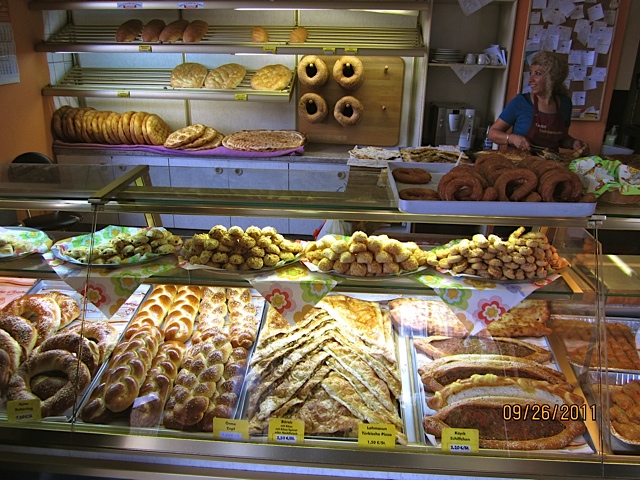 When I visited my cousin Uta in Delmenhorst/Germany, we went into a Turkish bakery with the most beautiful display I've ever seen. Everything was made on the premises, you could see the oven and the work bench, and a wonderful buttery aroma filled the air.
To make a choice of the enticing selection of baked goodies was really hard, we decided on some Börek with cheese and spinach filling, and, also, picked some sweet pastry for dessert.
I asked the owner to allow me to take some pictures, because everything looked so nice. She was very pleased. I also wanted to buy a Simit, I had heard about this Turkish sesame bread, but never had one. She very graciously gave me one for free, having me choose between a lean version (hanging on a rack from the wall), or a sweeter kind of Simit (in the display left). I expressed my gratitude and took the lean one.
We enjoyed our Turkish lunch on the porch, watching "Egbert", the robotic lawn mower (a cousin of "Roomba", the vacuum cleaner robot) busily scuttling around, like a large, green, grass chewing beetle.
Everything tasted wonderful, but the hit, even though I usually don't like it very sweet, was the pastry - death by Baklava!
After being back home in Maine, I was (of course) eager to try my hand in baking my own Simit (the sweet pastries being not in my league). After studying a lot of different recipes, this is what I came up with: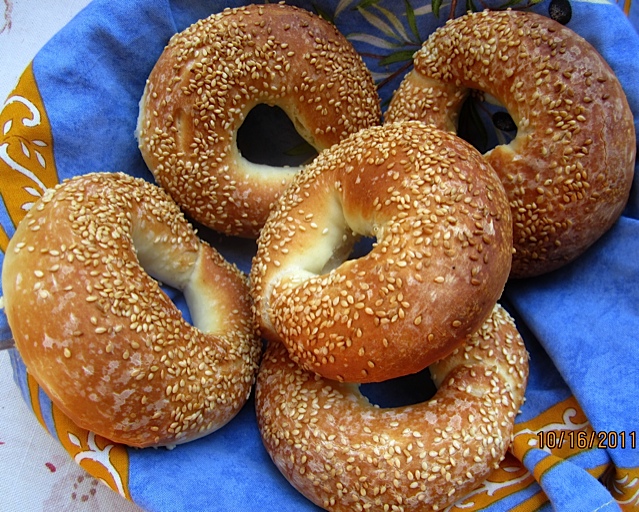 http://www.thefreshloaf.com/node/25707/simit-turkish-sesame-bread