October 16, 2011 - 6:17am
World Bread Day - another variation on Jan Hedh's Lemon bread
I baked this yesterday - but we ate it today, so I hope that counts!
Another version of Jan Hedh's Lemon bread, with less lemon and added lemon thyme
Ingredients:
100g 100% white starter
180g durum flour
180g white strong flour
50g rye
130g water
100g cider
25g EVOO
8g salt
zest of half a lemon (would use more in future)
leaves from 6-8 sprigs lemon thyme (would use more in future)
Method:
Mix starter, flours, water, cider and autolyse 30m or so.  Add EVOO, salt, lemon zest, herbs - thorough mix
Several S&F roughly 30min intervals for 3 hours (you can tell I was improvising - poor records!)
Refridgeration overnight, then warmed up for around 30m then pre-shaped then shaped to batard
(warning: not sure if it was the EVOO but it was a pain to shape - wouldn't seal the seam!)
3 hours I think to proof in banneton, then 15mins under SS bowl at 240 then around 25-30m at 200
Good bread flavour; not very big holes but quite a soft crumb with quite thick crust.  Nice taste but would add more lemon & herbs next time!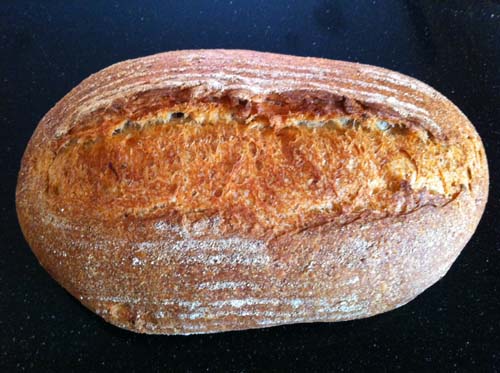 and the crumb:
cheers - and Happy World Bread Day!
(buckwheat batard on the way - sadly no beechnuts as the birds beat me to it!)
S