October 15, 2011 - 6:25pm
Hearty Rye from Hamburg - Hamburger Kräftiges
HEARTY RYE FROM HAMBURG - HAMBURGER KRÄFTIGES

STARTER
60 g rye sourdough starter (100%)
100 g water, lukewarm
100 g medium rye flour (lighter variety, not medium grind!)
 
DOUGH
270 g water (95 F)
6 g instant yeast
all starter
250 g medium rye flour
175 g bread flour
13 g salt
DAY 1
Prepare starter.

DAY 2
Dissolve yeast in warm water. Add to all other ingredients in mixer bowl. Mix at low speed for 1 - 2 min. until all comes together. Let rest for 5 min.

Knead at medium-low speed for 2 min., adjusting with water, if necessary. Dough should still be sticky. Resume kneading for another 4 min., the last 20 sec. at medium-high speed.

Transfer dough to lightly floured surface. Stretch and fold 4 times, with 10 min. intervals (total time 40 min.) After last S & F, refrigerate overnight.

DAY 3
Remove dough from refrigerator 2 hours before using.

Preheat oven to 500 F/260 C, including steam pan.

Shape dough into boule, place seam side UP on parchment lined sheet pan. Proof at room temperature for 45 - 60 min., or until dough has grown 1 1/2 times, and surface shows distinct cracks.

Bake 10 min. at 475 F/250 C, steaming with 1 cup boiling water, then reduce heat to 425 F/220 C and bake for another 10 min. Rotate bread and remove steam pan. Continue baking for 20 - 30 min (internal temperature 200 F/93 C).
Let cool on wire rack.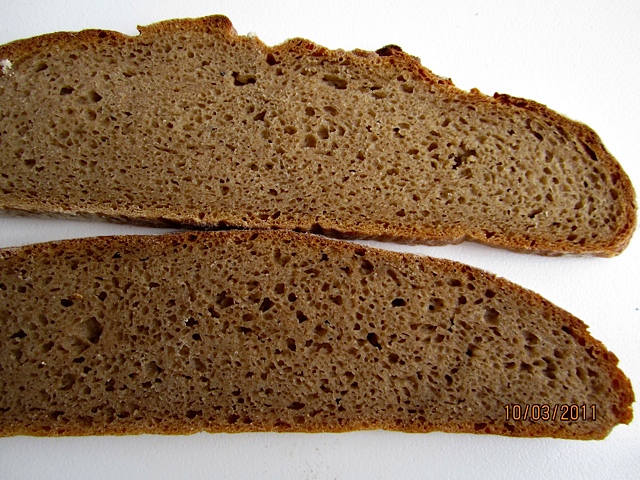 The upper bread is made with the German rye Typ 1150 of the original recipe, the lower with American medium rye (from NYBakers), both look almost the same, the German rye is slightly lighter. American medium rye is a perfect substitute - and we liked it even better!
The discussion of the side by side flour test: http://www.thefreshloaf.com/node/25482/who-winner-medium-rye-comparison