October 15, 2011 - 5:58pm
Who Is The Winner? - Medium Rye Comparison
A while ago I bought a really beautiful book with breads from renowned German bakeries. Many rye bread recipes require medium rye types, easily available in German supermarkets, whereas American medium rye is hard to come by. Even my whole grocer carries only a medium grind of rye, not a lighter variety. European flours are numbered for their ash content (what's left after you forget your bread in the oven - just kidding, of course it's a properly conducted scientific incineration).
There are six rye types in Germany, from white rye (Typ 815 - not available for home bakers) to whole rye (Typ 1800). For many mixed rye/wheat breads one of the medium ryes is used (Typ 1150 or 1370), the whole rye for the darker varieties like Vollkornbrot or Pumpernickel. I tried two of those interesting recipes from "Brot - So backen Deutschlands beste Bäcker", first with the whole rye I mostly use, then with a mix of whole rye and white rye, a leftover from my test baking for the NYBakers.
The first, whole rye, trial was not at all what I expected, the bread didn't taste bad, but was too dark and too dense - a totally different kind of bread. My second trial with a mix of whole and white rye was definitely an improvement, I tried to come up with a flour ratio that emulated medium rye. But still, even though the bread tasted good, it was not quite "right", and I wasn't 100% satisfied.
From my last trip to Hamburg I bought back a package of medium rye Typ 1150, hoping my carry-on would not be searched - I also had a package of roasted spelt kernels, Grünkern, and wasn't quite sure about the legality of this import... Since I didn't want to rely on small flour packages smuggled in my luggage, I looked for a source for American medium rye. The NYBakers carry it, and so I ordered some for a side by side comparison.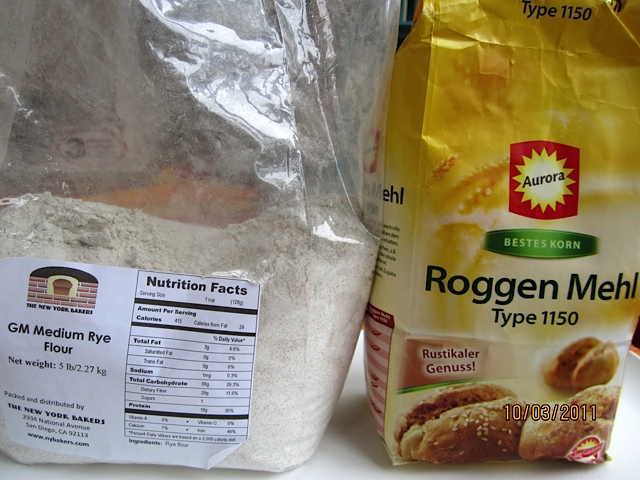 I wanted a remake of the Hearty Rye From Hamburg ("Hamburger Kräftiges") - I had posted about my first experiences here: http://www.thefreshloaf.com/node/20765/hearty-rye-and-tricky-recipe
I made two 3-step rye starters with my 100% whole rye mother starter, one fed with American, one with the German medium rye. The American medium rye looked slightly darker. Both starter fermented in sync, and were worked into two loaves with the two medium ryes. This is the result: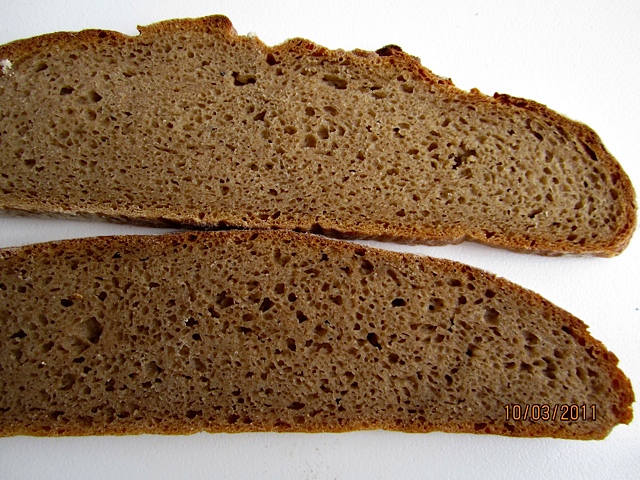 Almost identical looking loaves, the upper slightly lighter, made with German Typ 1150, the lower one a bit darker, made with NYBakers medium rye.
But what of the taste? I gave one half of each bread to our bread enthusiastic tenants, and we had samples of the other two halves for lunch. Every one of the testers agreed - the clear winner was: The American Rye! Though both breads tasted really good, the one made with NYBakers' medium rye was definitely better.
Both tasted better than my original substitute with a whole rye/white rye mix. I also made another mixed rye bread a few days later, requiring German Typ 1370, with the American flour, and that, too, was a winner.
I am quite happy with this result, getting the right taste with an American flour - so no more holding-your-breath-with-an-innocent-face, and risk of confiscation for this law abiding citizen (at least until I see some other German must have baking ingredient).
Here is the updated recipe for the Hearty Rye From Hamburg: http://www.thefreshloaf.com/node/25485/hearty-rye-hamburg-hamburger-kr%C3%A4ftiges