October 11, 2011 - 11:30pm
80 Percent Rye with Rye Flour Soaker
Hello, everybody. I have a lot of news and questions today.
This bread is "80 Percent Rye with Rye Flour Soaker" from Jeffrey Hamelman's "Bread." No commercial yeast added. It was made from ~750g dough (83% hydration). The rye starter was made from a small amount of my good old white starter. Three weeks ago, I split my white starter in two parts, feeding one part entirely with rye flour, 2 feeds/day. For this bread I used some organic rye flour I bought from Austria (I don't know if it's medium or dark)
This is my first 80% rye bread and I have no idea if it looks like it should. Of course I've seen david's rye breads, hansjoakim's, mini oven's, Franko's, nicodvb's and others examples here on TFL, but I can't evaluate objective my own product: I can't tell if my bread is beautiful or so-so, if the crust expanded too much or not, if the crumb is too dense or it is just as it should be for this type of bread.
I would have hoped to have more volume and the egdes of the bread to be more round and curved. The bottom is a bit concave. The internal temperature after baking was 209F (98C) - I overbaked it? I baked it 18-20 min with steam (was it too much?) and 30 min without steam. I cut the bread 16 hours after baking, cause I was too curious to see how it is inside.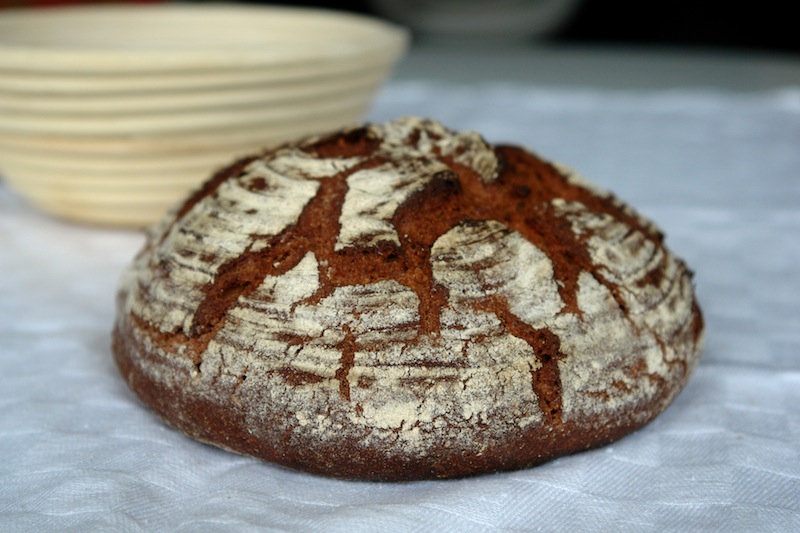 It is the firtst time I tried to measure DT and I wanted to have a DDT at 27.7C, but I did not know how to do it. Starter temp. was 23.5C, soaker temp 23.5C, flour temperature 20C. I took 27,7, multiplied it by 4 = 110.8. Minus 23.5, 23.5, 20. Result 43.8 C. I figured I need 44C for the water. But in the end, after mixing ( by hand, in a glass bowl), the DT was 24.6 C. There is another factor in the equation that I did not considered? (I did not used a mixer, so there is no friction factor, my guess). Should the air temp be considered, too? (27.7 x 5 = 138.5. ddt = 138,5 -20-20-23,5-23,5 = 51.5?  I should have used 51,5C for water?)
I left the bulk ferment 1 hour, shaped the dough in the air with my hands wet, as good as I could (a video for this would be gold!), and then I dropped it in the floured banneton. The dough was wet, I had doubts if is OK to put it in banneton, but I did not know what to do with it. The more I kept it in my hands, wondering what to do with it, the more it started to stick, so, I dropped it in the banneton and I waited to see what happens. Well... it stucked a bit, and I think I should have put more flour in the banneton in the first place. Or is there another way to transfer it from wet hands in banneton, other than drop it directly?
I agree, there are a lot of questions here. Maybe some of you can help me, I'd appreciate any advise from those with more experience.
Final rise was 1h30min.
Given the fact I have never eaten a loaf with so much percent of rye (only 66%, I wrote about it in a previous post), I don't know how the taste is suppose to be. But for my taste, this bread is phenomenal, just like I imagined it would be like. Incredible sweet, earthy, verry little sour, with a strong flavor of rye. The sweetnes of rye was a revelation for me. I'll keep making rye breads, me and rye we are friends for life.
First crumb shot was taken after 16 hours, the second crumb shot after 36 hours.
I'll send this post to YeastSpotting.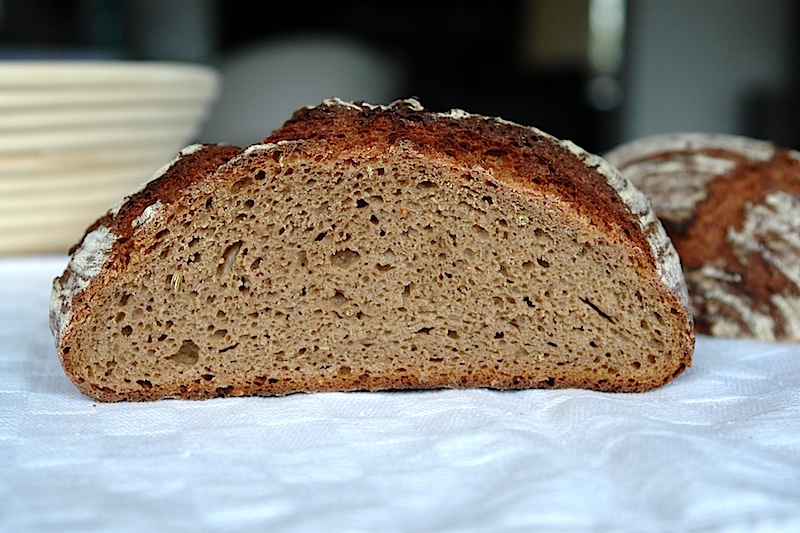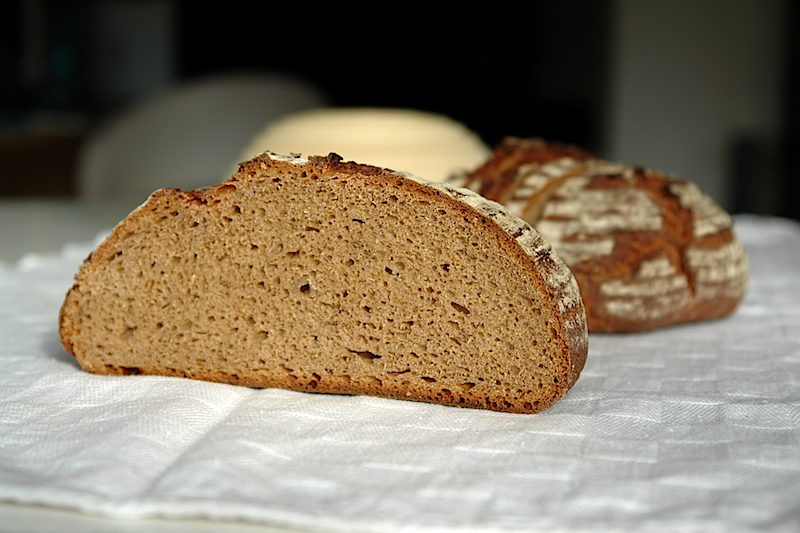 On my Romanian blog, Apa.Faina.Sare. I launched an invitation, for World Bread Day in 16 october. I'd like to ask you to join me. it is simple: I need a picture, or two, of a bread you made recently, your name (or nickname) and the name of the bread. That is all. I will collect all the photos and I will exhibit them on my blog, in 16 october, in a special post. I will be very happy if you'll respond to my invitation. My email is codruta at codrudepaine.ro, the last day for email is 15 october.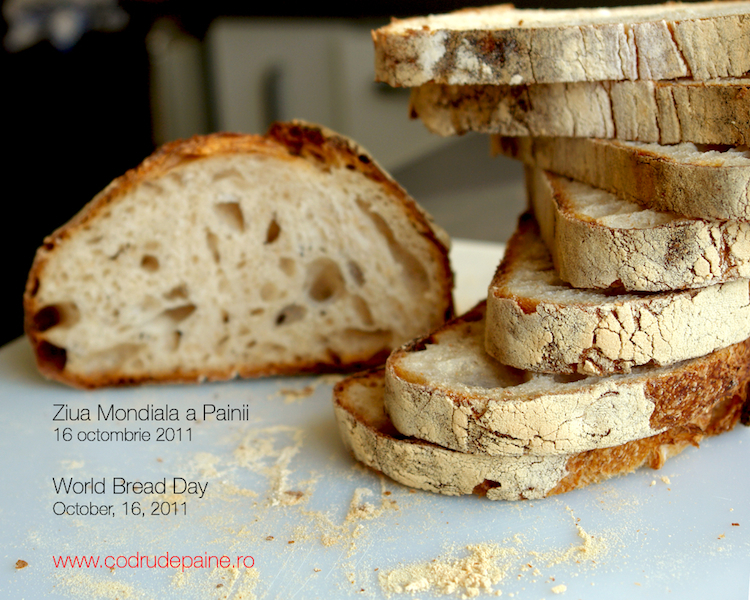 Codruta