I'm pooped. Busy weekend, but I did manage to do a fair amount of baking: a couple of french bread loaves with "stuff" in them (one seeded, the other with blue cheese and walnuts) as well as chocolate chip raspberry muffins. I'll try to post both recipes this week.
Tonight I tried making Zurek, a Polish soup that uses a rye sourdough starter as its base. It can be a wonderful soup, but I didn't quite get it right. It was edible, just not very good. I will try it again though.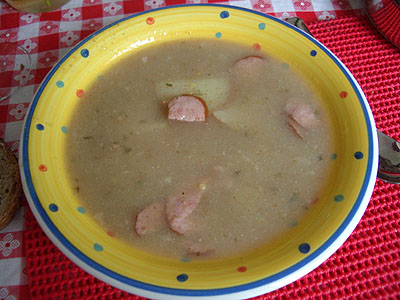 Next time I think I need to let the starter age another couple of days: I gave it 4 days, but I don't think that was enough. I ended up adding some additional vinegar and lemon juice to give it a little more bite.
I also need to use better kelbasa. the Hillshire Farms sausage that was on sale at the grocery store was truly awful. Frankly, the store brand kelbasa is pretty decent, but it may be worth visiting one of the local Russian markets to find something more authentic. Well, semi-authentic: I don't mind keeping the higher food safety standards that we have even though it may not be the "authentic" Eastern Europe experience.