October 3, 2011 - 10:43am
Brod & Taylor Folding Proofer Review
A few Months ago, I applied to be a product tester for Brod & Taylor who designed a new folding proofer. It was a concept which appealed to me, due to our lack of counter space and my need to find a proper place to ferment and proof my breads. So I filled out the application and forgot about it. A few weeks ago I heard from the company who wanted to know if I was willing to try the folding proofer and let them know how I liked it. I was thrilled to be able to have one and run it through its paces. The company, is from Massachusetts. As far as I know, there are no other similar products on the market. They say you can warm, rise bread, make yogurt and melt chocolate. I think they missed the fact that while bulk fermenting could be considered rising, most people consider the two events (fermenting and proofing) separate events. Both require temperature control and can be reliably and easily accomplished in this product.
Counter space is hard to find in our house. When I told my wife I was getting a proofer to try out she gave me the rolled eyes "where's that going to go?" look. Maintaining a stable warm temperature in our latitude is a challenge so she has endured foam coolers and all sorts of contraptions in the past. I'm sure I deserved the look, lol. I explained this is a folding box that compresses to a flat (sort of) profile and is easily storable.
The arrival of the folding proofer brought complements from my wife. She liked the design and the folding and unfolding concept. The controls are simple. Turn the power on and set the temperature you desire.  The range is between 70 and 120F. I did some testing the first day and found that it did indeed maintain a very close tolerance on my selected temperature of 78F. The digital temperature selector and heat on light flickered every few seconds maintaining the set temp within a half degree over 6 hours. I used 3 instant read dial thermometers I calibrated and an IR digital laser meter. Everybody read the same temp all around the inside of the box. There is a small tray that sits on the bottom of the heating element to boost the humidity inside the closed box.  You are supposed to pour a small amount of warm water in the tray during the 5-10 minutes of warm up.
Last night I mixed up a poolish preferment and placed it in the folding proofer. The temp was set at 78F. This morning it was all happy and bubbling and exactly 78F. I mixed the dough and undershot my DDT of 78 and had a dough temp of 73F. I put the fermenting dough in the box, set the temperature to 78F and gave it a S&F every 30 minutes for 2 hours. After the shaping, I placed the dough in my large banetton that will hold a 3 Lb loaf. It easily fit inside the proofer. I didn't think it would be necessary to cover the dough since the humidity would be boosted by the water in the tray. After an hour and a half, the dough was ready for baking and there was no dryness on the top of the exposed dough. It also wasn't damp like it sometimes is when I have used the oven or microwave to proof in. This is good as I know that can have the effect of gluing the dough to the linen lining. The dough popped right out of the basket which was a good sign. I loaded the bread into the hot oven, folded up the proofer in seconds and put it away in the pantry, out of sight. Smiles all around.
I haven't made much yogurt but I know how important it is to hold the right temperature for several hours. This device will certainly make easy work out of holding 115F for 5-6 hours. No need to buy another kitchen device when this one will do double duty. I think I'll surprise the wife with some fresh homemade yogurt. She will flip cause she knows I know nothing of yogurt.
I was thinking about the warming capability. I think the next time we have a family dinner, I'll put the previously baked dinner rolls in the "warmer" and turn it up to 120F for a while before dinner. Nothing like warm rolls with a meal but sometimes the planning can get in the way.
TWO WEEKS LATER:
After using the Folding Proofer for a few weeks, I am liking it more than I thought I would.
 I like how it works. It's a simple device that is very cleverly engineered.  Yes, you could say it's just a warm box of air, but the more I use it, the more I appreciate it for what it does, all by itself. Last night while I was enjoying our " World Champion Green Bay Packers" playing (thrashing)  the Denver Broncos, I was baking chicken wings in the oven. At the same time my garlic bread stick dough was proofing in the proofer. The kitchen was busy with several projects all at once. It was nice to know I wouldn't have to schedule my hurry up soft bread rolls to get them done.  I get it that cooks and bakers need to be clever to get things done in the kitchen. Multi tasking is a necessity. But, I am really appreciating not having to juggle anything else to get consistent results in my bread products. People coming and going out the door, wind blowing through the house when it's nice enough to have a window open but it's really only 50F outside. I like not having to guard my dough from the elements. It's a personal indulgence.
I like that my KA mixer bowl fits inside the proof box. It is tall enough I can place the mixed dough directly into the Folding Proofer for bulk fermenting at an established desired dough temperature. I REALLY like it that my large DLX mixer bowl fits under the lid. I have to remove the screen below and slide the water tray over but it so so nice to be able to ferment 9 pounds of dough, right in the mixer. Set it and forget it, as has been said. The heavy stainless steel bowl can cool off in the kitchen and once it does cool, there isn't an easy way to get it back warm. I ferment until it reaches the top then divide and shape. Easy.
I like that I can place a 9X13 baking pan in the proofing box and watch my cinnamon buns rise through the clear window in the top, without opening the lid. Being able to see the dough easily, without opening an oven door when I think of it is a big help for my attention deficit forgetfulness. The family enjoys keeping an eye on the progress too by glancing in the top window.
I like that the amount of moisture seems to be just right for not allowing the dough to skin over while fermenting or proofing. A small amount of water in the tray below the rack delivers the perfect environment. I find I don't need to cover the dough even during long bulk ferments. This is something professional bakers take for granted, with a dedicated automatic proofing oven which costs thousands of dollars.
I like that I don't have to cover my dough with plasticrap so it won't skin over. No more carefully lifting the film off the top of an over proofed dough, hoping it won't tear and collapse. This is not a small thing to consider.
Wrapping up my analysis of this new kitchen tool, I think some of you will appreciate the versatility and functionality that the Folding Proofer brings to the home baker. Using it gives me a certain control of things that are otherwise sketchy. If I have learned anything about baking over the years, it is that everything matters. The exact amounts of water and at what temperature? The exact amount of yeast and controlling the Desired Dough Temperature (DDT) by whatever means possible will assure predictable results. Sourdough starters are especially sensitive to minor fluctuations in temperature. Using this proofer overnight on your preferment will deliver a predictably fully active levain or Poolish or Biga in the morning, regardless of how cool it is in the kitchen. Once you know you can maintain a proper fermenting temperature, your Pain au Levain will rise much more reliably. We all know about waiting for the dough to kick off and increase in volume because it was a little chilly. Anyone who has tried to make starter builds using the "Detmold 3 stage method" will immediately appreciate the ability to control the process.
Many of the issues that arise with new sourdough bakers are related to not understanding how sensitive natural yeasts and bacteria are to temperature and how to provide the proper climate for success. Depending on where you live and your personal home situation, this can be frustrating for SD new bakers. This tool will smooth the road to successful results.
Some will say "It's a lot of money for a warm box of air". Some will say "I can get the same effect with a cup of boiling water in the oven". Both are valid opinions and I also have used the hot water in the oven. I have also had the oven turned on while I was proofing/fermenting bread in it. Hot water in the oven is an imperfect solution that works to some degree for some people. First, you have to have no other need for the oven, and, you will have to abandon the dough during pre heating that takes upward of an hour if you are using a stone, 20 or more minutes without a stone. During this time your proofing dough begins to cool and shrink. Second, depending on your electric oven, the pilot light will either make it too warm of an environment or not warm enough. Sure, you can cycle the heat on and off while guessing at how warm the interior is. If you have no distractions and nothing else to do, that is a work around. But, it's a work around for home bakers who don't have access to a dedicated proofing oven.  Believe me; you don't know what you're missing.
The inventor of this product cleverly decided to make it folding so that you can remove it from sight when not in use. This is a much bigger deal than I had realized. It needs to be the large size it is to work with other kitchen tools (pans, bowls, bannetons). My wife really appreciates that it will be gone and out of sight when I'm done using it. She hasn't mentioned that the foam cooler that lives in the garage I have used in the past looks bulky and trashy sitting on the counter but I know she's thinking it.
The unit is high enough that I could envision a second shelf supporting another layer of proofing croissants or rolls. I think I'll mention that to the designer.
The marketplace will ultimately determine what the price point will be. Like every new product, the early adopters will pay a little more to try out a new gadget. Eventually the price will drift down some as the mass market takes off. It's not for me to say what it should sell for. I'm happy that there are entrepreneurs willing to take a chance on a product that helps me bake better breads at home. I like it, a lot!
Eric
 Here are a few photos of my use. The new Brod & Taylor web site has much more glamorous images and a full product description.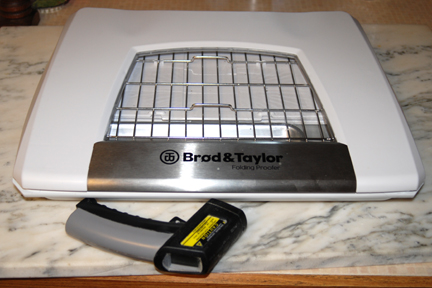 Proof box collapsed on counter. Can be completely assembled in 20 seconds.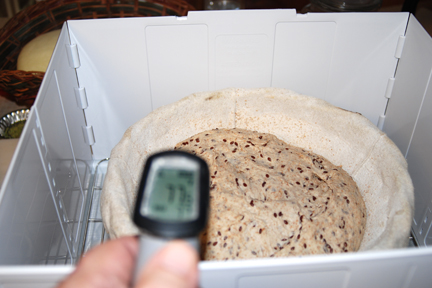 Large lined basket easily fits inside. This is 3.5 Lbs of Stout and Flax seed sourdough.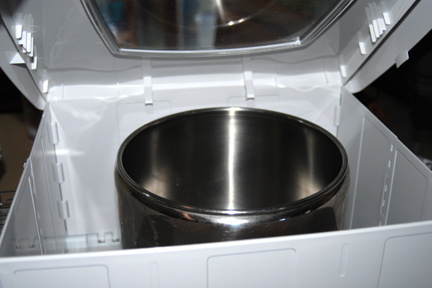 The fact that I can bulk ferment a large batch of dough in the proofer is a big deal to me.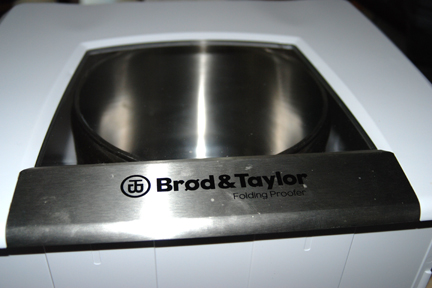 It just fits with room to spare for circulation of the warm moist air above.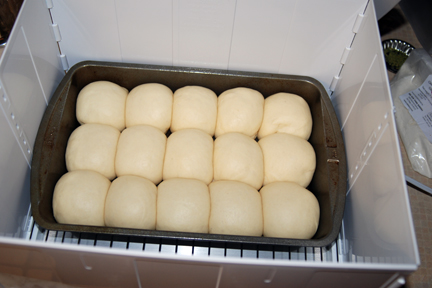 My baking pans fit nicely and you can see that another layer would work above as well.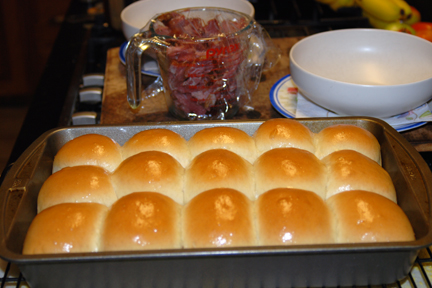 Dinner rolls that were fast fermented and proofed at 80F because I could, and time was short.
Being able to adjust the ferment/proofing temperature to accommodate my needs are a help.