September 28, 2011 - 5:23pm
Le Pavé d'Autrefois Round #2 and Pan Francese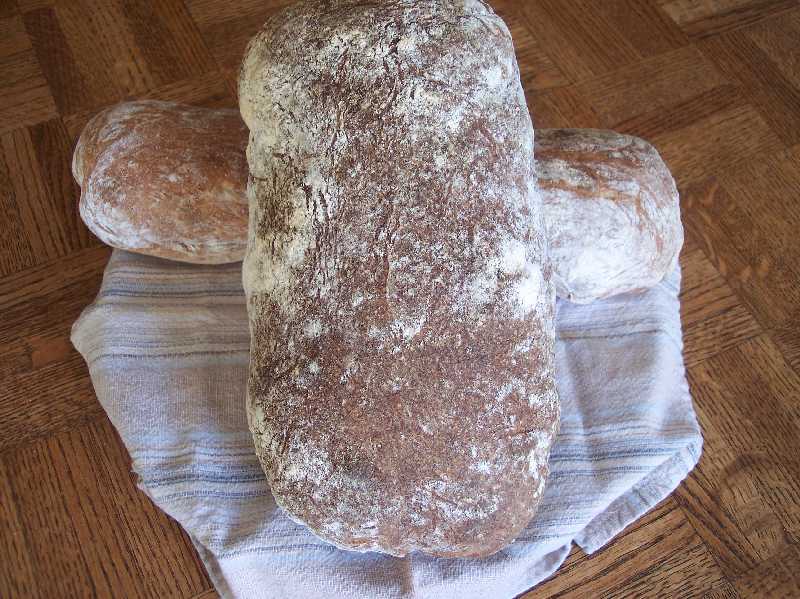 Last week I posted on a bake I did of a bread called Le Pavé d'Autrefois that didn't turn out the way I'd hoped it would , particularly the crumb. Click on the link for all the grisly details and graphic images. http://www.thefreshloaf.com/node/25171/le-pav%C3%A9-d%E2%80%99autrefois-and-multigrain-pain-au-levain Even though last weeks bread was under fermented, it held the promise of great flavour if a few procedural changes on my part were made. By allowing myself more time and having better control over temperatures during the bulk fermentation and final proof, I was confident I could produce something a little closer to what Alan/asfolks was able to achieve when he posted on this bread back in August. http://www.thefreshloaf.com/node/24581/le-pavé-d'autrefois
This bread does need a lot of time. I began at 6:00AM by mixing the flour soaker of all purpose, whole wheat, rye and buckwheat which then sat covered until 10:00 AM when I began the final mix. By the time bulk ferment, resting/shaping, proofing and baking were finished it was almost 5:30PM. I realize this amount of time for a single loaf might sound slightly mad to folks who don't bake these types of breads, my wife being a good example, but I was on a mission of sorts that I'm sure many TFL'rs can relate to. As it was, I had a few other non bread projects going on in the kitchen as well, so for me it was time well spent. However...next time I make this bread I'll try doing it with an overnight retard just to see if there is anything to be gained from it other than an extra hour or two of sleep.
This session yielded what I feel is a much improved loaf, with a more open, though not even, crumb. The crumb on Alan's Pave is the benchmark for me, and this one is still a ways off that, but it's getting there. The flavour of this loaf is much better as well. With a proper fermentation the flavours of the various grains are more balanced and without the 'green' or raw taste of under fermented dough. I think the best thing you could pair with this bread is a favourite cheese and a good glass of wine or beer. Just on it's own it has more than enough deep flavour to satisfy any sourdough or multigrain lover. Generally I'm happy with the results, not entirely satisfied yet, but closer to the mark this time around.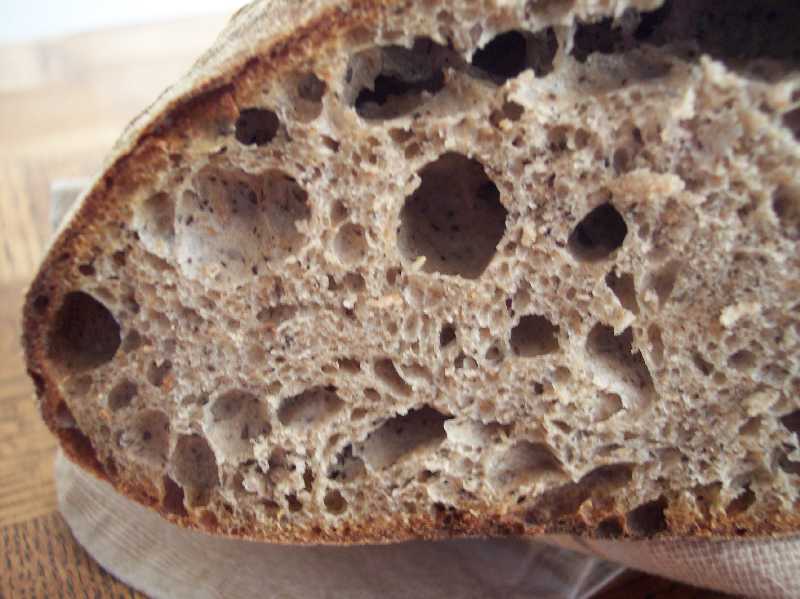 | | | |
| --- | --- | --- |
| Le pavé d'autrefois |   |   |
| Ingredients | % | Kg |
| Levain |   |   |
| Mature Rye Starter-100% | 24.8 | 35 |
| Whole Rye Flour-Rogers | 100 | 141 |
| Water | 100 | 141 |
| Total Weight | 224 | 317 |
|   |   |   |
| Soaker |   |   |
| Organic AP Flour | 55.85 | 315 |
| Whole Wheat Flour-Sloping Hills Farm | 18.97 | 107 |
| Medium Rye Flour-bulk generic | 12.5 | 71 |
| Buckwheat Flour-Nunweiler's | 12.5 | 71 |
| Water | 100 | 564 |
| Total Weight | 199.82 | 1128 |
|   |   |   |
| Final Dough |   |   |
| Organic AP flour | 100 | 286 |
| Soaker | 394.4 | 1128 |
| Levain | 30 | 317 |
| Sea Salt-Sel Gris | 2 | 20 |
| Water | 13.9 | 40 |
| Total Weight | 540.3 | 1791 |
|   |   |   |
| Total Flour | 100 | 1008 |
| Total Hydration | 75.5 | 762 |
| DDT-78-80F |   |   |
PROCEDURE:
Mix levain 14 hours prior to mix with 2 feedings, and ferment at 70°-75F. Mix the soaker ingredients 4 hours previous to the final mix

Mix Levain, Soaker, Final 286g of AP flour and salt. Cover with plastic and begin the bulk ferment.

Stretch and fold 4 times during a 4 hour bulk ferment. Turn out dough onto heavily floured surface and fold over on itself. Rest 30 minutes. Spread out dough by lightly dimpling with fingertips, being careful not to degas the dough. Cut into rectangular slabs roughly 1/3rd longer than the width, place on floured linen for a final rise of 45-90 minutes. Bake on a 500°F preheated stone for 10 minutes, with steam system in place. After 10 minutes reduce the temperature to 475F, remove steam, unblock the vent, and rotate the loaf for even colouring. Continue baking for 20-30 minutes. Check for an internal temperature of 210F , then leave in a cooling oven with the door slightly ajar for 15-20 minutes. Wrap in linen and cool on racks for 8 hours or overnight before slicing.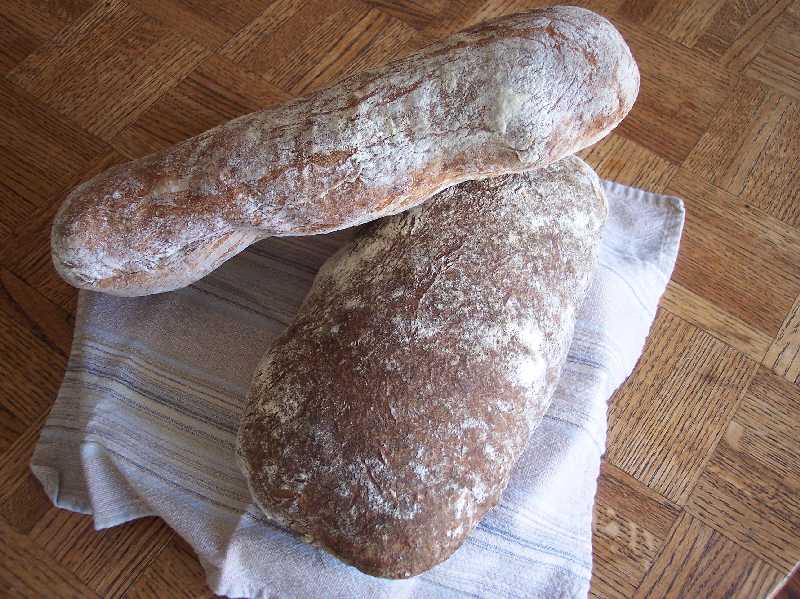 The other loaf pictured is a Francese, the formula from Advanced Bread & Pastry by Michel Suas. Back around the weekend of March 18/19 of this year I'd planned to do a bake of this bread and coincidentally it turned out, so had David Snyder, posting his usual meticulous writeup along with photos of his excellent Pan Francese.
http://www.thefreshloaf.com/node/22757/pan-francese-advanced-bread-amp-pastry
For anyone wanting to make this bread David has provided the full formula and procedure in the link above.
I thought OK, no problem, I'll stick with the plan and make mine on Sunday to post on Monday. If I recall correctly I was email chatting with breadsong that evening and discovered she was so taken with Davids loaf that she decided to do one as well. Breadsong's loaf is posted a little further down in David's post and it's gorgeous! Well now I'm thinking do I really want to add a third Francese to the mix when two of the best bakers on the site have contributed stunning examples of the loaf already. I decided to make something else and do the Francese at another time. Six months have passed since then and I thought maybe it was time to finally have a go at it. Like David and breadsong I just followed the formula and procedure from AB&P, but only making a single loaf. In terms of flavour I don't know that I prefer this to a baquette, but I do prefer it to baking a baquette in my home oven. The stone I have isn't long enough to accomodate a decent size baquette so I don't make them, but the Francese works just fine. It's a good bread, with lots of crunch and chew to it, and relatively easy to make since there's no molding to speak of involved. It needs a minor tweak in the flavour profile but I can't put my finger on just what it is yet. My guess is it's probably rye or sour...likely both.
Cheers,
Franko