September 18, 2011 - 8:53pm
I have been baking a batch of Bagels every other day for a week, trying to figure out how get consistent results and decide which shaping method to use and recipe to use. Most recently my goal has been to incorporate onions in the process and make a batch of half onion and a few poppy seed and a few "everything".  In another thread I had asked the best way to add onions on top so I could split the batch up and change the topping using the same dough mix. For these, I re hydrated the dry onions with hot water and once cooled, spooned them onto the tops prior to over turning them onto the Bagel Board. The onions didn't burn and the flavor was good. This is a work in progress.
I like the Hamelman recipe and method so far. I'm patiently waiting for my copy of  "Inside the Jewish Bakery" which I will consult when it arrives. I've gotten the feel for rolling the snakes (Glenn's usage lol) and have finally embraced the concept of shaping and retarding overnight. I like to retard in bulk for other breads but there are a few reasons why it works better in this sequence. Here are the results.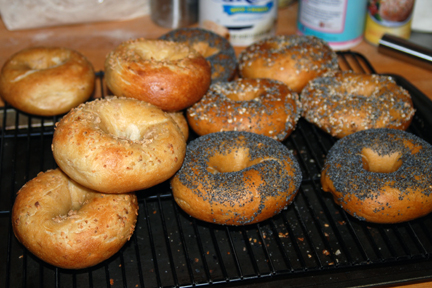 No burned onions this time.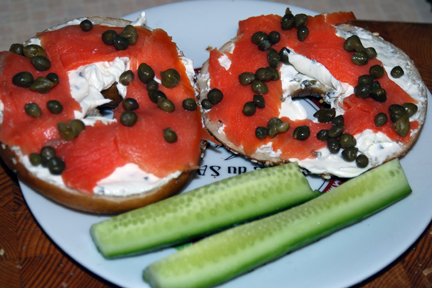 A little Lox and Capers cover the bread.