September 10, 2011 - 1:33pm
When I was young fresh fruit was a great treat and not common in Icelandic diet. Today fresh fruit of many sorts is readily available year round allowing one to bake galette year round!
Pastry:
1 cup flour (125-130g)
4 oz. cold butter unsalted (113g) 
pinch salt (or more if you like)
ice water (30-50ml, enough to make pastry workable)
Finely cut cold butter into flour, add salt. Work with spoon or hand until well mixed. Add ice water until pastry can be formed into a ball. Refrigerate for a bit (15 minute). Press pastry into a disk on parchment or Silpat then roll out very thin (thin=flaky). Refrigerate again (cold pastry I find much easier to work) while you make filling of choice.
Apple Filling:
2 or 3 apple peeled and sliced thin
2T sugar, 1T flour, cinnamon to taste mixed.
1T  butter
1T sugar, sprinkle cinnamon
Spread flour/sugar/cinnamon mixture over pastry. Lay apple slices to overlap in circle pattern. Fold edge of pastry over. Sprinkle sugar and cinnamon over apple, chop butter over apple. Refrigerate 10 minutes.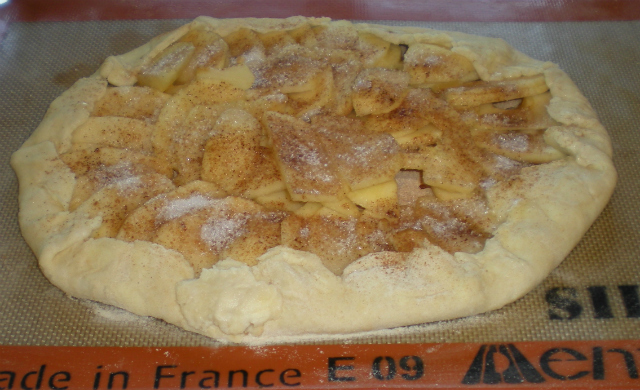 Cook at 204C or 400F for 50-minutes to 1 hour.
Glaze with 1 or 2 T (to taste) apricot, peach preserve.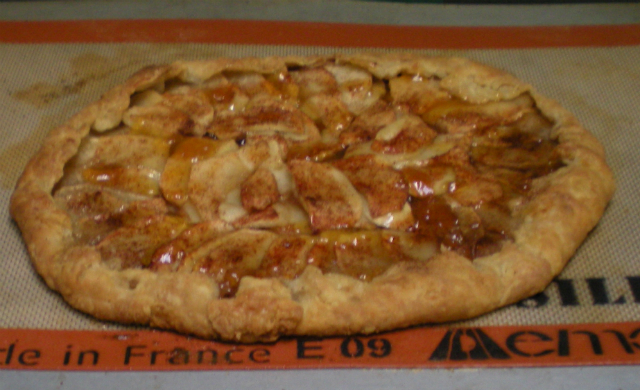 Make coffee, pour brandy, consume!