September 8, 2011 - 7:14pm
White sourdough bread with rosemary and toasted wheatgerm
My partner is great at preserves and has recently turned her hand to olives, which were sourced from our small potted olive tree and branches overhanging fences around the neighbourhood. We see scrumping as a form of urban harvesting - the olives we took would have fallen to the street and rotted.
Last week was the big reveal. We'd waited months for the moment of tasting, so decided to make an occasion of it with a big farmhouse platter for dinner featuring the olives, an assortment of cheeses, some crudites and prosciuotto - and of course, a nice red.
I decided to make a bread to accompany the meal, and came up with this white sourdough with rosemary and toasted wheatgerm. Usually, I'd add olives to the mix, but decided not to on this occasion, preferring the focus to be solely on our platter olives.
The bread was probably slightly underproofed, going by the explosive rise. I didn't mind, because it gave the finished bread a rustic look in keeping with the theme of the dinner. I was delighted with the blistering on the crust and the soft, creamy crumb.
As it happened, we didn't wait for dinner to sample the bread. We sliced some up and had it with avocado for lunch. Very nice. Later that night it proved to be at its very best with wine and cheese.
This is not a versatile bread. It doesn't go particularly well with sweet toppings, but as an accompaniment for savouries - oh, yes.
Recipe to follow, but for now here are some pics: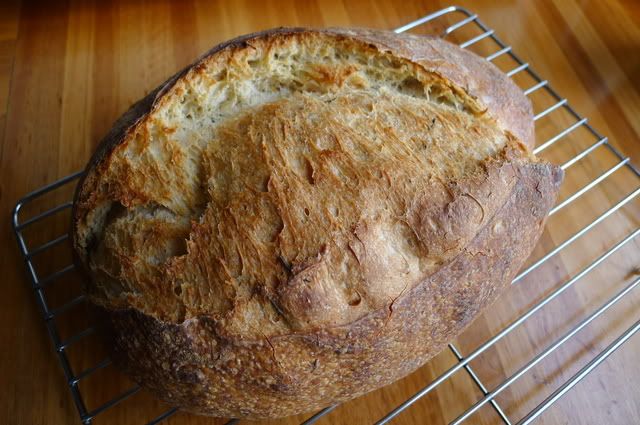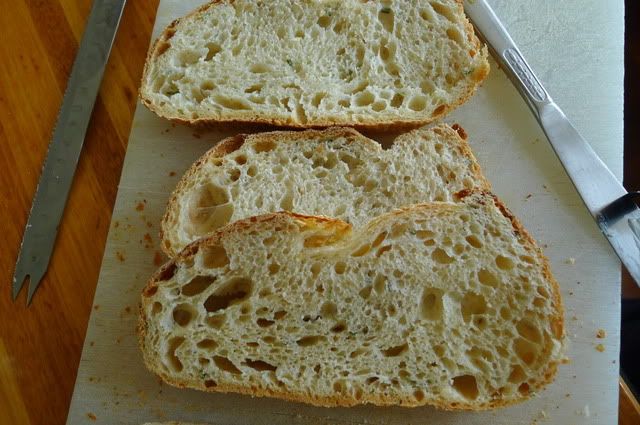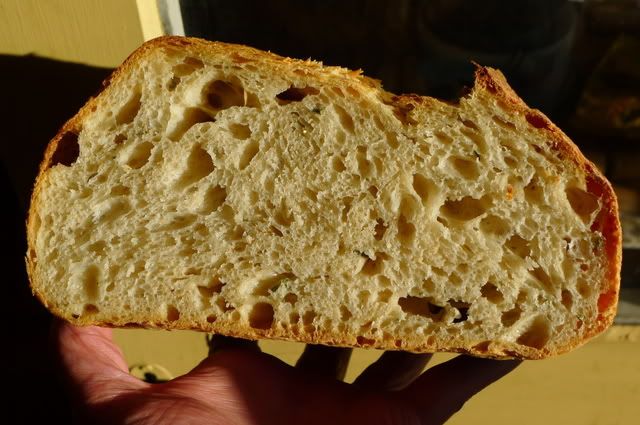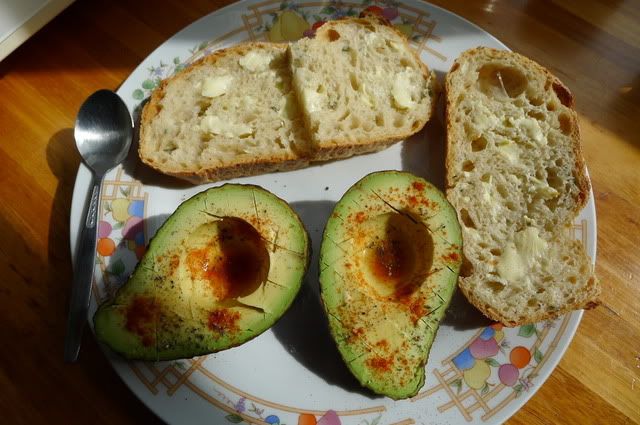 OK, back. Here's the recipe.
Ingredients
150gm starter (white, 80% hydration)
335gm water
490gm bakers' flour
10gm toasted wheatgerm (will double this next time)
3 sprigs fresh rosemary, stripped and chopped
8gm salt
Method
Hand mix and autolyse 45 mins.
Cut in salt, stretch and fold, then bulk proof 4 hours 15 mins. Do two more S&Fs hourly in first 2 hours.
Pre-shape and rest 20 minutes. Shape.
Final proof 2 hours 15 mins, then retard in fridge overnight.
Note: My ambient temperature was quite low - 18C/64F - so adjust proof times according to your conditions.
Bake straight out of fridge next day, as follows:
Heat oven to max, with pizza stone inside. Score bread and load. Immediately turn down oven to 225C.
12 minutes @ 225C/440F with steam.
12 minutes @ 215C/420F (steam source removed)
15 minutes @ 200C/390F
Turn oven off and rest loaf with door ajar for 5 minutes.
Cool on cookie rack or similar for minimum 2 hours before slicing.
And the olives? Just unbelievably good. If you have access to some fresh fruit, I highly recommend you have a go at preserving your own. Not difficult - the hardest thing is having the patience to wait for the curing to be complete.
Cheers all
Ross