September 3, 2011 - 9:06pm
Katie's Stout & Flaxseed Bread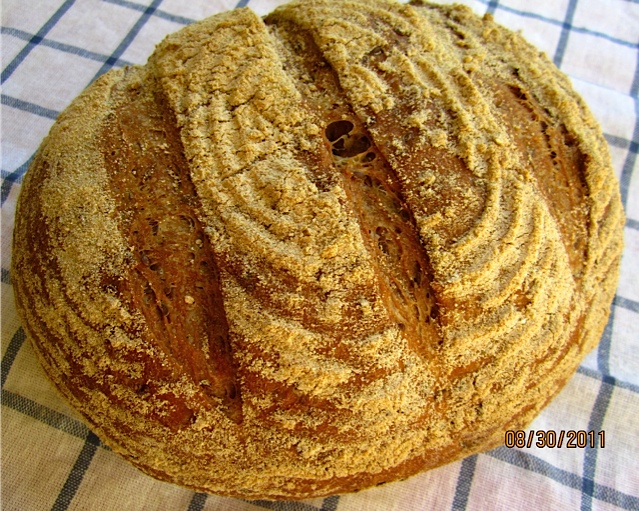 This wonderful bread was one of the entries at the "Young Baker of The Year Contest" (2010) in Newcastle, by Andy's student Katie: http://www.thefreshloaf.com/node/20318/young-baker-competition-half-term-home-baking
I scaled and adapted the formula and procedure a bit to fit my schedule and preferred technique: http://www.thefreshloaf.com/node/24935/stout-good-you-katie039s-stout-flaxseed-bread
STOUT BARM
125 g bread flour
125 g stout beer
1 g instant yeast (1/4 tsp.)
 
SOAKER
50 g flaxseeds
150 g water
 
FINAL DOUGH
all barm
all soaker
250 g bread flour
125 g whole wheat flour
100 g stout beer
9 g salt
3 g instant yeast
DAY 1 MORNING:
1. Prepare flaxseed soaker.
2. Mix ingredients for stout barm. Place in refrigerator until using.

EVENING:
3. Mix all dough ingredients at low speed for 1 - 2 minutes, until they come together. Let dough rest for 5 minutes.
4. Knead at medium-low speed for 2 minutes, dough should still be sticky. Continue kneading for another 4 minutes, dough should still be more sticky than tacky.
5. Transfer dough to a lightly floured work surface. Stretch and fold. Tucking sides under to form a ball, place dough in a lightly oiled bowl. Let rest for 10 minutes. Repeat S & F for 3 more times, at 10 minute intervals. After last fold, place dough in oiled container with lid, and refrigerate overnight.

DAY 2:
6. Remove dough from refrigerator 2 hours before using.
7. Pre-heat oven to 410°F/210 C, including steam pan. Shape dough into boule, and let rise in banneton, seamside up, floured with whole wheat and semolina flour.
8. Proof at room temperature for ca. 1 hour, or until it has almost doubled in size. Score.
9. Bake for 15 minutes at 410ºF/210ºC, steaming with 1 cup of boiling water. Rotate bread, remove steam pan, and continue baking for another 20 minutes (internal temperature at least 200ºF/93ºC). Leave bread for another 10 minutes in switched-off oven with door slightly ajar.
10. Let cool on wire rack.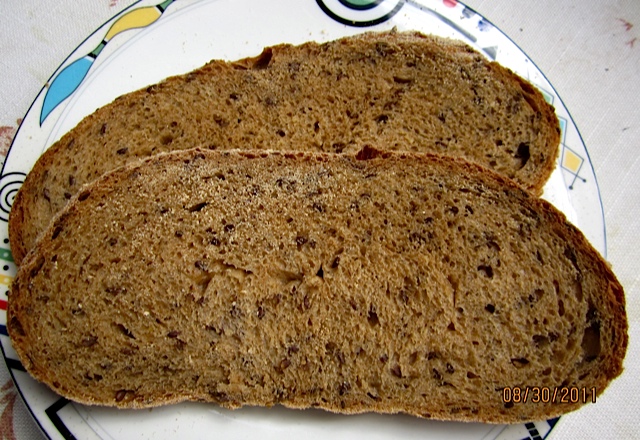 Thanks, Katie, you really would have deserved a price! And thanks, Andy, for posting this interesting formula.
Karin