September 3, 2011 - 8:40pm
Stout Is Good For You - Katie's Stout & Flaxseed Bread
A while ago, Andy (ananda) - always good for some pretty amazing loaves - posted about the entries of two of his baking students for the "Young Baker of the Year Contest" in Newcastle, England. Much as I love the goodness of a simple crusty white bread, my heart belongs to the complexity of mixed grains and nutty add-ins, therefore I copied those two right away into my recipe program.
Finalist Faye's entry, the Nettle Bread, I already baked - it is as unusual as tasty, and made it straight into my team of "Most Valuable Breads":
http://www.thefreshloaf.com/node/21966/faye039s-award-winning-nettle-bread
Katie's, the other student's, bread, with it's content of stout beer and flaxseeds, appeared equally tempting, and was in the top ten of my to-do bread list. As a good German, I love beer (the real stuff, not the dish wash water labelled Bud Light), and flaxseed add a nice extra bit of crunch. And, who wouldn't agree - it's healthy, to0.
I always found truth in the old adage: "Guinness is good for you", and apply that piece of sage advice to it's American brethren, like our local Cadillac Mountain Stout, or one of the other great New England stout beers.
First I made the Stout and Linseed Bread, almost exactly following Katie's formula, and Andy's description of the procedure:
http://www.thefreshloaf.com/node/20318/young-baker-competition-half-term-home-baking
I only made some minor changes: fresh yeast is not easily available here, so I used instant yeast instead, and regular flaxseed instead of prettier looking (but the same tasting) golden flaxseed. And, of course, I couldn't lay hands on Allendale Stout, but I had Cadillac Mountain Stout as a worthy stand-in. I also scaled the recipe amounts down to a sixth: for one loaf.
At this first trial, my dough appeared to be very wet, therefore I decided to bake the bread in a Dutch oven, like RonRay's Apple Yeast Bread, not as a free standing loaf (at 450 F, reducing the temperature after 20 minutes to 425 F). Though it had a good oven spring, it didn't rise as high, but spread quite a bit. The crust was very nice, though, and the taste as good as expected.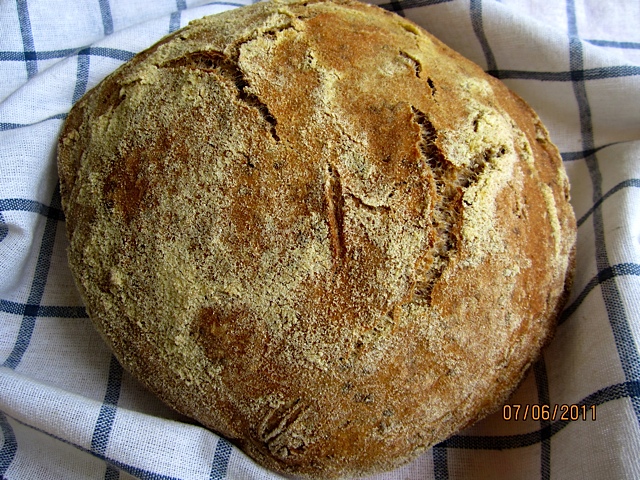 Stout Flaxseed Bread - 1. Bake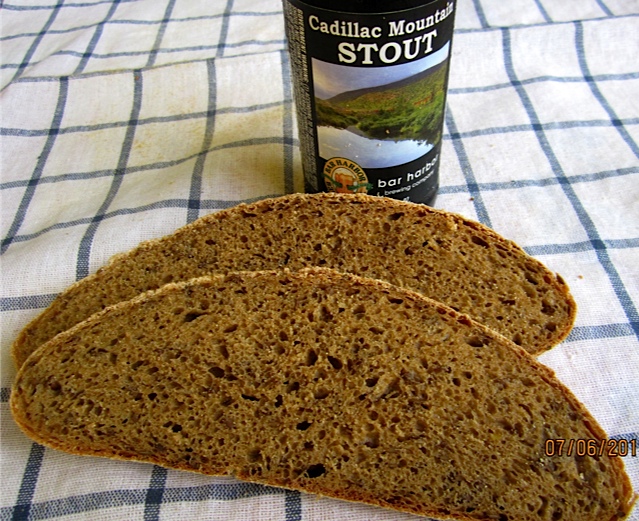 I was wondering whether the somewhat complicated procedure couldn't be a bit streamlined, instead of 15 minutes long, slow kneading, using Peter Reinhart's shorter knead and S & F technique. I also wanted to adapt the process to my preferred overnight cold bulk fermentation, in order to bake the bread earlier in the morning.
So I mixed soaker and stout barm in the morning, placing the barm in the refrigerator to ferment - I don't really see the necessity of keeping the flaxseed soaker, too, in a cool place - I always leave my soakers at room temperature on the countertop for one day: without any ill effect. In the evening I prepared the final dough: 2 minutes slow mixing, until all came together - 5 minutes rest - 6 minutes kneading at medium-low speed, then 4 times S & F, with 10 minute intervals, on the counter.
This time, without changing the hydration, the dough felt more manageable, very nice and supple. It rose well overnight in the refrigerator, shaping was no problem, and I baked it as free standing hearth bread.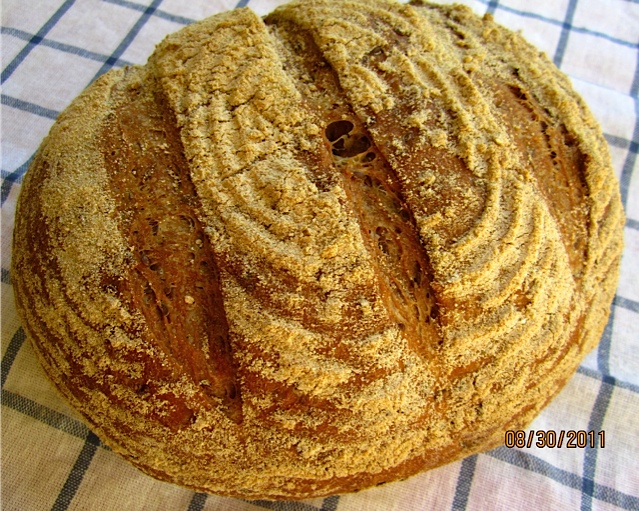 Stout Flaxseed 2. Bake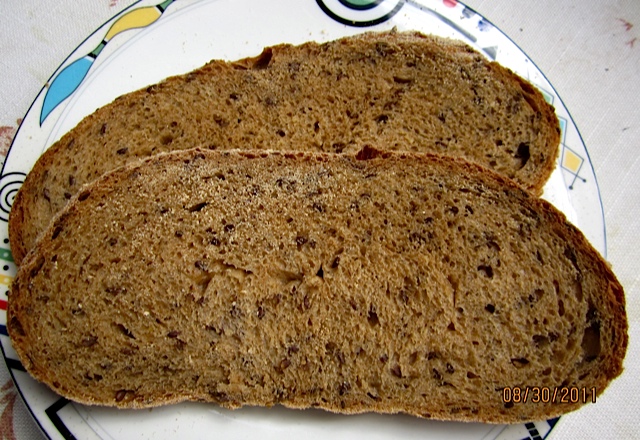 This time no sideways escape, the bread behaved, and rose upward. The taste was the same - simply great! Another winner for my "Bread Hall of Fame".
http://www.thefreshloaf.com/node/24936/katie039s-stout-amp-flaxseed-bread