September 1, 2011 - 9:34am
Pain au Levain- two different formulas from "BREAD"
I baked Pain au Levain (page 158 from Hamelman's book) a while ago, and I wrote about it here.
Soon after that, I made another pain au levain, this time the formula with mixed sourdough starters (page 162). I didn't achieve the big-holes-in-the-crumb I was looking for, but the bread was good, it had a good oven spring, and the crust was delicious. I used whole-spelt flour instead of whole-wheat flour and I mixed the dough by hand. I kept the hydration at 68% and retard the dough overnight in the fridge. This bread was a guest post, and the formula is given here. Here are some pictures: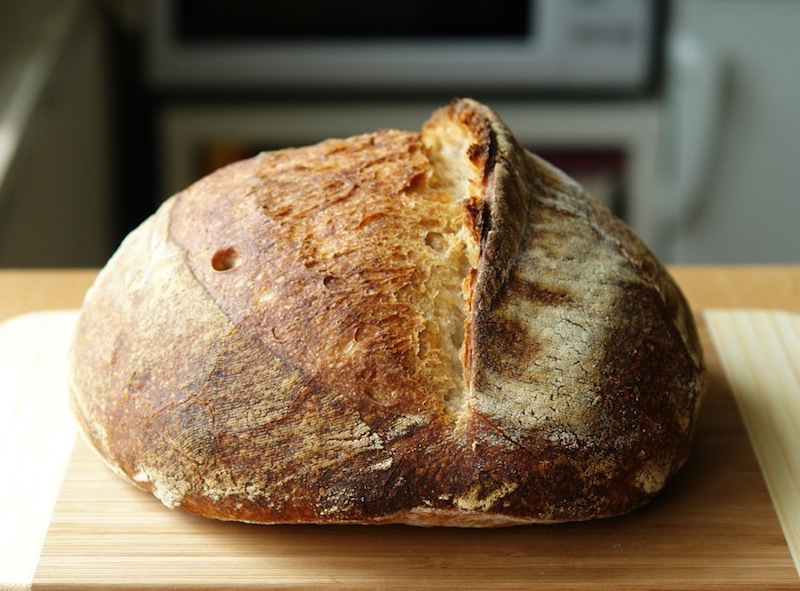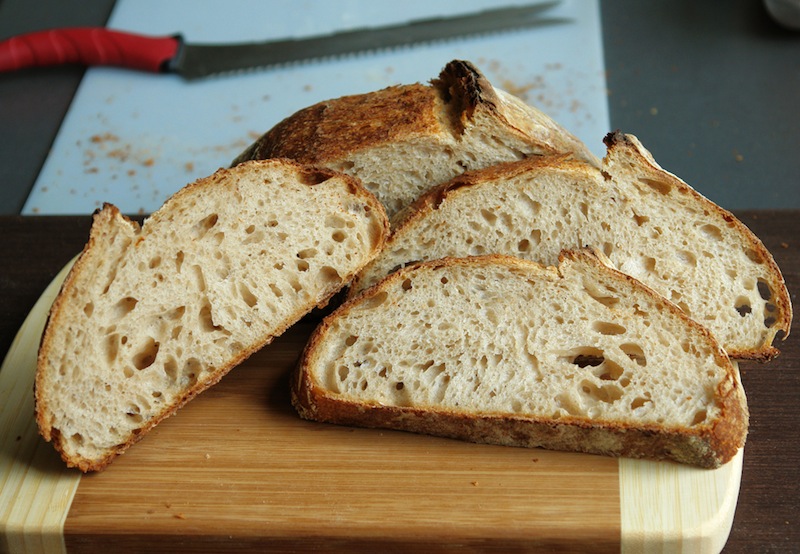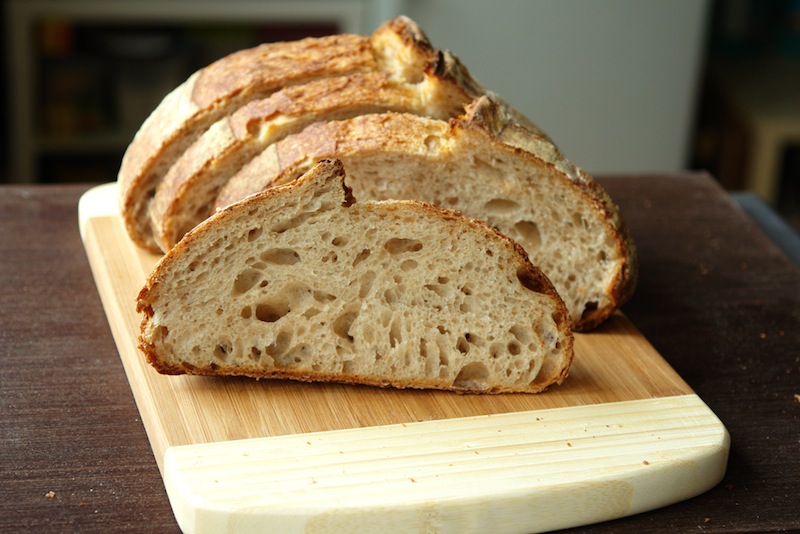 After that, I made another pain au levain, this time a combination of Whole-Wheat Multigrain and Whole-Wheat Levain. I used 31% whole wheat flour and a soaker of roasted black sesame seeds (for colour and texture), oat bran and (old fashioned) rolled oats. The hydration was 79.8%, but a lot of water is absorbed by oats. I liked working with this dough: is so pretty, smells so nice and I could shape it without problem.
My boyfriend's sister, who lives in Paris, and her husband, who has an italian origin, they were visiting us the next day I baked this bread. They both eat a couple of slices with evident pleasure, and they comment that my breads are getting better and better (we only get to meet each other twice, maybe three times a year, so they don't taste my breads very often. Their comments were welcomed and appreciated). Here are the pictures from the beggining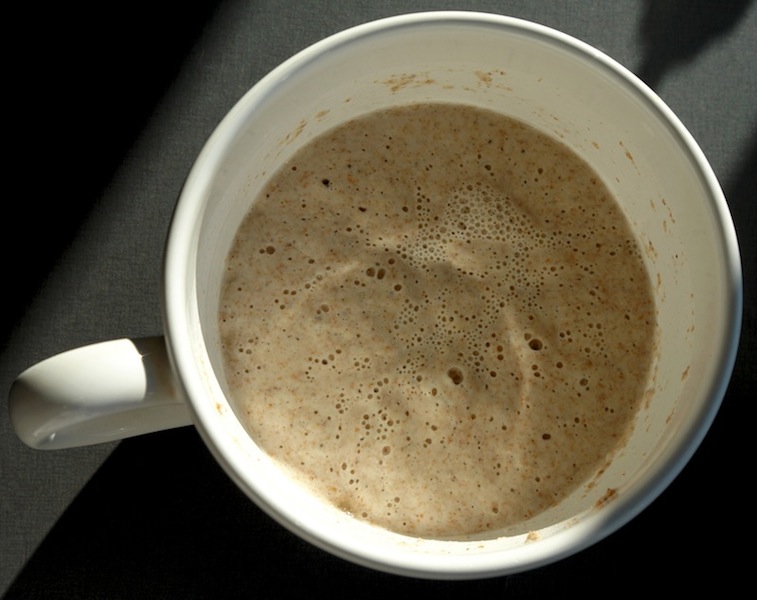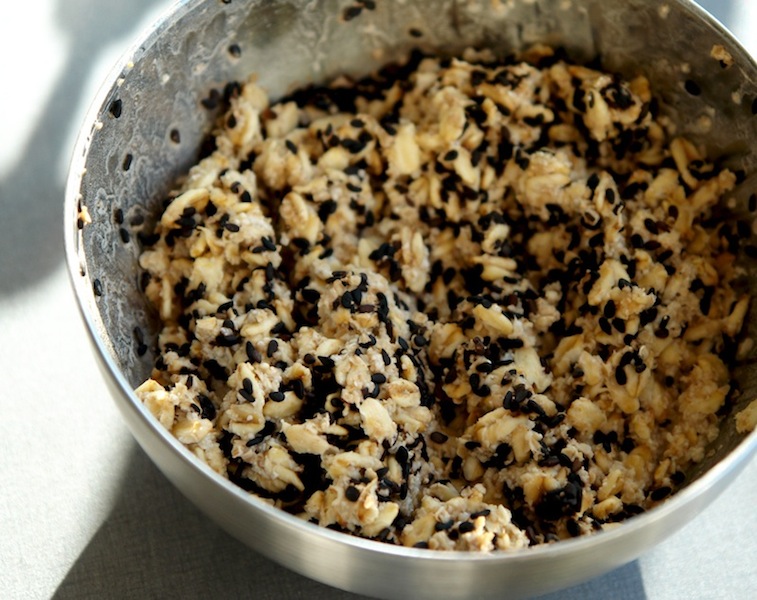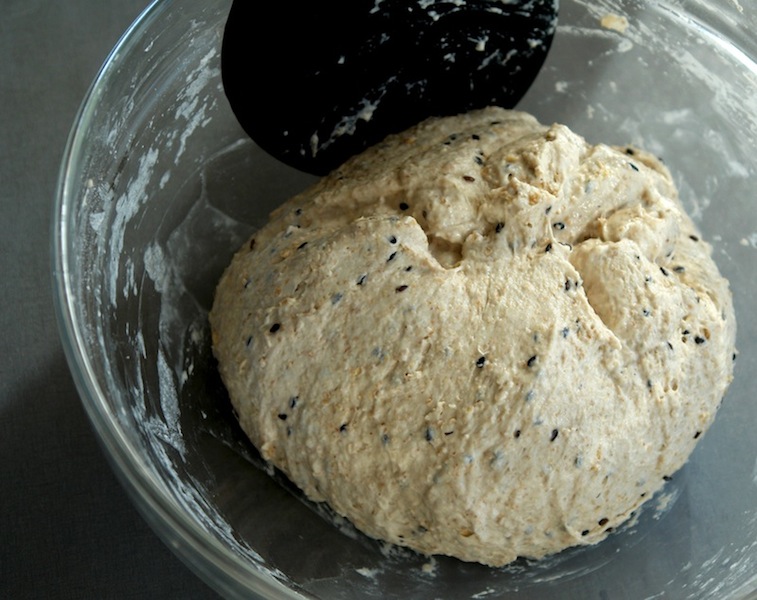 and the final product: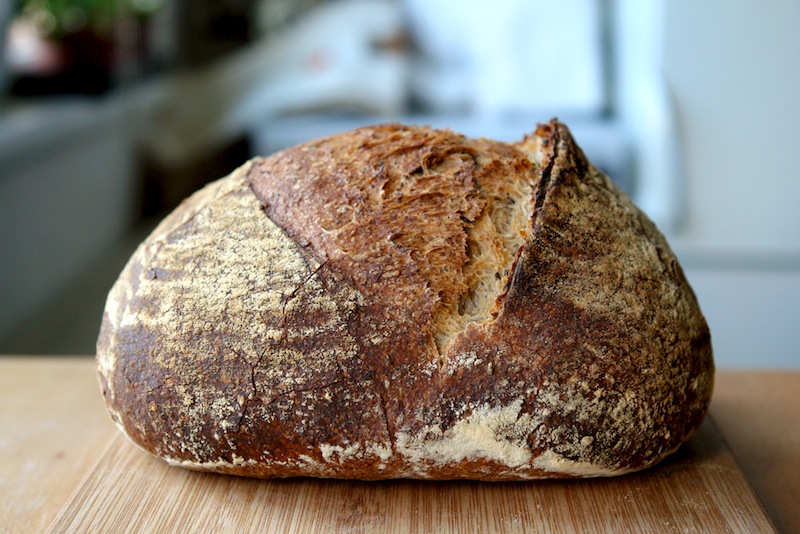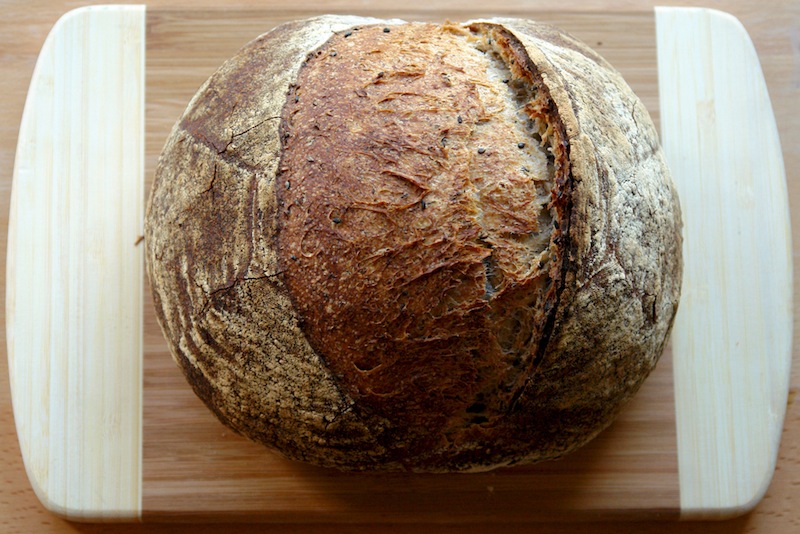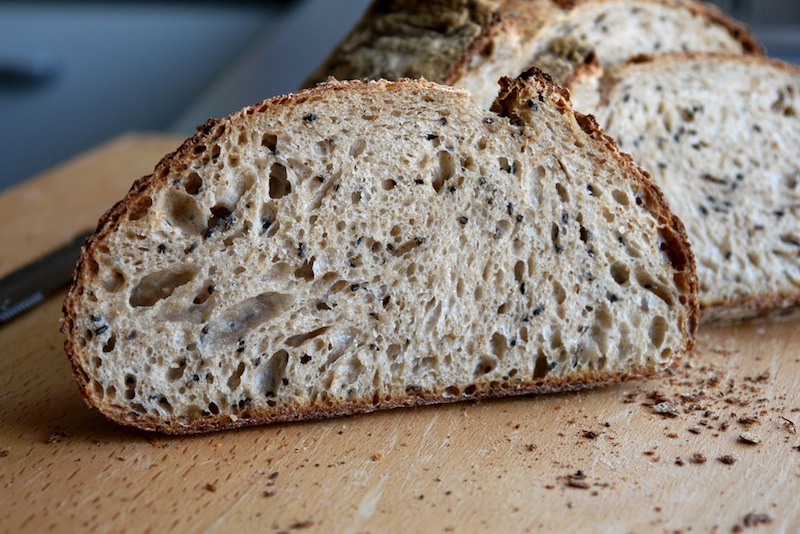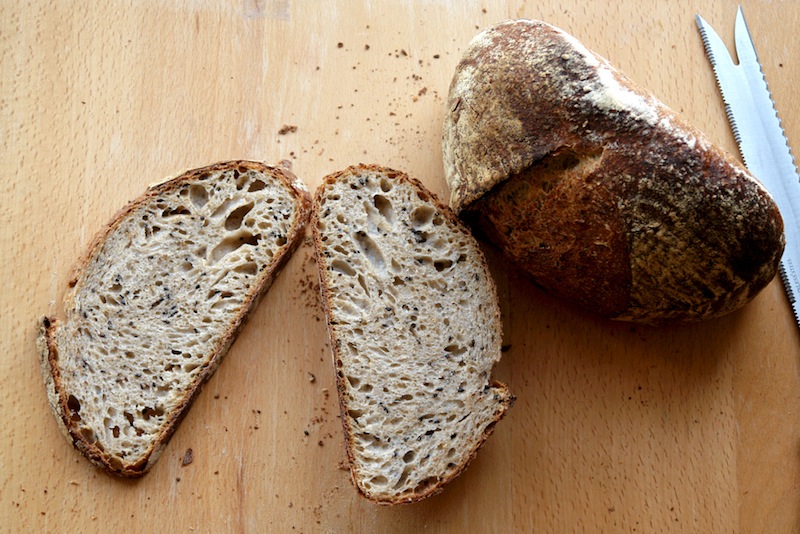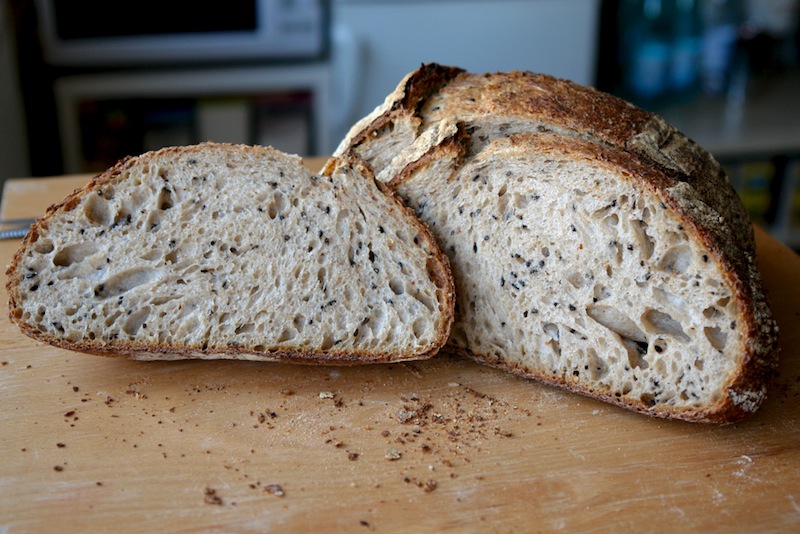 I have the complete formula on my romanian blog Apa.Faina.Sare. The automatic translation is very bad, but if anyone is interested, I can translate it for you.
UPDATE:
Overall  formula:
- Bread Flour: 310 g ………………………………....... 69.4%
- Whole-Wheat Flour: 17 g …………………………… 30.6%
- Water: 357 g …………………………………………….. 79.8%
- Rolled oats: 45 g ……………………………………… 10%
- Oat bran: 22 g …………………………………………… 5%
- (black) Sesame Seeds, roasted: 13 g ……………. 3%
- Salt: 9 g ……………………………………………………. 2%
dough: 893 g ………………………………………………. 199.8%
Liquid levain build:
- Whole-Wheat Flour: 64 g
- Water: 81 g
- Sourdough starter (100%): 6 g
  = 151 g liquid levain 125%
For soaker
- Rolled oats: 45 g
- Oat Bran: 22 g
- (black) Sesame Seeds: 13 g – roasted
- Water: 100 g
  = 180 g soaker
For the final dough:
- Bread Flour: 307 g
- Whole-Wheat Flour: 73 g
- Water: 173 g
- Liquid Levain: 151 g (all of the above)
- Soaker: 180 g (all of the above)
- Salt: 9 g
I followed Hamelman instructions (from page 168), but I let the dough autolyse for 40 min (all the ingredients except salt). After the final shaping, I retarded the dough overnight, and I baked it next morning, directly fom the fridge.
Codruta