XI - They've got IT!!!....or do they? : A Mystery of Maison Kayser's Bread Solved.......or not?
A bit of a breather to ease the tention created by my obsessive baguette journey. :p
I was browsing through internet leisurely yesterday, searching for some information about Eric Kayser for Andy (ananda), and totally by accident, I came across a blog entry which mentioned…..Pain aux Algues, SEAWEED BREAD, by Maison Kayser!!!!!  Apparently he got the inspiration when started his operation in Japan, travelling to and fro France/Japan and spending some time there,  and conjured up a formula of bread aimed at Japanese market, initially, with chopped up wakame (the most commonly used seawwed) mixed in the dough, which quickly joined the array of breads in his branches in France, too.
Pain aux Algues (海藻のパン) sold by MK's Japanese branches
A blogger in Paris reporting her experience of Pain aux Algue by MK
So, maybe a hint of seaweedy aroma I detected in the pain au levain my daughter got it from Paris wasn't entirely an illusion my  aging brain created????? 
I hastily continued my search for more info on his seaweed bread, and, admittedly, and a bit disappointingly, I found Pain aux Algues they sold had light, white crumb with chopped-up pieces of  seaweed clearly visible.  So obviously the bread we had was not that.
Crumb of Pain aux Algues sold at MK Japan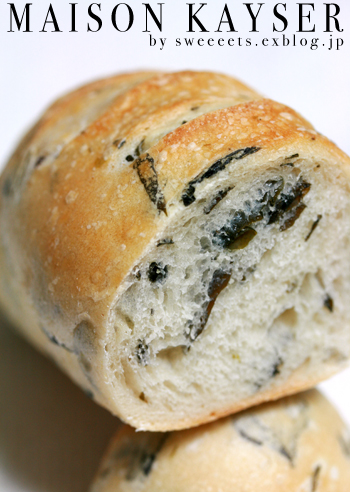 French blogger's attempt to re-create MK's Pain aux Algues (Firefox translation)
But what IF M.Kayser was taken to the idea of using seaweed to add an extra dimension and depth to the flavour and aroma (seaweeds are known to have lots of 'umami') and  has conjured up another new bread which included seaweed in more discreet way, like just as the extract of seaweed rather than as more obvious chopped-up form?
I don't know……But maybe?.......or may be not?
I  close this blog entry by just reporting the other loaf my daughter bought for me had a similar flavour profile but  in a milder way and with more open and softer texture and lighter coloured crumb, and it did NOT  have any hint of  the seaweedy aroma the first one had.
Gros Pain au Levain by Maison Kayser
(Sorry, I couldn't resist...... the centre bit sliced off for quick tasting before taking the photo....)
MK's Gros Pain au Levain sitting with my......er.....can't remember what they were..... whatever....
best wishes,
lumos